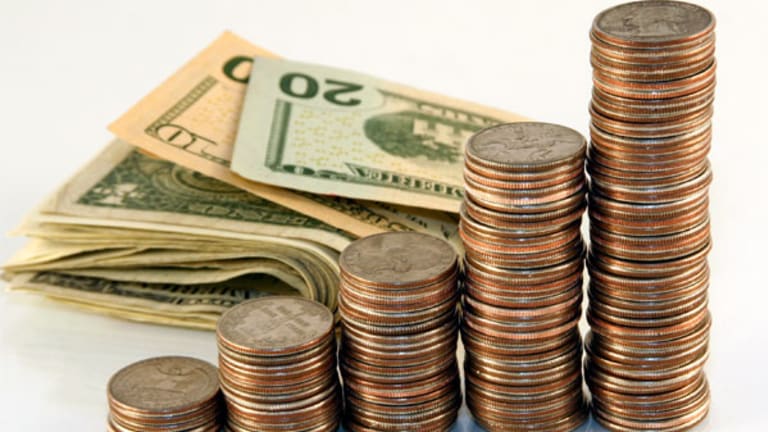 10 Back-to-School Buys That Are a Waste of Money
Back-to-school is the second-busiest shopping season of the year, meaning lots of wasted money.
NEW YORK (TheStreet ) -- With the average family expected to shell out $688 for back-to-school expenses, according to the National Retail Federation, it's important to decide if the items you plan to buy are actually necessary.
A lot has been made of a disappointing back-to-school season for retailers so far with moms and kids pushing back purchases, however, don't let that fool you into thinking lots of money isn't being wasted to outfit and arm today's student. The lull in back-to-school shopping highlights an important consumer wisdom: Sometimes the best way to save money is to simply buy less.
For less than $3 per week, you can get full access to Jim Cramer's intraday market commentary and stock trading strategies - sometimes before he says them on TV! Join now.
We asked students and shopping experts to brainstorm a quick list of unnecessary items for students heading back-to-school and college.
1. School supplies
School supplies are undoubtedly a must for students, but the suggested supply lists the schools send to parents have a tendency to be redundant. While it's best to stock up on supplies now if they are on sale rather than waiting mid-year when the items could be full price, just because an item is on the suggested supply list doesn't mean you need it regardless of the price.
Think about it: For younger students in elementary school, the supply lists might include crayons, markers and colored pencils, but isn't buying all three excessive?
Sometimes shoppers get carried away with the sales and hype surrounding the back-to-school shopping season and overbuy, which is just another way of saying shoppers overspend.
Also see: 10 Best Back-to-School Apps>>
Also consider how practical some of the items you plan to buy will be in the classroom. "Big binders or Trapper Keepers are unnecessary for elementary-aged students -- and they do not fit in the classroom's desks. Also, pencils or pens that have a "novelty" aspect to them -- anything with a toy topper, etc., will irritate teachers by distracting kids," says Linsey Knerl, mother of five and
.
2. Shop at home
Before you even head out to the stores, shop at home first. Check your closets and desk drawers to see what items you already have.
And if you purchased a backpack or book bag in previous years, as long as it's still intact, why replace the bag every year? Take stock of items you bought last year and try to recycle as much as you can.
3. Lunches
For parents on a time crunch, purchasing the pre-packaged lunches at the grocery store are more convenient, but also more expensive than simply buying the ingredients individually and making the sandwich at home.
"My son usually just eats the meat and drinks the juice, leaving the crackers and snacks that he's not particularly fond of -- such a waste, especially since one pre-packaged lunch in New York City costs about $4-$5. As a result, I purchase deli meat to go along with my son's juice boxes and snacks that he enjoys. I use everything to create my own version of the grocery store's pre-packaged lunch," says New York parent Latasha Michelle Kennedy.
4. Tablets
For students not yet in college, tablets top the "unnecessary items" list.
"Most teachers won't allow the tablet to be used in-class and even if they are permitted your child won't likely have access to WiFi," says Andrea Eldridge, CEO and co-founder of
, an on-site computer and laptop repair service.
Also see: 10 Ways to Save on In-Store Back-to-School Shopping>>
And if you plan on writing school essays on the tablet, you'll need to buy a separate keyboard, which only adds to the cost. "Printing is also a challenge and while the programs available to integrate with Word, Excel and Powerpoint give you basic document and presentation production capabilities, many are limited in their function, particularly when you aren't in range of a WiFi network," Eldridge adds.
5. Printers
For college students, buying a printer for the dorm room might seem like a no-brainer. Until you need to replace the ink cartridges.
"When I first moved in, my father and I debated whether or not I would need a printer. We ended up purchasing a printer but when the ink ran out I was too broke to buy another cartridge. The printer ended up sitting on my desk unplugged for the next four years. There where computers and printers all over campus and it was no big deal to swing by the library before class to print out my assignments," says Jacqueline Jones, a 2011 graduate of Ohio University.
Some schools even give students a certain number of pages per semester that they can print for no charge.
6. Mini-refrigerators
For students heading to college and living in dorms, it's best to check with the school ahead of time to see if the dormitory provides mini-refrigerators. There's no point in spending close to $100 only to find out that there's already one in the dorm.
Also, some dorm rooms have kitchen areas with shared refrigerators, yet another reason why investing in a mini-refrigerator can be a waste of money.
7. Speakers
When living in the dorms, headphones or earphones are the best option, instead of stereos or portable iPod/iPhone speakers.
Some dorms have "quiet hours," where playing loud music is prohibited, making it a safer bet to purchase headphones, rather than fancy speakers.
Also see: Kids Off to College? Time to Sell Your Home>>
8. Window treatments
Whether you're living in a dorm or even an apartment off campus, check to see if the dorm or your landlord will provide the window treatments.
Additionally, you may not even need blinds or curtains on the walls, especially if you come to find out your room gets little to no sunlight!
9. Desk lights
Desk lights are a common back-to-college item and while on the inexpensive side, buying a desk light might be a waste of money. Especially since some dorm desks come with a built-in desk light.
Again, check with the school prior to making this purchase!
10. Textbooks
Before you buy textbooks, wait until after you've actually attended a few class sessions to see if you even need the books.
"Many classes I had recommended I buy certain textbooks, but I ended up not using all of the books listed in the course syllabus," says 2010 Cal Lutheran University graduate Heather Taylor, social media manager of MyCorporation.com.
--By Scott Gamm
Gamm is the founder of the personal finance website HelpSaveMyDollars.com. He has appeared on NBC's TODAY, MSNBC and CNN. Follow Scott on Facebook and Twitter.