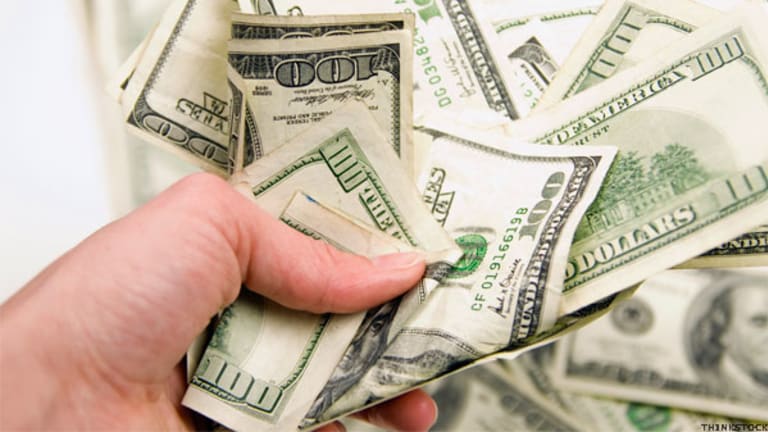 10 Awesome TV Infomercial Gifts for 2011
You can't go wrong gifting with the "As Seen on TV" appeal of these fun products.
NEW YORK (MainStreet) -- From the days when Ron Popeil began shilling his Pocket Fisherman and Veg-O-Matic, television viewers have been ordering amazing products from those inescapable infomercials.
MainStreet rounded up five classic products that have made it under the tree for years by now and five new ones on late-night TV sure to become hits this year. You can thank us when you're looking for those
last-minute gifts
on your list.
How many times have you been sitting in your living room in the winter, keeping the heat down to conserve energy and lower your electric bill and found yourself wishing you had a blanket with arms that still allows you to perform all kinds of tasks such as eating popcorn or reading your Kindle? Snuggies hit the airwaves in 2008 in several basic colors, and while some laughed at the commercials of people wearing Snuggies to football games, millions were being sold. Snuggies now come in a variety of colors and prints, including camouflage, and children's and adult Snuggies now sell from
to twice that depending on the pattern. For $5.99, you can give your dog a Snuggie too!
Ch-ch-ch-chia! The jingle for this little ceramic planter set shaped like all sorts of cute animals has been in the collective memory for decades (it was launched in 1977). Like the fabled Sea Monkeys advertised in the backs of old comic books, most people don't know exactly what to make of the Chia Pet. Is it a decorative plant or artful ceramic? Maybe it's both.
Chia Pets come in a wide variety of shapes and sizes, from the classic puppies and kittens to pigs, donkeys and even Scooby Doo or Homer Simpson. One of the latest creations is a President Obama Chia. Chia Pets range in price from $15.99 and up. (It'll cost you $19.99 to grow your Chia hair
.)
Clap on, clap off, clap on, clap off ... The Clapper! Sometimes the infomercial is just as memorable as the product, and The Clapper, while being a handy and unique product, also had one of the most memorable commercials (why, that elderly woman clapped and fell right to sleep without ever having to leave her bed to turn off the light).
The Clapper remains one of the most popular infomercial gifts, as it is good for almost anyone, including the elderly. It's also handy for turning on and off those Christmas lights without having to crawl back behind the tree. The Clapper Plus will handle two lamps or appliances and
.
How many times have you put on a bulky oven mitt, only to have the heat sear right through to your hand? Enter The Ove Glove, a five-fingered glove that allows you to grab a hot pan up to 540 degrees and get it out of the oven safely. A great gifts for husbands who grill or do Dutch oven cooking. The Ove Glove is a classic infomercial gift and can be found for
.
Every half-serious gardener needs a tool that cultivates, aerates and weeds - one that would practically take the back-breaking part of the work out of gardening! Enter the Garden Claw, a device that claims to do all of the above, making grandma's or dad's gardening a little less work next spring.
The Garden Claw now has a mini-me product, the Mini-Claw, which works in rock gardens, plant boxes, greenhouses and other smaller gardening areas. The Garden Claw is sold at major retailers for as low as
.
One of the newer infomercial products on the list, these reversible pillows go from pillow at night to a snuggly friend during the day. There are several to choose from, including a dog in his dog house and a penguin in an igloo. They sell for
, putting them under the threshold for a reasonably small gift.
Forever Lazy
If putting a blanket over your body that has holes for your arms isn't enough and you would rather completely wear your blanket as a piece of clothing, the Forever Lazy may be the right gift for you and your loved ones.
Like those one-piece pajamas many of us wore on Christmas morning when we were kids, these have the benefit of flaps in the front and back so you don't have to undress completely when nature calls. Priced online at $29.99 plus shipping and handling, there is usually a promotion going on that will give you two for the price of one.
Many people who haven't quit smoking may be looking for a way to be able to indulge in public without getting the dirty looks from what now seems to be a
largely nonsmoking society
. Vapor cigarettes reportedly allow smokers to continue smoking without annoying those around them with the secondhand effects. If you know a smoker who wants to quit or you want to hint to them their habit is annoying, this is a smoking-hot gift. Vapor cigarettes are now mainstays on the infomercial circuit, and starter kits begin at $59.95.
Really, who knew scam artists could be passing by you on a crowded street and pick up information from the electronic strip on your credit and debit cards! Enter the Aluma Wallet, which protects the electronic information held on your cards while providing a stylish look in four colors.
Available for men and women, a side benefit to this wallet is that it is also crush-proof. Pay $10.99 plus shipping and handling and the company will include a second one for the additional shipping cost.
The thing that's always been a little scary about the traditional non-stick cookware is that if it overheats, the fumes can kill birds and other small pets in the home. When the non-stick coating peels, it can also be harmful when little bits of it get into your food. Enter OrGreenic Kitchenware, which uses a "green" ceramic non-stick coating that is not only more environmentally friendly to produce, but supposedly safer for you and your family.
The Web site offers two 9-inch sauté pans for $19.99 plus an additional shipping charge for the second. The purchase comes with a cookbook.
>To submit a news tip, email:
.
Follow
TheStreet
on
and become a fan on