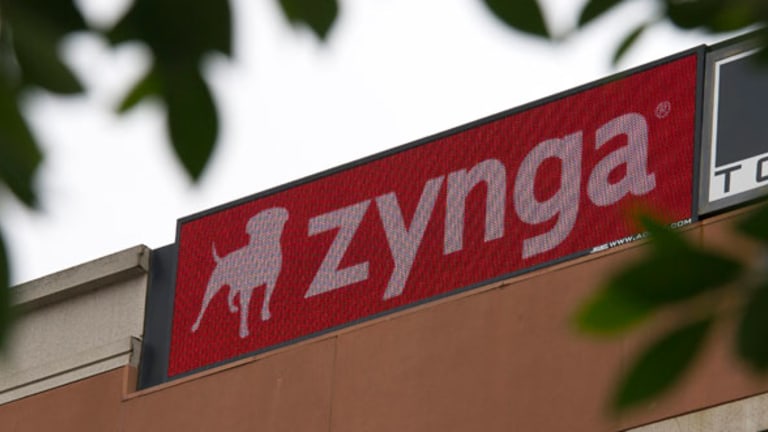 Zynga's Turnaround at Risk if the Company Doesn't Pick Up the Pace
The company is trying to become a "mobile-first" gaming company, but analysts warn of missteps.
NEW YORK (TheStreet) -- Zynga's (ZNGA) announcement Thursday that it is shutting its Beijing game development studio is an obvious indicator that all is not well with the online-gaming company.
Also, on Thursday, Zynga posted a wider fourth-quarter loss than a year earlier and projected revenue for its current first quarter below analysts' estimates. In the aftermath of the results, the company's shares plunged 43 cents, or 16%, to $2.23 on Friday.
Two analysts say the company must move faster into mobile gaming.
"Zynga is definitely making progress in mobile, but it's plodding. They don't appear to have fielded a worldwide top 10 grossing smartphone/tablet game in 2014, and it's really at the apex of this market where the big paydays reside. They do have several games that are creeping up the top 50 grossing chart, however, and that's better than where they were a year ago," said Lewis Ward, research director for gaming at IDC, a technology research firm.
Brian Blau, a research director at Gartner, another tech research firm, said Zynga is failing on other fronts, as well. "Zynga is having real problem trying to find a significantly new audience or capitalize that well on their existing players," he said.
The company reported that the number of Zynga game players declined during the fourth quarter. Daily active users fell to 25 million from 27 million from a year earlier, monthly active users fell 4 million to 108 million, monthly unique users dropped by 9 million to 71 million, and monthly unique players fell to 1.1 million from 1.3 million.

Zynga has said it will enter the mobile action category with two games, Dawn of Titans and Empires & Allies. Both are expected to launch in the coming months, though the company doesn't have an exact release date.
The company will also try and squeeze some new life out of its flagship Farmville game platform with FarmVille: Harvest Swap, a game that will fall into the "Match 3" category, which refers to puzzle-based games.
"Puzzle games, including match 3 games, are always in the top four genres in terms of mobile game popularity according to our surveys. It's a safe bet but it's also a fairly crowded market, so it's hard to say what will happen there," Ward said. He thinks Zynga should be more forward looking.
On the plus side, Ward noted that action/strategy games tend to make more money on a per-game basis, although it is a smaller market aimed at hardcore gamers.
Ward and Blau agreed that shutting the Beijing studio was a smart move to save money and focus development resources. Ward added that competing in the Chinese gaming market is a difficult task for any foreign company.
This article is commentary by an independent contributor. At the time of publication, the author held no positions in the stock mentioned.