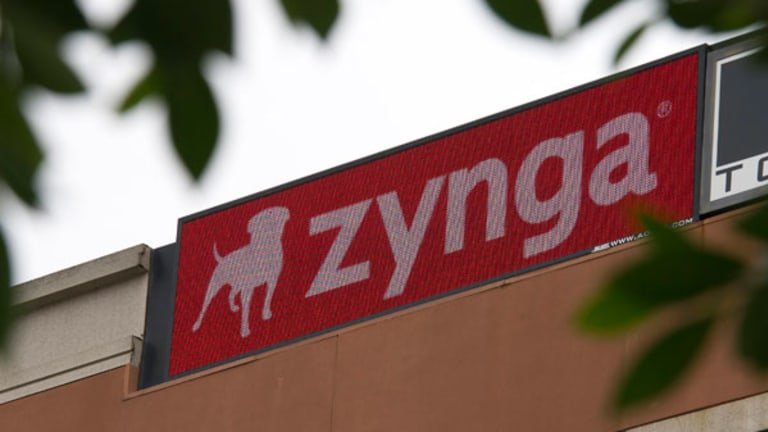 Zynga Remains Incredibly Cheap
With cost savings and expanding gambling, I don't see a reason why shareholders shouldn't expect a return to profitability in the second quarter and 2014.
NEW YORK (TheStreet) - Zynga (ZNGA) - Get Zynga Inc. Class A Report shareholders couldn't be happier after the company gave a welcomed surprise on Thursday. The company reported earnings early, and they were fantastic. The announcement came early to coincide with announcing the acquisition of NaturalMotion. NaturalMotion is a leading mobile game developer known for games that include CSR Racing and Cumbsy Ninja.
If you followed my buy recommendation on Real Money Pro, you're up over 20% in about 10 days. Shares are currently up 16% to $4.36.

WATCH: Zynga Buys Maker of Clumsy Ninja and CSR Racing in Mobile Push
Zynga will pay $391 million and approximately 39.8 million shares for a total consideration of about $550 million (using Friday's price at the time of writing). About 11.6 million shares are subject to a three-year vesting period. NaturalMotion is expected to be accretive in 2014 on a non-GAAP basis. I'm not a strong believer in non-GAAP numbers, but it does appear later in 2014 or by 2015, NaturalMotion will add forward income momentum.
NaturalMotion adds a new plateau of professional quality control in terms of customer experience. If Zynga's games were not addictive enough, NaturalMotion takes it to an entirely new level. After the purchase, Zynga remains incredibly cash rich at $1.2 billion. While the purchase is fantastic news, I'm more excited reading every key metric to profitability improved.
It's too early to know how much revenue Facebook's (FB) - Get Meta Platforms Inc. Class A Report entry into U.K. poker will bring to Zynga as it only started this month. However, the partnership should add revenue and earnings starting with the first quarter 2014. More important, investors will gain significant insight on what to expect as both Zynga and Facebook expand into other markets. While significant, the U.K. market is a drop in the bucket compared to the rest of the world.

Zynga is the most popular play money poker site, and as new markets open (the whole world is waiting for Zynga) to real money, so will revenue and profits. We don't know how long it will take for more states to approve online gambling, but consider the delay part of the reason why shares are trading as low as they are right now. Zynga is growing non-poker online gambling, and within 24 months I expect online gambling to comprise over 50% of revenue and bottom line net.
In the meantime, last quarter's numbers were strong. The company generated bookings of $147 million and adjusted Ebitda of $3 million. On an adjusted Ebitda basis, the company produced a full-year profit. The Words With Friends franchise revenue grew 33% sequentially, the best in its five years online.
According to Zynga's press release, it expects the first quarter of 2014 will pivot towards a turnaround and by the second quarter the company will begin growing again. With cost savings and expanding gambling, I don't see a reason why shareholders shouldn't expect a return to profitability in the second quarter and 2014.
The company experienced an 8% user growth in mobile poker, and overall, the casino business is growing. A new mobile slots game titled Hit It Rich became available near the end of 2013. Hit It Rich is the number one free iOS download in the casino category. Mobile slots are popular and Zynga is delivering its next slots game titled "Riches of Olympus" in a couple of weeks.
It may take the market considerable time to figure it out, but that's to your advantage as it allows accumulation of shares while still cheap. I added shares before the announcement and after. I think when the company begins announcing new online gambling markets Wall Street will take notice.
At the time of publication, Weinstein is long Zynga.
This article represents the opinion of a contributor and not necessarily that of TheStreet or its editorial staff.