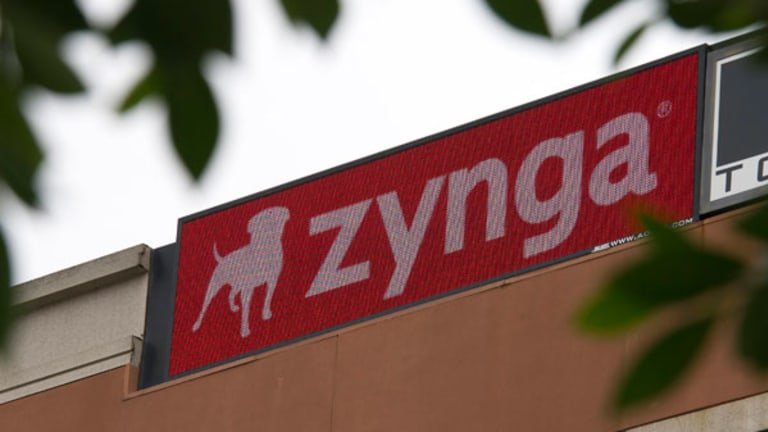 Zynga Proves It's Positioned For Profits
Zynga's earnings release was fantastic. The next step is profitability.
NEW YORK (TheStreet) -- Quarter by quarter, Zynga (ZNGA) - Get Free Report is destroying the short-seller bear thesis.
Shares in the game maker were recently trading around $4 Thursday, down 4% but up 11% for the year to date after reporting better-than-expected earnings. Based on the latest earnings report, I maintain my strong bull bias. I wrote a Real Money Pro post with an exact entry, including using options to mitigate risk.
Investors were looking for and received a 1-cent loss per share, although concerns over declining revenue proved to be overblown. Zynga's first-quarter (bookings) revenue was $161 million compared to analyst's expectations of $147 million.
The company gave revenue guidance for the current quarter of $175 million to $195 million. For the full year, the company expects to produce $770 million to $810 million in revenue.
Booking revenue is similar to but not exactly the same and is generally greater than traditional revenue. The company records "bookings" as it's received and, in turn, gives the user tokens or other credits that may be used in game play. When the user actually spends the credits, it's considered revenue.
Revenue may have bottomed and may be finally on track to trek higher. The company generated 10% greater bookings and mobile use in the first-quarter compared to the previous quarter. Overall, daily active users, or DAUs, increased 7% (28 million) and mobile use skyrocketed 23% sequentially quarter over quarter. On the other hand, 28 million DAUs is significantly lower than the 52 million recorded during the corresponding quarter last year.
Don Mattrick is the former entertainment and Devices boss at Microsoft (MSFT) - Get Free Report, and helped shape Xbox into a leading and highly profitable game platform. This quarter marks Mattrick's fourth quarter as Zynga's CEO. It's not an overstatement to say Mattrick snatched the company from the jaws of a slow and painful death.

The company continues to lose money but the vital signs are stabilized, and I believe Mattrick when he says 2014 will be a growth year. One all-important mobile metric certainly points in the right direction. Mobile bookings are expected to exceed half of all bookings this year.
Mobile bookings are particularly beneficial to bottom-line profits because mobile revenue can avoid Facebook's (FB) - Get Free Report platform. Once over 90%, Facebook revenue is under 50% and at the current pace, I expect the company to report less than a third of revenue coming from Facebook.
Facebook takes a 30% cut of revenue passing through its system on the way to Zynga. By accepting revenue directly through mobile and on its site, most of the savings lands directly on the bottom line.
Adding to the company's further expansion into mobile, five-month-old Clumsy Ninja is now available on Google's (GOOGL) - Get Free Report Play availing the game to Android users. FarmVille 2: Country Escape witnessed over four million downloads within six days after release.
Keep in mind that moving from Facebook to Google Play and Apple (AAPL) - Get Free Report Apps stores isn't the same as replacing one master for another. Each customer is more valuable on mobile because the previously mentioned 30% Facebook commission is avoided.
Moving forward, Mark Pincus, the founder and former CEO, will no longer serve operationally. He remains on the board and, as the largest shareholder, continues to wield significant influence. You have to give Pincus credit, it's not easy to let go of your "baby." Recruiting Mattrick is proving impressive as the turnaround continues.
Shareholders have every right to remain optimistic as the company enters the once-elusive world of operational profits from "freemium" games (games that are free to play, but encourage users to buy game enhancements with real money). However, that's foreplay compared to the explosive revenue and profit potential of real money gambling.
Zynga hosts the number one play money poker site in the world and is licensed in the U.K. to offer real money poker (and other casino type games) in that jurisdiction now. Expanding into Asia, North/South America could take the stock back into double digits. The potential is so gargantuan that it's a total game changer.
Don't expect it to happen overnight. But for long-term investors, real money gambling has the potential to turn the rest of the games into a semi-curious side attraction. But the company needs to push in real money online gambling sooner than later.
At the time of publication the author had no position in any of the stocks mentioned.
This article represents the opinion of a contributor and not necessarily that of TheStreet or its editorial staff.