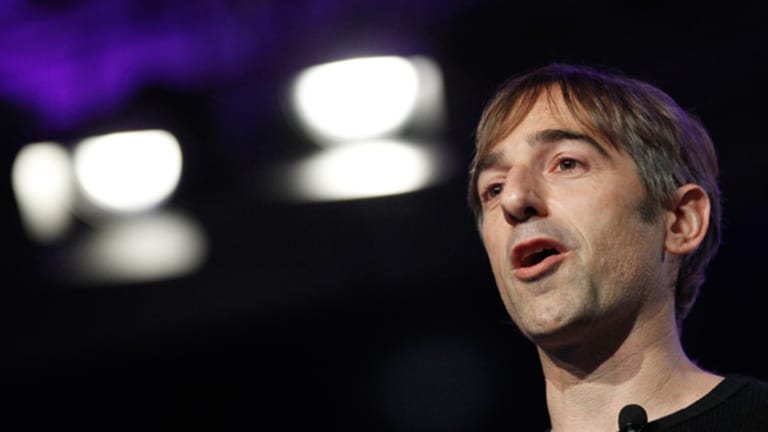 Zynga Investors Should Thank Mark Pincus
Ultimately, Mark Pincus made a decision that opened the door for Zynga's possible turnaround.
NEW YORK (TheStreet) -- Founders across spaces, particularly in technology, should take note of what Mark Pincus did for Zynga (ZNGA) - Get Zynga Inc. Class A Report earlier this year.
And, yes, I purposefully chose the words "did for."
Granted, Pincus made out like a bandit on ZNGA's IPO and opportunistic secondary offering.
. And, as a somewhat socially awkward public speaker, he presented his company uncomfortably, if not poorly, on several occasions. I took him to task for that as well.
But just because the guy's loaded and, like the rest of us, let ego, his perception of himself and his abilities -- whatever the case may be -- lead to mistakes doesn't mean he deserves no credit for what could be a turnaround at the company he founded.
During the tumult at Zynga,
I urged Pincus to step down as CEO
:
Neither of these guys (Pincus and Netflix (NFLX) - Get Netflix, Inc. (NFLX) Report CEO Reed Hastings) should leave their company. They should be fired as CEO and, for shareholders and the greater good, officially titled "Founder and Chief Strategy Officer."
They're both sharp visionaries. They're both brilliant guys. Pincus, for example, should spend hours each day sitting under a tree -- alone -- in the middle of a beautiful college campus thinking. Then he should run back to Zynga headquarters as quickly as he can and engage a small team meeting to brainstorm that vision he just had.
While I can't claim he took my advice -- his departure from that role was likely inevitable -- I do hope he considered the parallel I drew between him and
Pandora
(P)
co-founder and Chief Strategy Officer Tim Westergren.
Westergren has never officially been CEO of Pandora, not in the company's early days or since outgoing CEO Joe Kennedy came up with the idea to disrupt traditional radio. Unlike many founders, Westergren actually strikes me as the type that could probably handle the CEO gig.
He's a great public speaker. He's humble (almost to a fault). He understands how to best maximize group dynamics. He's well-liked. And he would seek the right type of help for the parts of the job that wind up over his head. Instead, he opts not to. And this decision, which means he gives up a little bit of glory, has everything to do with Pandora's odds-beating success.
Related back to the last paragraph, all I know about Pincus is that he's not a great public speaker, at least not in the context of having to present a public company's message. I have never met him in person, interacting with him only in quick, but friendly
Twitter
bursts. So I can't offer a take on his personality as it suits being a CEO. It would all be hearsay. That said, it's pretty apparent that, once the honeymoon ended, the Mark Pincus-as-CEO experiment didn't work out well at Zynga. It's not that he's not "smart" enough for the job (Pincus is actually brilliant), it's just that he's probably not cut out for it.
I am in the process of attempting to open a dialogue with Pincus. He seems like the type of interesting person I would like to get to know. And now that he's not CEO, he might accept my requests for engagement. Because I want to get the lay of the land straight from Pincus, I have not reached out to others at the company lately. Again, that's hearsay and I prefer to leave that work for others. As such, I can only speculate that this is what's happening.
Even if it's not, what follows is a model many founders do and more founders should replicate at their startup and beyond.
When he's not traveling, Westergren walks around Pandora's offices all day. Nobody (including Westergren and all other executives) has their own private office at Pandora. It's just cubicles scattered in open air throughout an ever expanding bit of real estate in Oakland, Calif. Westergren traverses from scheduled meeting to scheduled meeting, but much of what happens throughout his day happens spontaneously.
Without knowing specifically what takes place in the many random conversations Westergren has with Pandora employees or free from the strictures of being CEO, it's tough to illustrate with precision why this approach can be so favorable for a company. It's something to put on the list to ask both Westergren and Pincus. But, the sense I get from being present in Pandora's offices and speaking with dozens of folks in the company is that this setup lets creative and collaborative juices flow.
The relatively laid back office atmospheres at places like Zynga and Pandora contribute to this. But having creative, forward-looking minds like Westergren's (and Pincus') focused, as much as possible, on being creative and forward-looking is powerful, particularly when you couple it with the daily brainstorming and visioning they can get done alone and with others. It's not that CEOs cannot accomplish this. You would be wrong to call Joe Kennedy something other than a visionary, but that's not his full-time role. It simply cannot be.
There's so much other stuff that goes along with being CEO -- from working with budgets to dealing with investors to the fires that appear daily -- that it's next to impossible, for most people I contend, to be CEO and maximize the qualities that allowed them to conceive and get a company off the ground in the first place.
I don't view this approach as aiming low as an individual; rather, I see it as recognizing your strengths and weaknesses, reigning in your ego and making the best decision for the here and now as well as the future of your company without you.
Whether the board made it for him or not (and, if I recall, Pincus controlled his board) is neither here nor there, Pincus made the decision to take a route that looks something like -- or maybe exactly like -- Westergren's. And this is one reason why Zynga has a fighting chance at
.
--
Written by Rocco Pendola in Santa Monica, Calif.
Rocco Pendola is a columnist and
TheStreet's
Director of Social Media. Pendola makes frequent appearances on national television networks such as
CNN
and
CNBC
as well as
TheStreet TV
. Whenever possible, Pendola uses hockey, Springsteen or Southern California references in his work. He lives in Santa Monica.