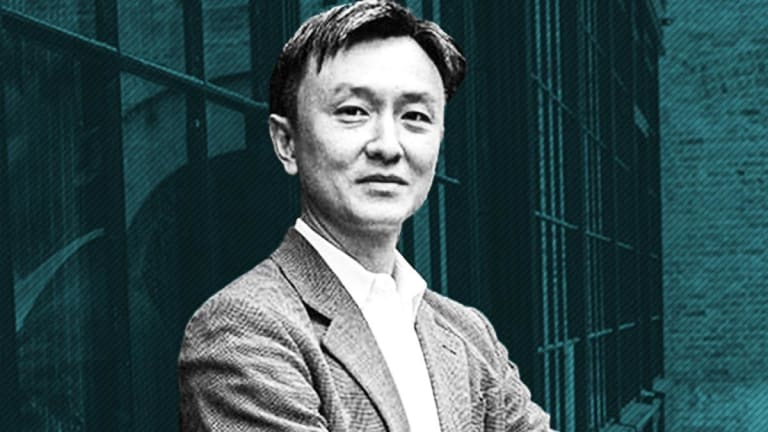 Zuora's CEO Tells TheStreet Why He Still Sees a Lot of Room to Grow
The cloud software firm's shares are off sharply due to its guidance. However, CEO Tien Tzuo remains upbeat about the growth of his firm's addressable market.
As Zuora's (ZUO) shares tumble post-earnings, its CEO insists his firm still has a lot of room to grow as the number of subscription businesses in existence keeps mushrooming.
After the bell on Thursday, Zuora, a top provider of cloud software for managing the subscription-based products and services offered by a company, reported July quarter (fiscal second quarter) revenue of $57.8 million (up 47% annually) and non-GAAP EPS of $0.13. Revenue beat a $54.1 million consensus, and EPS beat a consensus of negative $0.16.
Zuora also guided for October quarter revenue of $58.3 million to $59.3 million, above a $56.1 million consensus. And fiscal 2019 (ends in January 2019) revenue guidance of $227 million to $230 million is above a $221.7 million consensus.
Nonetheless, shares are down nearly 15% in Friday trading, after having gone into earnings up 143% from their $14 April IPO price and 70% from their $20.00 post-IPO opening trade. Concerns about Zuora's billings guidance appear to be the main culprit.
On the earnings call, CFO Tyler Sloat forecast Zuora's trailing 12-month calculated billings, which -- due to both organic growth and the year-ago acquisition of accounting software firm Leeyo -- were up 57% annually as of the July quarter, would "grow in the low-30s percentile" in fiscal 2019. He also forecast Zuora's subscription billings, which were up 42% on a trailing 12-month basis as of last quarter and 48% as of the April quarter, will "settle over time and kind of align with our long-term growth rates of 25% to 30%."
In addition, some investors may have wanted better EPS guidance. Zuora's October quarter EPS guidance of negative $0.14 to negative $0.13 is below a negative $0.12 consensus, and its fiscal 2019 EPS guidance of negative $0.61 to negative $0.59 is only in-line with a negative $0.60 consensus.
Zuora attributes the EPS outlook to the shifting of some expenses from the first half of fiscal 2019 to the second half. It maintains a goal (shared during its IPO roadshow) of becoming cash-flow positive in three years.
Following Zuora's report, TheStreet had a chance to talk with founder and CEO Tien Tzuo. Here's a look at some of the topics discussed.
A Diversifying Customer Base
A major part of Zuora's long-term growth strategy: Increasing the revenue it gets from companies that are overhauling their business models to include, if not emphasize, subscription offerings. The company's client base includes not only major providers of subscription-based software and Internet services, such as DocuSign (DOCU) , Zillow  (Z) and Intuit (INTU) , but also the likes of General Motors (GM) , Delta Air Lines (DAL) , Briggs & Stratton (BGG) and Illumina (ILMN) .
Tzuo asserts that only half of Zuora's revenue now comes from firms that it would describe as tech companies, and that it doesn't get more than 3% of its revenue from any single firm. "We really see the subscription-based business model impacting a lot of industries...that's what we're really most excited about," he added.

Some of Zuora's notable customers.
In its July quarter report, Zuora reported its base of customers with an annual contract value (ACV) of $100,000 or more had risen by 7% sequentially and 28% annually to 474. With Zuora obtaining revenue both through an annual platform fee and via the sale of transaction volume "blocks," its revenue rises as a firm's subscription volumes grow.
Flagship Products
Historically, Zuora's subscription billings solution has served as its bread-and-butter offering. Following the Leeyo acquisition, the company also counts Leeyo's revenue recognition/accounting solution, known as RevPro, as a flagship product.
When asked about what percentage of Zuora's customer base uses both Zuora Billing and RevPro, Tzuo indicated the number is less than 10%, leaving plenty of room to cross-sell clients using just one of the products. He also argued the challenges of handling revenue recognition for subscription-based businesses relative to businesses relying on traditional product sales will act as a tailwind for RevPro. "The complexity of revenue recognition is not getting smaller, it's only going to get worse as time goes on and business models become more dynamic," he said.
Newer Offerings and the Zuora Connect Marketplace
Zuora has gradually fleshed out its product line to include a configure-price-quote (CPQ) solution for sales reps who are selling subscriptions, as well as a product for managing revenue collections and an analytics solution for gauging the performance of a company's subscription businesses. When asked about how much revenue these products are currently producing, Tzuo suggested it's still early days. "The benefit [from] that is more ahead of us," he said.
Sales of such add-on products should help Zuora further grow its dollar-based retention rate, which covers how much revenue the company now gets from companies that were clients a year ago. In the July quarter, Zuora's dollar-based retention rate was a solid 112%.
Like some other cloud software firms, Zuora has also built a marketplace for third-party apps that integrate with its products; it now claims over 100 apps. Tzuo stated payment gateway solutions -- these include not just solutions for handling payment cards, but also for supporting platforms such as PayPal (PYPL) and Apple Pay -- were the most popular type of offering on its marketplace, followed by tax solutions.
Paypal is a holding in Jim Cramer's Action Alerts PLUS member club. Want to be alerted before Jim Cramer buys or sells PYPL? Learn more now.

Zuora expects its addressable market to grow considerably.
The Competition
Research firms IDC and Forrester both list Zuora as a leader in the subscription management software space. However, several other firms are also listed as leaders or at least as significant players. The names include SAP (SAP) and Oracle (ORCL) , which offer subscription management solutions as part of their ERP software platforms, as well as telecom billing software providers such as Amdocs (DOX) and Ericsson (ERIC) and fellow independent players such as Aria Systems and goTransverse.
When asked about which rivals Zuora sees most often when competing for major deals, Tzuo said SAP and Oracle were the names seen most often when selling to traditional enterprises, and asserted offerings from smaller players are often "not as viable" in this space. "We're dealing with some of the biggest companies in the world...what goes in often stays in for 5, 10, 15 years," he said.
Tzuo also insisted that comparing Zuora's offerings with ERP-based solutions from SAP and Oracle doesn't amount to a "like-for-like" comparison. And that the same goes for the "legacy" telecom billing solutions it aims to displace at some carriers. "This is getting companies to understand as you transition from a product-based business model to a dynamic services-based business model, you need something different. ERP systems aren't what you need," he said.