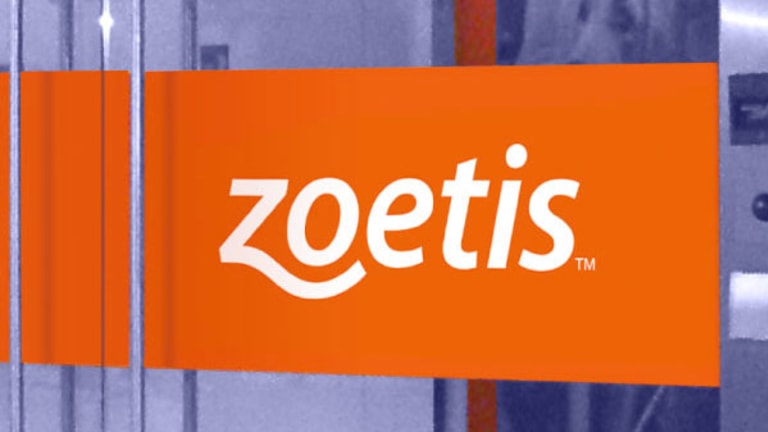 Zoetis Shares Fall Despite Beating Estimates and Boosting Outlook
The animal health products maker's stock pulled back as its renewed guidance wasn't heartier.
Animal health products maker Zoetis (ZTS) - Get Zoetis, Inc. Class A Report shares pulled back as much as 4% in Wednesday's trading, as the company reported better-than-expected first-quarter results but apparently didn't move the needle enough with its full-year guidance to excite investors.
Zoetis shares, which have traded in a range of $37 to $55 the last 12 months, closed Wednesday at $47.04, down just over 2% for the trading day.
Often discussed as a prospective takeover play in the pharmaceutical industry, Zoetis didn't give any updates on whether it could be a consolidation target. Instead, the company's management talked earnestly about its own appetite for acquisitions.
Zoetis executives said they would consider taking on additional leverage for the right transaction, though it indicated that consolidation among the biggest players in the animal medication business could get tangled in antitrust resistance.
Last November, Zoetis struck an agreement to purchase Norwegian veterinary pharmaceutical company Pharmaq AS for $765 million. Zoetis, which tapped the credit market to raise capital for the acquisition, has a debt to EBITDA ratio of about 3.8 times, according to a credit research report from Moody's Investors Service. Moody's added that it expected the ratio to decline, although a significant acquisition, and any accompanying credit facility, could instead boost that figure.
Zoetis was formerly the animal health products division of Pfizer (PFE) - Get Pfizer Inc. Report until Pfizer spun its animal products business off in 2013 in an IPO. Zoetis shares have zoomed 80% since its spinoff, widely outpacing the performance of market indices.
Zoetis has been the target of some activism by Bill Ackman's Pershing Square, which convinced the company to add a board member he sponsored. Ackman, however, has backed off his efforts at Zoetis, saying earlier this year he was satisfied with the company's operational improvements, and added that his designated board member wouldn't be returning to Zoetis.
There was a period when Ackman's activism sparked some speculation that Zoetis could be an acquisition target for another notable Pershing Square investment, Valeant Pharmaceuticals International (VRX) . The embattled drug maker is no longer regarded as a likely consolidator in the drug sector, however.
With its first-quarter results, Zoetis easily beat Wall Street's forecasts, posting adjusted earnings of 48 cents a share, compared with forecasts of 41 cents. Nevertheless, despite the sizable outperformance, Zoetis only moved its forecast for the full year up to a range of $1.83 to $1.90, versus its forecast in February of $1.74 to $1.83; Wall Street has been projecting full-year earnings of $1.79 a share.
Zoetis also nudged up its projections for its 2017 outlook. While it's fairly remarkable that a company would give forecasts that are, essentially, seven quarters out, once again, the boost to its expectations was relatively modest.