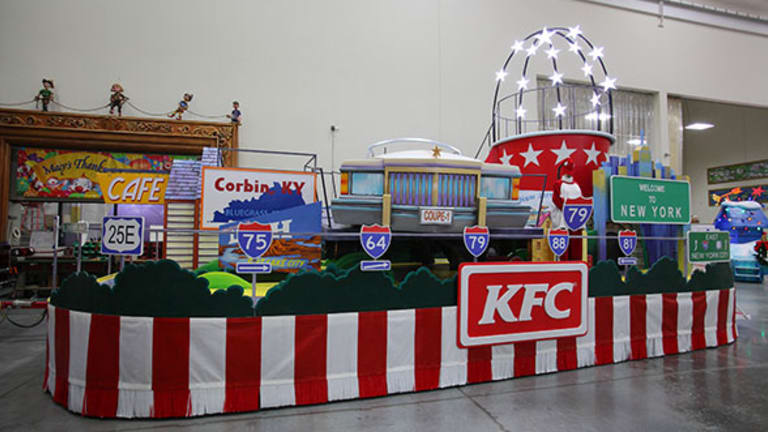 Why Yum! Brands Is Spinning Off Its China Division
A promising turnaround in sales in China hit a major stumbling block in November.
Updated to include comments from Yum! Brands investor call.
Investors wondering why Yum! Brands (YUM) - Get Yum! Brands, Inc. (YUM) Report is splitting up the global fast-food empire it's steadily built up over the years need look no further than its November sales results in China.
Yum! Brands, parent company of KFC, Taco Bell and Pizza Hut, reported Thursday morning that November same-store sales for its China division fell about 3%. KFC saw a 1% sales drop, while Pizza Hut notched an unsavory 9% decline. November's performance was particularly disappointing in light of KFC China's menu revamp in late October, and Pizza Hut returning to a focus on value for discount-seeking Chinese diners. On a morning conference call with investors, the sales decline for KFC "were not unexpected."
Shares fell as much as 5% in midday trading on Thursday on the news, and closed the session down about 2%.
November's results marked a swift reversal from what appeared to be the start of a turnaround in Yum! Brand's beleaguered China business in September, when same-store sales there gained about 9%. In October, overall same-store sales increased 5%, with KFC sales spiking 10% in the wake of its menu revamp. Sales at Pizza Hut remained challenging, though, falling 9%.  
"Next year will be a reset and recovery year for China," conceded Yum! Brands CFO Pat Grismer, who recently announced his resignation in order to be closer to his family. 


Pizza Hut China is getting back to the basics of more innovative pizzas at better prices, execs said.
Together, KFC and Pizza Hut operate over 6,800 restaurants China. But both chains have experienced multiple problems over the past few quarters. At KFC China, execs have acknowledged the menu got too big, causing them to begin trimming it down in this year's fourth quarter to improve service times and re-emphasize chicken products.
"I've spent many hours in KFC watching the lines, and can tell you the menus are too complicated," said Micky Pant, a long-time Yum! Brands exec who will become the CEO of Yum! China. Pant, who has spent the past few months in China, said KFC is well along in simplifying menus so harried Chinese customers can get in and out quickly.
As for Pizza Hut, it has been dealing with greater competition from upstart online ordering businesses that aggregate pizza sellers, a slowing Chinese economy and misguided promotions that didn't emphasize affordable prices. "There has been dramatic activity in the aggregator sector we have seen venture capitalists come in and Chinese internet players are backing some," said Pant. According to Pant, Pizza Hut is now listed on aggregator sites, but will proceed cautiously in developing a strategy to compete with the new companies. 
The increasingly volatile sales in China for Yum! Brands, which has helped send shares down about 20% over the past six months, shed light on why the company is moving forward with its spin-off of its China operations, which it first announced on October 20.
On Tuesday, Yum! announced the split is expected to be completed by the end of 2016. Yum! China will be an independent company with exclusive rights to use the KFC, Pizza Hut and Taco Bell brands in China, and the opportunity to add new brands over time. Yum! China will pay Yum! Brands a license fee of 3% of its sales for KFC, Pizza Hut and Taco Bell in China. The remaining Yum! Brands, led by current CEO Greg Creed, will continue to expand and develop Taco Bell, KFC and Pizza Hut in the U.S. and internationally outside of China.
When Yum! Brands originally set up its China division years ago, it was seeded by execs from the U.S. providing technical expertise who began by opening company-operated stores instead of more profitable franchise stores. Since then, Yum! China has almost developed into its own company -- the division has their own training programs, they develop their own menu and set their own marketing plans.

With respect to the remaining Yum! Brands, execs made a point to highlight that taking the red-hot Taco Bell concept overseas is a possibility. Today, Taco Bell is just a U.S. brand.  
Some on Wall Street might want to see Taco Bell spun off as well, but it may be less likely given the brand's potential to take part in international expansion that could fuel big profits for the new Yum! Brands.  


KFC China is in the process of simplifying its huge menu to improve sales.
Yum! China already has one huge cheerleader. "I am holding my Yum! China stock," said Yum! Brands Chairman David Novak on the conference call. Novak is Yum! Brands' former long-time CEO, who oversaw the company's spin-off from PepsiCo (PEP) - Get PepsiCo, Inc. Report some 18 years ago and went on to build the restaurant empire that is now being dismantled. 
Yum! Brands said it will return $6.2 billion of capital to its shareholders between October, when the separation was first announced, and the end of 2016 when it's actually completed. Yum! disclosed that of the $6.2 billion total, $1.6 billion will be returned in the form of share repurchases this year. As for the remaining $4.6 billion, Yum! Brands is still deciding if it will be returned in the form of share repurchases or a special dividend.  
"We believe this transaction is a classic example of 'one plus one equaling more than two' as it will enable each company to realize its full potential and achieve greater value on a standalone basis," said Yum! Brands CEO Greg Creed in a statement. Creed added on the call, "We have very different businesses locked up in one great company."