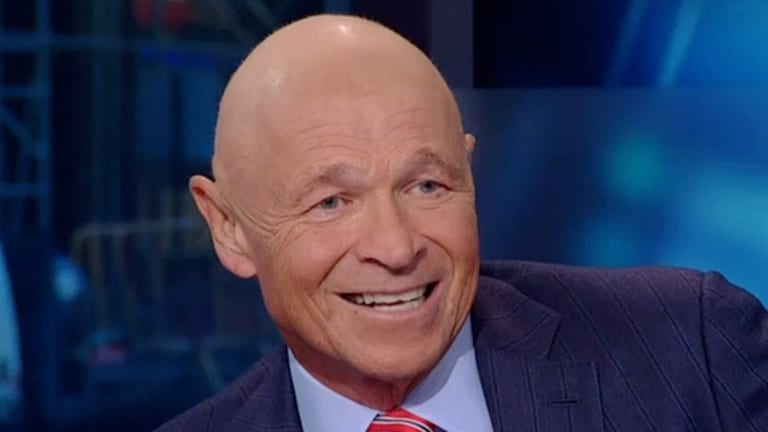 Yum! Brands Chairman: 'I Have Always Rooted for McDonald's'
Yum! Brands' David Novak reveals what he thinks of his company's rivals, why Yum! is spinning off its China operations and why he's leaving what he considers a 'dream job.'
Yum! Brands' (YUM) - Get Yum! Brands, Inc. Report  co-founder and chairman David Novak absolutely loves the fast food business and for proof of that, just ask him what he thinks of arch-rival McDonald's (MCD) - Get McDonald's Corporation Report .
"I have always rooted for McDonald's," said Novak, who served as CEO from 1999 to January 2015 of the fast food giant that owns KFC, Pizza Hut and Taco Bell. "You want the category leader to do well; when I was at PepsiCo (PEP) - Get PepsiCo, Inc. Report , I always hated Coke (KO) - Get Coca-Cola Company Report , but when both were doing well, the stocks of both went through the roof."
Novak also sees McDonald's recent resurgence as affirmation of the enduring appeal of fast food, despite periodic signs to the contrary.
"With fast food, what you have is the most enduring consumer category there is because people will always be looking for good food they enjoy, and at a great value and convenience, says Novak, "It's never going away. Our demise has been greatly exaggerated."
The 63-year-old Novak took the helm of the newly-formed Yum! Brands back in 1997 when PepsiCo's restaurant group was first spun off from the beverage giant, which wanted to get back to focusing on drinks and snacks. Previously Novak had served as the president of KFC and Pizza Hut.
Pepsi is a holding in Jim Cramer's Action Alerts PLUS Charitable Trust Portfolio. Want to be alerted before Cramer buys or sells PEP? Learn more now.
Since then, Novak has led Yum! Brands' growth to a staggering 42,000+ restaurants in more than 130 countries and territories, and shares of Yum! have surged about 902% from the time it was spun off, versus a 125% rise for the S&P 500. More recently, Novak helped guide his handpicked successor as CEO at Yum! Brands Greg Creed through a spin-off of its China business following advice from activist investor Keith Meister of Corvex Capital, who is now a board member.
Yum! China will be an independent company when the spin-off is completed later this year, holding exclusive rights to use the KFC, Pizza Hut and Taco Bell brands in China, with the opportunity to add or launch new brands in China on its own. Yum! China will pay Yum! Brands a license fee of 3% of its sales for KFC, Pizza Hut and Taco Bell in China. The remaining company, led by Creed, will continue to expand and develop Taco Bell, KFC and Pizza Hut in the U.S. and internationally outside of China.
"People think we are shedding China, and that is not true at all -- we are at that point where we have an opportunity to drive more value," explained Novak, adding, "I plan on keeping my stock in both companies, I think we have great upside."
At the end of May, Novak plans to step down as chairman from the company he's worked at for nearly 30 years, feeling that he has little left to accomplish and a strong management team in place with both Yum! Brands and Yum! China. He'll be turning his efforts to promoting solutions to what he calls the "global recognition deficit" that hurts the performance of both companies and their workers.
His new book, "O Great One! A Little Story About the Awesome Power of Recognition" is a parable that tracks a struggling toymaker's heir who realizes that no one at his company is happy and sets about fixing that by boosting employee morale. Novak has also launched a company called OGO, which is short for "O Great One," the nickname his grandchildren call him by, to sell products that help people recognize one another.
TheStreet spoke with Novak about the future of the fast food industry and of Yum! Brands, why his company spun off its China operations, why getting recognition at work is so critical to a company's success, and why he thinks he has the best job in the world. What follows is a condensed and lightly edited version of our conversation.
Novak leaves Yum! Brands with a new look for the Pizza Hut brand.
TheStreet: What would you say is the current state of the fast food industry?
Novak: Right now it's the one category that is growing. I think with fast food, what you have is the most enduring consumer category there is because people will always be looking for good food they enjoy, and at a great value and convenience. It's never going away. Our demise has been greatly exaggerated.
I think McDonald's is the best example of that in the world. I remember when their stock was $13 and everybody said they were never going to grow, then they had 8-9 years of success and then they ran out of gas, the stock went down a little bit, but not long because they have a lot of cash. And then they get 3% same-store sales growth now and the stock has gone through the roof.
TheStreet: What do you think of McDonald's comeback the past six months?
Novak: I have always rooted for McDonald's. You want the category leader to do well; when I was at PepsiCo I always hated Coke, but when both were doing well, the stocks of both went through the roof. So when your category leader is not doing well, that's not good. There is plenty of opportunity for us both. Our competition is at-home consumption.
TheStreet: Why is now the right time to step aside from the company you built up over so many years?
Novak: I have been doing this since 1997; I am 63 years old. For me, I had a good successor in Greg Creed. We have a great guy, Micky Pant, that will run China. I wanted to get the China spin-off done and ready to go and there isn't much more for me to do now. The other thing is that I don't view myself as retiring, I am re-firing. I have started OGO, which is a recognition brand.
TheStreet: Speaking of China, how did you come up with the structure of the spin-off, with the licensing fee?
Novak: I had seen what PepsiCo had done with its bottling group at one point in time and what Coca-Cola had done with its bottler, Coca-Cola Enterprises, and thought that was something Yum! Brands could also do. We had some bankers look at the idea, and we now think we are creating enormous shareholder value. I would have never spun off China because I think shareholders should kill us if we gave up the growth in China. So what we did was found a way to participate in the growth in China and give our shareholders a better opportunity.
Today, about 35% of Yum! Brands' profits come from China, but now at the new Yum! Brands about 13% to 15% will come from China. [Yum! China] will become a pure China play as it's the only place in the world that we own most of our restaurants. Yum! China has an opportunity to be a great free-standing company in the fastest growing economy around. Yum! Brands will then become a pure franchise play, where about 96% of our stores will be franchised -- that's a more predictable business, and we can also take on more debt like other franchised companies.
I think this will go down in history as one of the best moves ever in the food service industry.
TheStreet: Do you think Yum! Brands itself should be split up -- KFC, Taco Bell and Pizza Hut would be huge companies in their own right.
Novak: What's really unique about Yum! Brands is that we have three global companies -- so we have a diversified portfolio. I think Yum! Brands really adds value because we share best practices, technologies and consumer ideas that give us power.
Novak has left KFC with a new look, too.
TheStreet: You literally build Yum! Brands up from the ground floor. How did it feel to have an activist investor like Keith Meister come in last year and agitate for change?
Novak: When I originally saw Keith Meister's presentation, I thought he had stolen my slide deck. He even titled it "The Best of Both Worlds," which was the name of the presentation that I had given to the board of directors. We were fundamentally aligned from day one. I think Keith Meister is a great guy and director, smart as hell. He hasn't come in and told us what to do.
In fact, what I think he is helping us to do is to do things in the most effective way. I would make Keith Meister a director of any company I was at. There are activists that tell you what to do, and then there are activists that might want to do what you have in mind and who want to help to get it done. He owns a lot of stock for a reason.
TheStreet: Why haven't you launched all-day breakfast at Taco Bell yet in order to compete with McDonald's (MCD) - Get McDonald's Corporation Report  and its success there?
Novak: We just launched breakfast so we are not at the point where McDonald's is yet, but we are very happy with our breakfast business. It's by far a superior product, the best-tasting product in the industry. I think some day just like McDonald's, we will have all-day breakfast.
TheStreet: What's the coolest product you helped launch at Yum! Brands?
Novak: One is pretty interesting, and it was the simplest. When I first went to Pizza Hut, there was a concept called California Pizza Kitchen. I went out to California with my team to take a look at it. They had all of these specialty pizzas. I said to the team, how can we do what they are doing at Pizza Hut?
We didn't have chicken or bacon. The first product we came up with was pepperoni lovers, where we just doubled the amount of pepperoni on the pie. Sales boomed. And then we added other products to the "lovers" line. It all came from the inspiration of California Pizza Kitchen. If you love people, and you love food and marketing, this job is like a dream come true.
Yum! Brands will spin off its business in China by year's end.
TheStreet: How do you fix what you consider to be a "global recognition deficit"?
Novak: I think first of all, it's hard to address a problem unless you make people aware of it. The first thing I am trying to do is build awareness to the fact there is a big problem in this deficit. I learned this from traveling around the world and building a global company. I wanted to quantify the issue, so I fielded some national research in the U.S.
About 82% of employees feel like they don't get recognized by their supervisors for what they do, 60% say they appreciate recognition as much as money, 53% of people wish they were recognized more by their supervisors, and 40% say they would put more energy into work if they were recognized.
Studies have shown two main reasons why people tend to leave their jobs. One is that they don't feel appreciated for what they do and the second thing is they don't get along with their boss.
TheStreet: Yum! Brands has more than 505,000 employees now; how do you bring a system of recognition to a company that that's big?
Novak:  You can't legislate a culture from the corner office. You have to create shared experiences throughout levels of management. When we were first spun off from PepsiCo, we studied our highest-performing restaurants and we found six key behaviors. We called them our "How We Work Together Principles."
For example, there was a focus on the customer, there was positive energy, there was recognition with managers taking money out of their budget for pizza parties or movie tickets, there was accountability and teamwork. So what we then did was went out and trained people on how to make these things happen in their piece of Yum! Brands.
Taco Bell will service breakfast all-day at some point, said Novak.
TheStreet: Do you think your leadership style has changed over the years?
Novak: I was always a team builder, but I had a seminal experience when I was running operations for PepsiCo. I would go out in the field and meet with the front line. One time, back in around 1994, I was in St. Louis asking someone about merchandising and everyone started to rave about this guy named Bob who was sitting at the table. They all said they learned a great deal from him.
I looked down at the end of the table, and Bob is crying. I asked him why he was crying. He said he had been in the company for 47 years and was retiring in two weeks and didn't realize people felt that away about him. That had a big impact on me. And I said if I ever got to run a company, I am going to make recognition and having fun doing it the biggest value I can make to the culture.
TheStreet: Part of recognizing employees is giving them more money. Can the fast food industry afford to pay people a $15 an hour minimum wage?
Novak: You know, 80% of our restaurant general managers started out as hourly workers. If you look at our restaurant general manager salaries, they make over $50,000. If you look at the median household income in the U.S. it's about at that level.
I think what people don't really get about the fast food industry is that we create incredibly good jobs, but how you move up is based on your performance. You can go from an hourly worker to restaurant manager making over $50,000 to an area coach who oversees 7 or 8 restaurants and makes $100,000 a year. Our one-time chief operating officer at one point was a restaurant general manager, now he is the CEO of Potbelly's (PBPB) - Get Potbelly Corp. Report .
If you work hard and you demonstrate your worth in the restaurant industry you will get recognized by moving up the ladder, and you can have a really good life. Frankly, you want people that have ambition, desire and who want to move up.