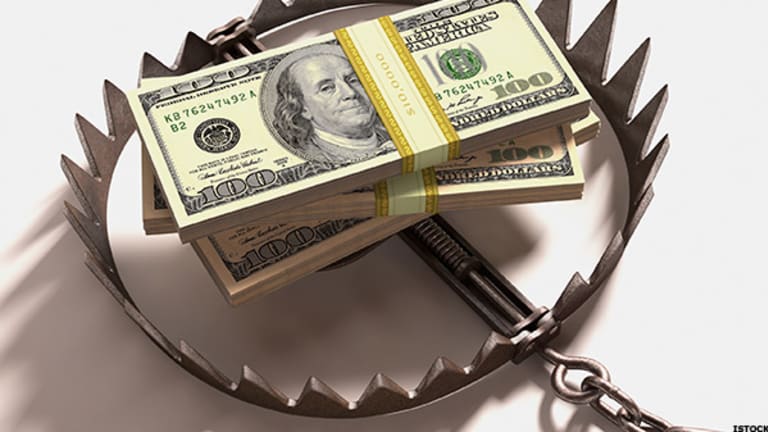 Your Survival Guide for Escaping a Bear Market
Consider these unorthodox opportunities and follow these essential defensive tips, to limit losses and realize gains amid the market's steep downturn.
Consider these unorthodox opportunities and follow these essential defensive tips, to limit losses and realize gains amid the market's steep downturn.
When the going gets tough, the tough get going.
Nimble-footed and smart investors should scour the financial landscape for new possibilities -- and also know what to avoid.
Below, we explore interesting and often ignored investment alternatives well suited for today's conditions: senior secured loans, peer-to-peer lending and private equity funds. These offer exotic yet stable sources of income, while helping to diversify your portfolio.
Let's begin by underscoring what you should definitely avoid: real estate investment trusts and master limited partnerships are an absolute no-no at this time. Within these sectors, many fundamentally weak stocks are ready to collapse.
1. Senior Secured Loans
The three features that separate senior secured loans from other fixed-income investments are: seniority, security and floating interest rates.
Further, being the first-in-line for repayment helps preserve an investor's capital in the event a company hurtles into financial troubles. Since these loans are collateralized, or backed, by a company's assets, they have the lowest loss rates of all corporate securities.
While senior secured loans exhibit a low correlation to traditional asset classes (such as publicly traded stocks and bonds), they too, at times, can offer chunky yields. In fact, savvy investors are deeply involved with senior secured loans, with over $1 trillion invested, spread across the U.S. and Europe.
In addition to being senior in the capital structure, these bank loans include a floating-rate income component. This is a unique advantage and an edge that helps you make more money relatively quickly, when rates are on the upswing.
You could look at senior secured loan opportunities at Credit Suisse's Credit Investments Group platform, BNP ParibasInvestment Partners and JPMorganSenior Secured Loan Fund (JPSL), among others.
2. P2P Loans
Peer-to-peer lending is rapidly climbing the charts; perfect for those who don't want to pay hefty management fees in other exotic alternative investments.
The volatility in stock markets, the precarious state of several vulnerable equities, and staid fixed-income yields have meant that the search for an improved and dynamic yield scenario is pushing investors to explore other arenas. These include P2P platforms, where an investor stands to receive 9% (in average net annual returns), on lending to subprime borrowers.
Of course, P2P loans are not beyond the challenges that a bank or a borrower must come to terms with: credit risk. The P2P lending industry has seen significant growth over the last couple of years, fueled by borrowers and a small portion of lenders who are comfortable lending to individuals in high-stakes, risk-and-return scenarios.
Quick tip for the uninitiated: By lending small sums across different borrowers, you could diversify risk and enjoy a healthy returns bouquet: a fixed income and some additional gains.
To become a P2P investor, you may want to look at the options offered by Upstart, Funding Circle, Peerform, SoFi and Lending Club LC platforms.
3. Private Equity
And finally we come to the big-game bracket. Private equity is always a potentially lucrative option.
Investing in privately held companies (which at a later stage could look at an initial public offering or be bought over by competitors or funds) provides private equity investors with a built-in exit strategy.
Regular investors can purchase shares of publicly traded asset-management firms that are private equity players.
Just like with a mutual fund, investment returns in a private equity company largely depend on the strengths of a portfolio manager. So, a good track record means half the job is done.
Commentators opine that a range of factors drives success for private equity firms: robust incentives for both private equity portfolio managers and the operating managers for the businesses contained in the portfolio, effective debt usage, concentrated focus on margin enhancement and cash flow generation, and the ability to stay free of restrictive public company regulations.
With many listed stocks on the verge of crashing, there is a growing belief that private equity investments could outperform the stock market benchmarks in 2016.
Here are some marquee names in private equity that you can invest in: The Blackstone Group (BX) - Get Report , Kohlberg Kravis Roberts (KKR) - Get Report , The Carlyle Group (CG) - Get Report  and Apollo Global Management (APO) - Get Report .
This group of 29 dangerous stocks is a terrible place for your money today. In fact, using a little-known financial "health test," the stocks on this list are a failure in every category! Click here now to make sure you don't make the mistake of owning one.
This article is commentary by an independent contributor. At the time of publication, the author held no positions in the stocks mentioned.