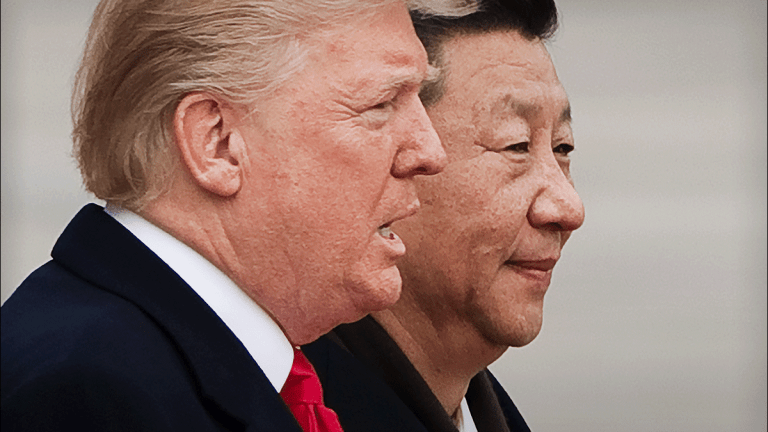 Relax -- Your Stocks Can Handle China and a Weaponized Yuan
The psychological impact of the yuan breaching 7 USD may actually augur well for U.S. stocks. And if China lets the yuan get even weaker, it may unite the rest of the world against it.
For one hectic, cacophonous day, the high-frequency trading algorithms ran wild. Spooked by the Chinese willfully allowing their currency to fall to the sacrosanct value of 7 per U.S.D, the pundits ran equally wild, and by many calculations, the sky should fall by sometime the end of this week. 
Don't fall for it. We've seen moves like this before, and you almost always lose when you let myopic emotions take over. 
Firstly, these developments may very well help U.S. equities. The "flight to safety" trade was in full bloom Monday, as the U.S. 10-year Treasury  undefined fell to 1.74%, its lowest level since October 2016. Additionally, this makes it all the more likely that we will see another 25-basis-point cut by the Fed in September. A 10-year Treasury lower than the average yield in the S&P and a dovish Fed, coupled with an economy that is still quite strong and in the midst of its longest expansion ever, all with a backdrop of very low inflation, is positive for U.S. stocks.
And let's keep these tariffs in perspective, please. The U.S. is a $21-trillion economy that is heavily services-oriented, with China coming in second with a $14-trillion GDP. The 10% tariffs Trump threatened to levy Sept. 1 on an additional $300 billion in Chinese imports amounts to $30 billion, which equates to a whopping 0.14% of the U.S. economy and 0.21% of China's. Some phones, clothes, toys and maybe some Nike (NKE) - Get Nike Inc. Report sneakers may just get barely more expensive. This near rounding error is not a reason to sell investments. If you believe in what you own, this is an opportunity to dollar-cost-average your favorite holdings.
The U.S. labeling China a currency manipulatorlate on Monday is of course a fair allegation, but it's likely mostly bluster if China doesn't allow the RMB to continue to weaken. While it's not a foregone conclusion the IMF will concur with the Treasury Departsment, if China were to get more brazen and allow the RMB to weaken substantially further, Trump and the U.S. could have a much stronger tactical position. A united front consisting of allies such as Germany, Japan, and Europe likely could materialize to take countermeasures against China and put substantial pressure on the Communist Party.
We just fell nearly 3% in one day, and we've lost at least 2.5% in a single trading day 30 times since 2009. What typically happens next? The average 5-day return has been 2.3%, and the average one-month return is 4% after these selloffs. Considering this has been one of the least bullish bull markets we've seen, the common refrain each time has been "this time it's different" when a wave of panic selling hits. Yet "buy the dip" has usually been the correct answer.
Let cooler heads prevail and at the very least stand pat, and if you're the stoic type, maybe even add a little. 
The author has no positions in any of the positions mentioned.