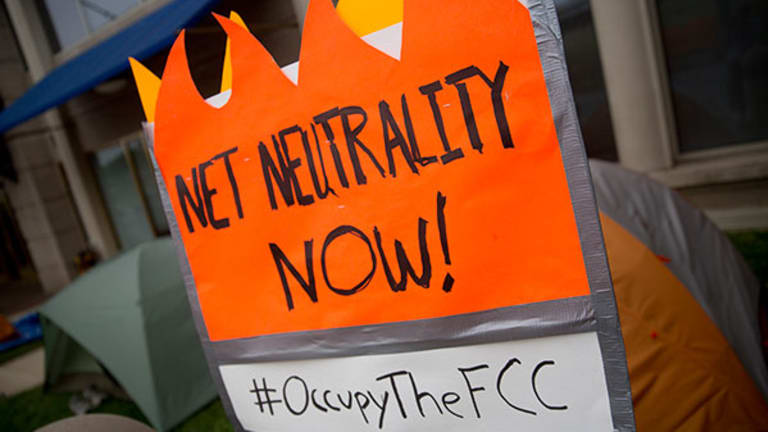 NEW YORK ( TheStreet) -- Sabers have been rattling among Internet service providers ever since the Federal Communications Commission adopted rules on net neutrality, with whispers of higher fees to come for consumers and businesses.
Sellers of high-speed Internet access warn that the FCC's decision to regulate the Web as a utility  could create new taxes, which would then be passed on to customers. There is a lot of talk from operators about higher fees, though not necessarily higher rates, said Craig Moffett, senior research analyst with MoffettNathanson Research.
"The door is now open for state and local governments to apply a series of their own taxes and fees to broadband services, which had previously been exempted," Moffett said in a phone interview. 
Even consumer advocates are watching the situation to see what the industry's next move may be.
"My concern, always, is that bills will go up," said Craig Aaron, CEO of Free Press, a Washington-based consumer group.
It's not new that over the past 20 years that consumers' Internet bills have increased, a development that Aaron said was due to consolidation in an industry that has few competitors. The pending $45 billion merger of Comcast (CMCSA) - Get Comcast Corporation Class A Report and Time Warner Cable (TWC) , will generate higher prices for consumers, Aaron said, echoing broad sentiment of opponents of the deal.
If higher fees are ahead, don't expect them to hit immediately thanks to the uptick in federal watchdogs, said Amy Yong, analyst with Maquarie.
"Cable companies are going to be reluctant on raising prices on broadband," she said, "just because of all the regulatory scrutiny the industry has attracted."
On the flip side, with extra eyes on the industry, if companies such as Facebook (FB) - Get Facebook, Inc. Class A Report, Netflix (NFLX) - Get Netflix, Inc. (NFLX) Report, Google (GOOG) - Get Alphabet Inc. Class C Report or Amazon (AMZN) - Get Amazon.com, Inc. Report were to start making direct deals on rates with internet service providers such as Comcast, that would draw the most scrutiny, she said.
This doesn't mean that prices won't change for consumers and businesses in the long term. Such increases could come in the form of modem fees, surcharges and equipment fees, Yong said.
The heightened scrutiny could force Internet providers to behave as if they were walking on eggshells, Moffett said. And though the FCC and advocates said net neutrality is not about price regulation, he said opponents have claimed the possibility is there. "The truth is probably somewhere in the middle," he said.
Based on the fact that the FCC left open the complaint process, which can include complaints about broadband service rates, Moffett said he has sympathy for arguments that it will be hard for this not to lead to price regulation. "There are plenty of conspiracy theorists out there who argue that [the FCC] wanted to regulate rates all along," he said.
What will likely come next is a series of lawsuits claiming the FCC does not have jurisdiction to classify broadband as a Title II service, Moffett said. A similar expectation to see ISPs fighting back in court was voiced by Aaron.
"They're not used to losing at the FCC," he said, "They have a long track record of winning there. There will be lawsuits."
DISCLAIMER FOR WRITERS
This article is commentary by an independent contributor. At the time of publication, the author held no positions in the stocks mentioned.