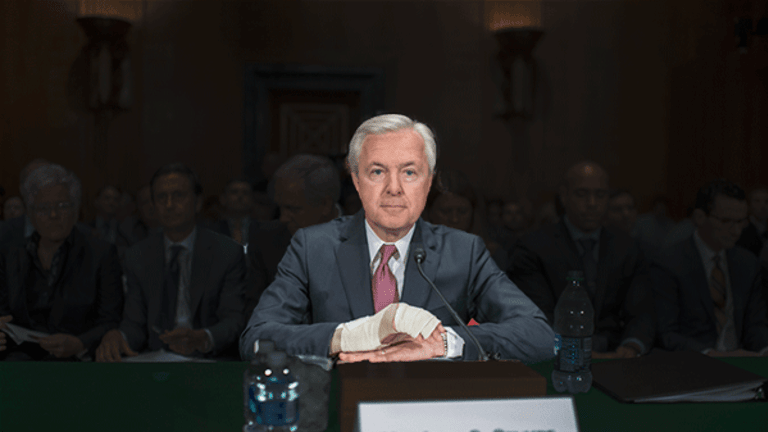 You Think Wells Fargo's Bankers Are Bad? Take a Look at Its Brokers
Wells Fargo has been in the headlines since last month for outrageous customer abuses by its bankers. Its brokers have some issues, too.
UPDATE: This story was originally published on October 5. We have added a video of Susan Antilla talking to TheStreet editor Jeremy Greenfield about Wells Fargo.  
Well at least one thing went right last week for Wells Fargo (WFC) - Get Wells Fargo & Company Report CEO John G. Stumpf: The lawmakers who worked him over at the contentious House Financial Services Committee hearing on Thursday didn't ask any questions about the firm's brokerage operations.
Coverage of the scandal that erupted early last month over unauthorized bank and credit card accounts has understandably focused on wrongdoing that took place at bank branches. The Consumer Financial Protection Bureau said on Sept. 8 that as many as 2 million phony checking, saving and credit card accounts were opened by bank employees under relentless pressure to "cross-sell" the bank's products.
As it turns out, though, it isn't just Wells's banking business that employs sketchy operators. The investment professionals tied to Wells Fargo Advisors, the company's retail brokerage division, have been accused of some not-so-customer-friendly practices of their own. This, from a company that has gone out of its way to trumpet its devotion to customers.
Earlier this year, professors from the University of Minnesota and the University of Chicago released a study that analyzed disciplinary information on more than 1 million current and former brokers.
In a breakdown of 100 firms that had at least 1,000 brokers, the Wells Fargo Financial Network ranked third-worst for employing brokers with a record of misconduct. The study said that 15% of the network's advisers had misconduct on their records, compared to an average 7% misconduct rate among all firms in the study.
The Financial Network, known as FiNet, is a Wells operation set up for independent brokers. Although they are not Wells employees, the bank holds the Finra licenses for the 1,370 brokers in the group and oversees their compliance with regulatory rules.
The FiNet brokers also did badly in a second study released in April by Securities Litigation & Consulting Group, a Fairfax, Va., company that provides expert witness services in litigation. Among 210 firms that had 400 or more brokers, FiNet ranked 16th for "investor harm." And Wells Fargo Advisors, the network of in-house brokers, ranked 24th-worst among the 210 firms.
If you tally up brokers at FiNet, brokers directly employed by Wells Fargo Advisors, and people with Finra licenses who work in bank branches, Wells has 18,942 people licensed to sell investments to the public. I learned from Finra records that some of those licensed bank employees have been fired over the past four years for infractions that mirror the behavior described by the CFPB.
Wells spokeswoman Emily Acquisto said in an email statement that "Wells Fargo takes all feedback very seriously," and recognizes that trust is at the center of its client relationships. "We hold our financial advisors to a very high standard, and we use rigorous processes to recruit and supervise them," she said.
I sent Acquisto a detailed list of questions about problematic brokers, but she declined to address the records of specific advisors.
Among those I'd asked about was a former broker who had been indicted and pleaded not guilty to securities fraud; a broker discharged in May who had racked up 38 customer complaints; a current employee with 36 customer complaints; and nine brokers who were fired for infractions that included flouting the rules when opening customer accounts at banks. Yes, just like what was described in the CFPB complaint.
There are rotten brokers at every securities firm, so Wells is hardly alone in employing people who are a menace to the investing public. What makes it stand out among its peers is its sanctimonious touts about advisors who are "dedicated to doing what's right for you," as it says on its website.
Indeed, Stumpf himself penned a letter boasting that Wells has been "consistently ranked as one of the world's most respected banks by Barron's magazine and one of the world's most admired companies by Fortune magazine." The reason? Stumpf, a.k.a. Morningstar's "2015 CEO of the year," said the company has "never lost sight of putting our customers first."
I would assume the Wells CEO had his fingers crossed behind his back when he composed that last line, because the bank has gone out of its way to say exactly the opposite when it's looking to lessen its legal responsibility to clients.
Wells Fargo is a holding in Jim Cramer's Action Alerts PLUS Charitable Trust Portfolio. See how Cramer rates the stock here. Want to be alerted before Cramer buys or sells WFC? Learn more now.
In its answer to a customer complaint filed with Finra arbitration in 2012, for example, Wells argued in non-public documents that I obtained that it had no responsibility to monitor a customer's account because it was "non-discretionary," meaning that the broker was not authorized to make transactions without the customer's approval.
That might come as a surprise to anyone who believed the rap that Wells was a place "that lives and breathes a client-centered approach to advice," as its website says. (In case you're wondering, Wells doesn't supplement its PR drivel with any caveats about being "client-centered" only for clients with discretionary accounts.)
If you're working with one of those client-centered advisors, just be sure you don't listen to any of his or her verbal investment recommendations. In its answer to that 2012 Finra arbitration, Wells said that a broker who had told a client that an investment was "safe" was merely expressing an opinion that couldn't be proven true or false. The investor lost his case.
And take care when you try to move your money from Wells to another firm. In another non-public complaint filed with Finra, an investor said that Wells didn't transfer his account in a timely manner and that he lost money in an ensuing market downturn as Wells delayed the transaction.
Wells said in its answer to that grievance that the investor had failed to send clear instructions, and that the firm "did not cause the stock market decline and thus should not be held responsible." In a decision in September, a panel of Finra arbitrators said they didn't buy it. They told Wells to pay the client $74,000 in compensatory damages and $187,000 in punitive damages because of its "conscious disregard" for the customer's interests.
Like many of its competitors, Wells shows its true colors about its regard for customers when it puts pen to paper about proposed securities regulations. In a letter to the Securities and Exchange Commission in 2013, it argued that it should not be subject to rules to put its investors first in cases where its advisors were making referrals for products including Certificates of Deposits, futures, commodities or fixed annuities.
I'm sure it's just a coincidence, but Wells says on its site that it was No. 1 in the country for annuity sales last year.
The lesson in all this: Don't fall for soothing talk that your interests come first in the eyes of the brokers that pitch you. They will be ruthless in the event of a dispute. So you'd better be ruthless in vetting them before you hand over even a penny of your money.