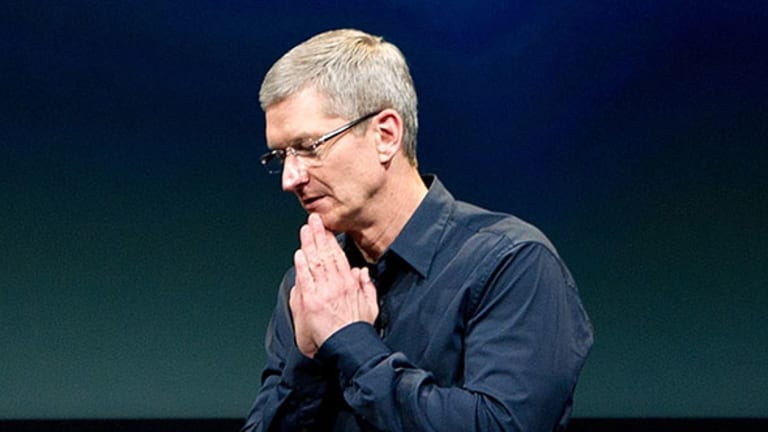 Despite many analysts holding buy ratings on Apple (AAPL) - Get Apple Inc. (AAPL) Report shares, it may be time to sell or short the iPhone maker's shares, Jim Cramer said based experiences trading stocks in his hedge fund days at Cramer Berkowitz & Co.
"When I'm a trader--when I would put on my trading hat at my hedge fund," said Cramer, TheStreet's founder and manager of the Action Alerts PLUS portfolio, which owns AAPL. "I would look at how many people are recommending a stock to try to figure out whether it's going to bottom. If you look at the recommendations of Apple, almost everyone it has a buy. You can't get a bottom until people panic, the analysts panic, and get out."
Apple on April 26, when its stock stood at $104.35, announced its earnings after markets closed, reporting an overall sales drop and an iPhone sale decrease. The following day it closed at $97.82. On Thursday in midday trading the stock stood at $90.02, down about 2.7% from its open. The stock briefly dipped below $90 per share at points Thursday.
Cramer explained that an analyst expressing concern over a certain company's shares despite recommendations to purchase shares does not always mean investors should follow the recommendations.
"So what happens, you're a hedge fund and you get a call, just basically, 'Listen, we're worried about Apple,' but you see [the analyst] has a buy rating on [the Apple stock]. That is code for, sell it, or maybe even short it. Downgrade coming. You cannot pounce on Apple until you get the downgrades."
Apple caused unease last month among some observers when the company reported its first sales decrease in 13 years and first-ever drop in iPhone sales. Following the earnings announcement, Apple CEO Tim Cook appeared on Cramer's Mad Money on CNBC in which he made his case for the upside in the Cupertino, Calif.-based tech behemoth and its future.
"We like Apple for Action Alerts because we want don't want to trade it, we want to own it. I think Tim Cook is doing a good job," Cramer said.