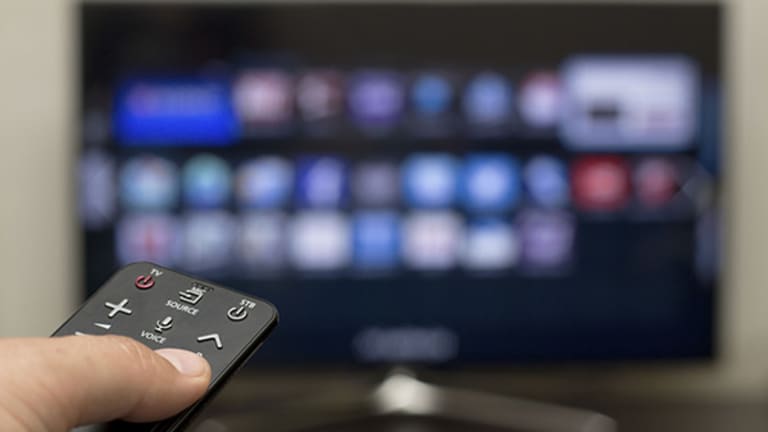 Cord-cutting is speeding up, and telecom companies are suffering the fallout.
AT&T Corp. (T) - Get AT&T Inc. Report  admitted this week it will lose more traditional video subscribers than expected in the third quarter, an announcement that sent the telecom's shares downward, and pulled the rest of the sector -- Comcast Corp. (CMCSA) - Get Comcast Corporation Class A Report , Dish Network Inc. (DISH) - Get DISH Network Corporation Class A Report , Charter Communications Inc. (CHTR) - Get Charter Communications, Inc. Class A Report and Altice USA Inc.  (ATUS) - Get Altice USA, Inc. Class A Report -- along with it.   
This story was updated from March 19, 2017 with additional information.
While AT&T's online video streaming service DirecTV gained 300,000 subscribers in the third quarter, AT&T disclosed in a Wednesday filing with the Securities and Exchange Commission that it lost 390,000 subscribers to its traditional pay-TV video service. That's hardly a wash given that cable- and satellite-TV services can be expected to get nearly twice as much leverage for their offering compared to a direct-to-consumer service.
The decline in AT&T video subscribers comes amid an over-arching transition of replacing pay-TV with an assortment of digital options, often led by Netflix Inc.'s (NFLX) - Get Netflix, Inc. (NFLX) Report and any combination of streaming services. While AT&T attributed some of the loss to last month's hurricanes in Florida and Texas, the company acknowledged that structural changes in the distribution of video remain the biggest driver to changes rocking the industry.
I personally cut the cord on cable TV back in August 2015, and though I did have a brief relapse, the explosion in the number and breadth of streaming services has made it easier than ever to dump the traditional 150-channel bundle. And that's something that should deeply trouble pay-TV providers.
There are now subscription-based video offerings for art films and horror, animation, comedy, competitive fishing, lots for children's programming and every sport that rarely gets time on Disney's (DIS) - Get Walt Disney Company Report ESPN. Apple (AAPL) - Get Apple Inc. (AAPL) Report TV, Roku (ROKU) - Get Roku, Inc. Class A Report and Amazon Fire (AMZN) - Get Amazon.com, Inc. Report devices, among others, make toggling between streaming apps as easy as your internet connection can handle it. 
For those who want a general facsimile of the pay-TV bundle and access to the largest broadcast networks, there's Sling TV from Dish Network (DISH) - Get DISH Network Corporation Class A Report , DirecTV Now from AT&T (T) - Get AT&T Inc. Report and Sony's (SNE) - Get SONY GROUP CORPORATION SPONSORED ADR Report PlayStation Vue. In the coming weeks, they'll be joined by Alphabet's (GOOGL) - Get Alphabet Inc. Class A ReportYouTube TV and a still unnamed pay-TV service from Hulu, the video-on-demand service controlled jointly by Disney, Comcast's (CMCSA) - Get Comcast Corporation Class A Report NBCUniversal and 21st Century Fox (FOXA) - Get Fox Corporation Class A Report , along with Time Warner (TWX) holding a 10% stake.
In my case, I couldn't help but notice that my wife and I and our two kids, ages 11 and 9, weren't watching much TV. The cable bill would come months after month with a charge of about $85 for well over 100 channels. Each time I sat down to watch television, I found myself surfing aimlessly. 
Meanwhile, my kids were hooked on Netflix and YouTube. Between the two services, they got all they needed. To this day, they especially like how easy it is to navigate Netflix and YouTube. They didn't grow up channel surfing -- bouncing between digital platforms is all they know. For my wife, a handful of shows on Netflix had more than occupied our time: Breaking Bad was blissful and Orange is The New Black was terrific.
So, I cut the cord with my local cable-TV provider and subscribed to SlingTV's Orange package, which includes ESPN, a bunch of Time Warner networks including CNN as well as AMC Networks' flagship network, Viceland and Comedy Central. Total cost: $20 per month (tax included).
Apple, Alphabet and Comcast are holdings in Jim Cramer's Action Alerts PLUS Charitable Trust Portfolio. Want to be alerted before Cramer and the AAP team buy or sell AAPL, GOOGL or CMCSA? Learn more now.
Months went by until AT&T introduced DirecTV Now in November. Unlike SlingTV, DirecTV Now isn't a skinny bundle, which initially made me wary. However, I'm also focused on price, and DirecTV Now's introductory offer of $35 per month for more than 65 channels was too good an offer to pass up. So I canceled SlingTV and signed up with AT&T's streaming platform.
And because the cost of DirecTV Now is so reasonably priced compared to traditional cable TV and other digital offerings, we've become subscribers to CBS All-Access, the $5.99-a-month ($9.99 for a commercial-free version) standalone app that features live programming along with a huge library of CBS shows, though I have little interest in watching any of them. So we didn't miss the Oscars last month, which made everyone happy.
To be sure, there are differences between all these new offerings both on price and channel selection, as well as functions for binge-watching and recording live shows. Google's YouTube TV won't include networks owned by Time Warner, Viacom (VIAB) - Get Viacom Inc. Class B Report and AMC Networks (AMCX) - Get AMC Networks Inc. Class A Report , but it will offer a DVR service that saves programs for nine months. Play Station Vue offers lots of digital video games, which plays into a large part of Sony's business.
Of course, cutting the cord doesn't require replacing it with one of these newer multi-channel digital pay-TV platforms.
The inherent weakness in the traditional bundle has always been that it tried to be all things for all people. Cable-TV operators bundled together lots of channels, pleasing the media conglomerates that owned those networks and the average family that had to meet the needs of the various demographics in its household.
But the rapid transition to mobile coupled with vast improvements in streaming technology has sparked a plethora of new services aimed at particular tastes. And that's great news. It's no longer necessary to subscribe to a giant bundle to get what you want.
In 2016, there were at least 27 new subscription-based video streaming platforms launched in the U.S., according to Dallas market research group Parks Associates. Though some were started by those same large media conglomerates, others came from independents and startups. There's MyOutdoorTV, which carries programming for $4.99 per month, from Denver's Kroenke Sports & Entertainment and the millennial-charged Rooster Teeth based in Austin, Texas, as well as Jazz & Blues TV, for lovers of great music.
I particularly like Time Warner's FilmStruck, which showcases a fine selection of indie and art-house films. 
For consumers, the upshot is there's more choices to watch what they like. No longer are we at the mercy of dominant broadcast networks that largely produced milquetoast shows, and worse, for much of the 20th century. Competition has sparked better video.
It's also sparked more coverage of sports. Besides MLB.TV for Major League Baseball, or pro wrestling's WWE Network, if that can be called a sport, fans of everything from wrestling to volleyball to track and field can subscribe to FloSports.
No surprise then that cord-cutting is rising and is poised to accelerate. Subscriptions to cable-TV services fell the most ever in 2016, according to media research group MoffettNathanson. The decline last year was 1.7%, or about 1.7 million subscribers.
Many cord-cutters cite Netflix as the linchpin of their current TV watching. And indeed, no other company has so disrupted the comfy media business over the past 20 years more than Netflix. Its low subscription fee coupled with no commercials and top-notch programming only available on its platform have built with an astounding 93.8 subscribers worldwide at the end of 2016.
Consumer behavior has never been the same. Netflix accounted for more than one-third of all downstream web traffic in North America in 2016, according to telecom services company Sandvine. Google's YouTube came in second at about 18%, followed in the distance by Amazon Prime, Hulu and Facebook.
Young people just aren't watching cable-TV like their parents did. Of course, that's why Comcast started Watchable and Verizon did something similar with Go90. Both are ad-supported platforms with exclusive content aimed at the cord-never crowd.
Netflix's massive worldwide subscription base has fueled a ripple effect of decision-making. By April 2015, Time Warner had fast-tracked its standalone HBO Now service, and CBS followed soon afterward with its Showtime Now standalone service. Showtime Now and CBS All-Access have each attracted more than 1 million subscribers.
The other major broadcast networks, save for Comcast, are slowly doing the same. Disney is expected to launch a standalone 24-hour digital news service on ABC as well as a standalone ESPN product, and Fox earlier this year started Fox Now, which offers subscribers to a cable TV or satellite service live and on-demand programming from its networks. 
The major broadcast owners are clearly nervous that they're losing their brand appeal given that prospective viewers are hearing about new shows through social media, and then yelling the name of that show into their Amazon Echo or similar device. Channel surfing is no longer fun. It's a bother. Comcast, to its credit, has developed a very channel navigation box, the X1, proof that even cable-TV companies can innovate.
Still, despite Comcast's best efforts, alternatives to the traditional bundle are too compelling to pass up. Sure you can keep paying the cable-TV company more than $100 per month for lots and lots of channels you never watch. Or you can venture out into a brand new world of video streaming. There's much to like.
I cut the cord and can't imagine I'd ever go back.