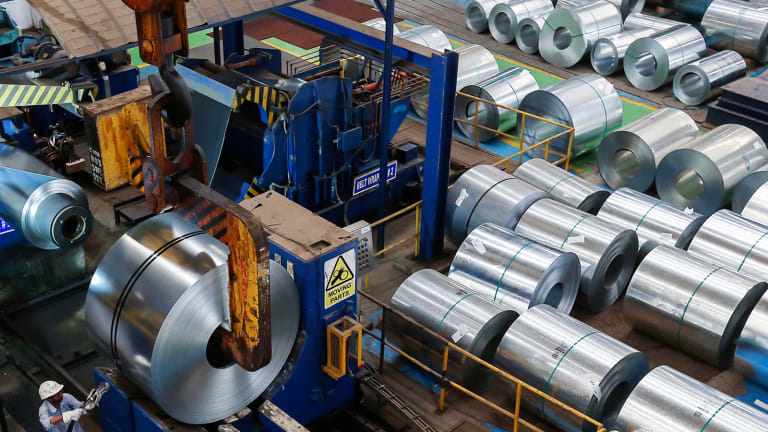 Publish date:
You Need Nerves of Steel to Make Money in the Metal Market
It's been a brutal summer for steel stocks, but they may be ready to shine. Opportunities include producer Nucor and the Market Vectors Steel ETF.
It's been a brutal summer for steel stocks, but they may be ready to shine. Opportunities include producer Nucor and the Market Vectors Steel ETF.
NEW YORK (TheStreet)-- Steel stocks may shine soon, after losing their luster during a brutal summer, but only investors with an appetite for turbulence should consider buying them.
What makes them attractive is the relatively low prices. The Market Vectors Steel (SLX) - Get VanEck Vectors Steel ETF Report  exchange-traded fund, which holds a basket of steel stocks and iron-ore producers, is down 25% over the three months through Thursday, more than three times as much as the Standard & Poor's 500 index. U.S. Steel (X) - Get United States Steel Corporation Report   fared even worse, falling more than 35% over the same period.
The stocks reflect the industry: Steel production in the United States is down more than 8% in the year through July from the same period a year ago, according to recent data from the World Steel Association. Prices for the metal have retreated dramatically, falling about 30% in the past year for one type of sheet steel, according to a recent report form PNC. 
But there's light at the end of the tunnel.
"The extraordinary turbulence in the steel industry from the past half year is subsiding," PNC says in its report. The bank also notes that price deflation, across many commodities, was largely caused by the drop in oil prices and the sharp appreciation of the U.S. dollar. When the dollar rises, the prices of commodities denominated in greenbacks, such as steel, tend to drop. The good news, says PNC, is that those factors have "run their course."
Cheap imports also weighed on domestic U.S. production, but that, too, is less of a problem. Imports are less attractive now because the difference in prices between imported and domestic metal is lower, which benefits producers with a heavy U.S. presence.
Looking ahead, the PNC report says increasing construction and better labor market conditions in the U.S. will help boost steel consumption in 2016. (Less than four months away). On top of an expanding American economy, stronger global growth next year will likely help compensate for weakness in China, the world's biggest producer of steel.
So where do you put your money? Nucor (NUE) - Get Nucor Corporation Report might be worth a look. "The firm is likely to improve upon its already enviable positioning on the industry cost curve in the coming years," says a recent report from Morningstar. Nucor is famous for using electric arc furnaces to produce its steel, which is a low-cost way to manufacture the metal. But unlike other producers that use the same technique, "Nucor offers a well-diversified product portfolio," Morningstar says.
Investors seem to be aware of the lower cost structure as the stock took less of a tumble than its peers, falling only 14% in the past three months. That said, there is still plenty of upside. Morningstar says fair value for the stock is $57, which is a 33% premium to the current price of about $42.80. There's healthy dividend yield, too, in excess of 3%. 
The Market Vectors Steel ETF is another way to make a bet on a rebounding sector.
Still, it may be a rocky road for investors. The steel business is notoriously cyclical, and Morningstar notes that Nucor's significant U.S. operations will limit "the company's ability to supply higher-growth markets" overseas.
One way to stay abreast of the industry's headwinds, regardless of whether you invest in a single stock or an ETF, is to keep an eye on costs of the raw materials required for production: iron ore and coal.
This article is commentary by an independent contributor. At the time of publication, the author held no positions in the stocks mentioned.