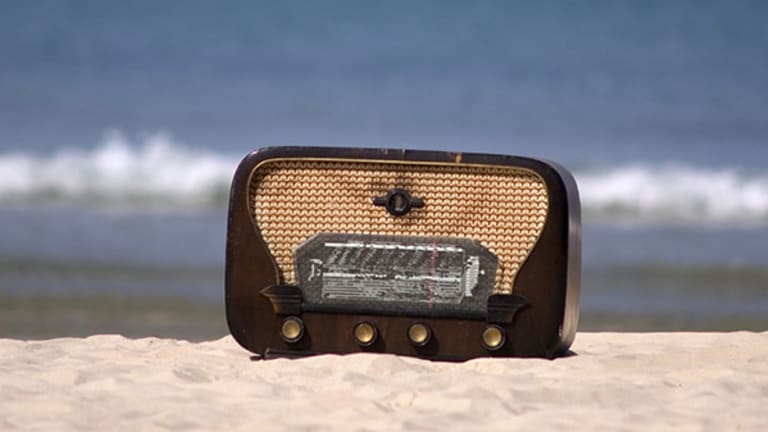 You May Never Hear This Year's 'Song of the Summer'
With radio and streaming trapped in the past and new music existing in enclosed social media ecosystems, the chances of another 'Blurred Lines' in 2014 are slim.
With radio and streaming trapped in the past and new music existing in enclosed social media ecosystems, the chances of another 'Blurred Lines' in 2014 are slim.
PORTLAND, Ore. (TheStreet) -- Nobody has any idea what the song of the summer is going to be.
The Guardian really likes Ed Sheeran's Sing and the Ariana Grande/Iggy Azalea track Problem with the Thrift Shop horns it copped from Macklemore. Billboard likes those two as well but tossed them in with 38 others... all of which it ranked behind Azalea's Fancy.
Basically, the establishment likes Australian hip-hop and isn't so sure that a Justin Timberlake/Michael Jackson mashup has staying power, or that Calvin Harris' Summer, already up to nearly 37 million spins on YouTube, hasn't hit its dance floor peak.
But the bigger problem is that the summer song formula is now forever broken and a combination of social media and advancing technology are in no rush to piece it back together again.
Here's how it used to work: A record label released a single to radio sometime in spring, produced a video shortly thereafter, let it ferment for a few months and then watched the money roll in just in time for a summer tour. For example, Katy Perry's people at Capitol Records dropped I Kissed A Girl in April 2008 to make it that summer's biggest single and held off until early May of 2010 to launch that summer's gigantic California Gurls.
In 2009, The Black Eyed Peas and Interscope Records waited until May 21 to release I Gotta Feeling and it still took over the summer charts by the Fourth of July. Even now-defunct LMFAO and Interscope managed to pull it off after releasing Party Rock Anthem in early March 2011, only to see it sell seven million downloads by July.
But radio -- regular, satellite, streaming or otherwise -- isn't where new music lives anymore. Rocco Pendola likes to think that's not so, pointing to Cumulus radio's presence on ClearChannel's iHeartRadio app (the second most popular in the U.S. behind Pandora (P) and just ahead of Apple's (AAPL) - Get Report iTunes radio) and on streaming service Rdio. But the 32% uptick in streaming recorded by Nielsen Soundscan last year went to AOL (AOL) , Cricket, Medianet, Rdio, Rhapsody, Slacker, Spotify, YouTube (owned by Google (GOOGL) - Get Report), Vevo (a joint venture in which Google has an stake) and Zune. That's a bunch of streaming and social network fodder that never touches the radio dial.
Even when it does, in the case of iHeartRadio, ClearChannel only manages a 9% stake in the overall streaming market -- compared to 31% for first-place Pandora. But, as Carlton Wilkinson notes, only vinyl-buying fogies who want to hermetically seal themselves in the past listen to streaming stations with any frequency. While much of the country might catch a Tove Lo, Bleachers, Clean Bandit or KONGOS track here or there, fans have been putting each other on to Jhene Aiko, DJ Snake and MKTO by sending tracks and videos through WeChat, SnapChat, WhatsApp and multiple other social platforms.

And Billboard's not charting any of that. Please: Let It Go from Frozen was still No. 9 on the Hot 100 on May 19 -- about a half a year after most kids first saw the movie and months after the song won Best Original Song at the Oscars. Iggy Azalea represents that chart's youth movement, and Billboard already featured her on its Billboard Music Awards show. She may as well be Celine Dion.
The old-line music industry is feeling a little full of itself heading into this summer, especially after Robin Thicke, T.I., Pharrell and Universal-owned Interscope Records restored the status-quo with Blurred Lines in summer of 2013. Even then, however, the industry tripped over itself to not only recognize Macklemore & Ryan Lewis' independently released Can't Hold Us near the top of last summer's charts, but to give the duo a whole lot of hardware at the Grammys for a song and album that Big Music produce or promote. That retroactive rush basically played Macklemore out and made him the paler, more cloying and (if possible) more preachy version of Will Smith's Fresh Prince.
There is a solid chance that this summer's music offerings are going to look a whole lot more like those of Summer 2013. Carly Rae Jepsen's Call Me Maybe was released on a small label in Canada in September 2011, but it took some well-placed tweets from Justin Bieber in January 2012 to give it some momentum. Jepsen's modest video for the song started racking up hits on YouTube just before Bieber, his then-girlfriend Selena Gomez, Disney kid Ashley Tisdale and Nickelodeon band Big Time Rush put up their own YouTube video for the song that February.
Call Me Maybe climbed slowly up the U.S. charts through March and April but got a big boost in May when the Harvard baseball team posted a lip-dub version of the song in May. A version with Jimmy Fallon and The Roots on NBC's Late Night followed. By the time the Crystal Palace football club, the U.S. Swim Team, the Miami Dolphins Cheerleaders, The Chippettes, members of the U.S. military and Cookie Monster released their versions in July the song was in the middle of a nine-week stint on Billboard's Hot 100.
Toward the end of Jepsen's summer, a weird little horse-dancing video featuring veteran South Korean rapper Psy began to make the rounds. With billions of views, Gangnam Style became YouTube's most-watched video of all time and was in playlists long before U.S. radio or even Ellen Degeneres got hold of it.
Even Google CEO Larry Page became convinced of Google's power as a music medium after Psy's run. Initially released in mid July, Gangnam Style hit the top of YouTube's music chart by the end of August 2012 and made its horse-dancing, toilet-sitting, car-flashing video a part of pop-culture lore. With $2 per 1,000 pageviews, Psy made more than $1.2 million on the video alone by November.

Page called Gangnam Style a glimpse of the future as Psy was able to make a bonafide bankable hit through a video/download approach that had since been reserved for novelties like The Bed Intruder Song or Rebecca Black's Friday. The song of the summer no longer needs airplay or a radio format of any kind to be a hit -- it just needs to get around to enough people to make it work.
That brings us to Summer 2014.
Adult casual U.S. music fans are either listening to heavily pared-down radio that's mostly bereft of new or daring songs or they're listening to streaming stations full of the same pap they were listening to 10 to 20 summers ago. Younger, more-connected music fans are sharing music the charts can't track and listening to it through earbuds or in clubs away from the public at large.
Their potential "song of the summer" is out there for anyone willing to find it, but there's a strong chance that radio of any sort isn't going to get to that song until well after Labor Day.
-- Written by Jason Notte in Portland, Ore.
>To contact the writer of this article, click here: Jason Notte.
>To follow the writer on Twitter, go to http://twitter.com/notteham.
>To submit a news tip, send an email to: tips@thestreet.com.
RELATED STORIES:
>>Stop Calling Music 'Indie' -- There's No Such Thing Anymore
>>How To Be The Old Guy At The Music Festival
>>Shed Hell: Nine Inch Nails, Soundgarden Are The New Styx, REO Speedwagon
Jason Notte is a reporter for TheStreet. His writing has appeared in The New York Times, The Huffington Post, Esquire.com, Time Out New York, the Boston Herald, the Boston Phoenix, the Metro newspaper and the Colorado Springs Independent. He previously served as the political and global affairs editor for Metro U.S., layout editor for Boston Now, assistant news editor for the Herald News of West Paterson, N.J., editor of Go Out! Magazine in Hoboken, N.J., and copy editor and lifestyle editor at the Jersey Journal in Jersey City, N.J.