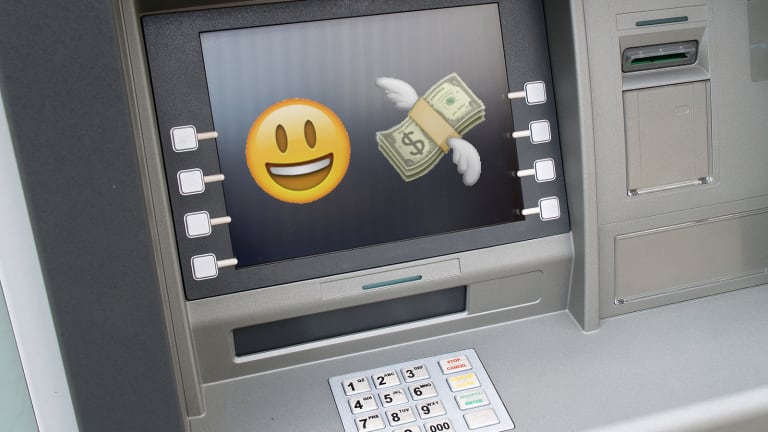 In the brave new world of biometric ATMs, getting your money may be more than meets the eye. That's because Citi  (C) - Get Citigroup Inc. Report is testing automatic teller machines that authenticate customers through a scan of their eyes. While the biometric device, made by Diebold (DBD) - Get Diebold Nixdorf Incorporated Report , eliminates the need for a plastic ATM card, pin number and even a touch-pad screen, there are drawbacks and likely unintended consequences. 
Here's how it works: Customers approach the streamlined ATM -- which Dieblold has named "Irving" -- after having first gone to Citibank's mobile app to tap out instructions for a cash withdrawal. They present their peepers to Irving, who, having instantly verified their identity through the uniqueness of their iris, delivers the cash.
Diebold boasts that the entire hand-off takes less than 10 seconds, during which time a typical ATM user would either have dropped her card or been instructed to reinsert it for pulling out too quickly.
The benefits of Diebold's "self-service Irving concept," as the company calls it, are manifold, including an end to card theft and fraud. Reading the company's description of a simple cash withdrawal using Irving is to glimpse the bank of the future:
"Consumers are identified through near field communication (NFC) as they walk up to the concept and are delivered instant access to cash through contactless, mobile-banking methods such as quick response (QR) codes, NFC and iris-scan biometric technology."
It sounds like the banking equivalent of "Beam me up, Scotty."
Citibank has yet to launch the machines but reports successful results with consumers at a test lab in Queens, N.Y. Bank of America and JP Morgan Chase are readying their own cardless solutions, while Wells Fargo has given demos of a biometric app utilizing facial and voice recognition technology.
Diebold, which showcased its eye-opening ATMs at a Las Vegas trade show last month, predicts Irving will be the standard of automated banking within five years. "This is part of the growing awareness of biometrics and biotechnology in daily life," the company's head of new technology and design told CBS News.
Irving sounds like a decent, well-meaning fellow. And trim (Diebold says he'll take up only two-thirds the depth of a conventional ATM, with 37% less width, making him the leanest of all cash machines). But I wonder how well he'll manage in the rough and tumble streets and vestibules where most of us conduct our mobile banking.
In an engineered universe, I might know precisely how much money I need before venturing out into the world. But like most people, I usually figure that out as I'm standing at the ATM, deciding whether to take the minimal grocery funds or to splurge for the rest of the week and keep an extra wad for whatever. Often I don't remember I need cash until I pass the bank on the way home.
Once Irving's on the scene, I'll have to program withdrawals on my phone before I step up to the machine; if I suddenly want more -- or less -- I'll have to start over through the app, like one of those ergonomic elevators that only takes you to a specified floor with no option for changing your mind.
Dieblold imagines a steady march of customers flashing their eyes and wallets as they pass by Irving in perfect Jetsons-like intervals. In fact, I expect to witness a lot of frantic screen-typing, cursing and jostling among those of us fumbling with the app before our turn arrives, or after it arrives, since you can bet I'm not retreating to the corner of the lobby or stepping out in the cold to program my phone while a line impatiently forms in front of Irving. Add an interrupting, inbound call from your wife reminding you to pick up a roll of paper towels, and you're talking about a lot more than 10 seconds for getting out of there.
Even if it works as designed, I'm not eager to interact with a machine in such a hurry to send me on my way. I like that Citi's ATMs offer a language preference -- sometimes I choose Mandarin or Spanish to see if I can complete my transaction without switching to English. I check my account balances or transfer funds from checking to savings -- activities I feel more comfortable doing at an actual bank than on my phone. If I'm printing out a record of recent transactions, I can close my eyes a few seconds, a nano-nap I'm afraid Irving might not understand.
Cardless ATMs might be secure from data breaches, but that's not to say the app isn't vulnerable to hacks. And Irving probably won't be able to do much to stop ordinary street muggers from grabbing customers' freshly drawn cash, still the most common form of ATM theft.
In a more chilling scenario, a determined thief could force a customer to input multiple large cash withdrawals by phone and force the victim to hit Irvings all over town. Thousands of dollars could be pulled in a few blinks of the eye and the customer could be in physical danger to boot.
What really spooks me about the new ATMs is the cyborg-like face-off they'll require once I've gone through the app's paces and am ready for my money. Do I go for wide-eyed approval, a wink, a glare, a mugshot, or the robotic look?
What happens when the machine is out of cash, or isn't responsive to my hazel iris? I'll have to summon my inner Larry David and attempt the fiercest stare-down ever to get the better of Irving. If that doesn't work, I may resort to another form of near-field communication, at which point you'd better stand aside and watch out for my back kick. 
This article is commentary by Allan Ripp, who runs a press relations firm in New York. At the time of publication, the author held no positions in the stocks mentioned.