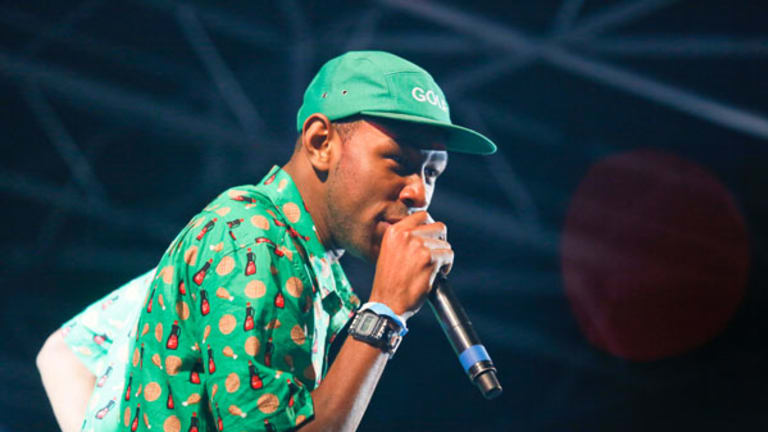 You Don't Know What Your Kids Are Listening To
Technology has created a soundproof playroom, miring the elders in the past and isolating them from the music of their children.
Technology has created a soundproof playroom, miring the elders in the past and isolating them from the music of their children.
NEW YORK (TheStreet) -- Imagine a new sequel to Back to the Future: parking the Mr. Fusion-powered DeLorean outside a diner in the sparsely populated Midwest. New Levittown-style houses, poodle skirts, soda jerks, greasy hair, your Dad as a fresh-faced teenager.
Now, imagine that in this universe, everything is the same as it was then, except there are no jukeboxes and radio never yielded to the pressure to play rock 'n' roll. Adults have no idea how to buy or access the 45 RPM singles of "popular" music. Radios play only what they were playing when the adults were kids: Frank Sinatra, Glenn Miller, Bing Crosby.
Kids get their music by trading with each other, buying singles at private shows where anybody over 25 can't get in and at secret locations that adults don't know about. The commercial music industry caters to both mutually exclusive demographics: stocking the kids' outlets with fresh new rock 'n roll and rhythm and blues 45s while saturating the airwaves with crooners, jazz-era greats and healthy doses of Liberace pablum and light classical music.
Each generation is isolated in its groove; the elders, mired in the past, are unable to reach the younger generation.
If that little generation-gap world strikes you as it does me -- a snow-globe scene from Hell -- then you may be frightened to hear that we are living quite close to a 21st Century version of that right now.
Teenagers and young adults are getting new music from social media -- each other, that is, in secret, far from the prying eyes and crusty taste buds of the adults. All they need is a hint and they can find new music faster than you could drop a dime on iTunes and way, way faster than you could find your old Whitney Houston CDs. They find it track by track, artist by artist, on Spotify, Google's (GOOG) - Get Report YouTube and other sites online.
Adults have access to the same sites, but lack the social milieu to point them in the right direction. In other words, they have no idea what's going on there. No clue about the explosion of new styles happening right under their own roofs.
What are adults listening to? Retrograde choices suggested by Pandora (P) , Spotify, Beats Music, Apple's (AAPL) - Get Report iTunes Radio, Rdio -- these services are all identical in that they give us a perfect rear-view mirror for all the music we ever held dear, overwhelming us with so many of those choices and ignoring -- more or less completely -- the new music that is coming straight at us like a Mack truck.
You listened to Led Zeppelin recently. Want to try Pink Floyd? Want to try Cream? Spotify asks me. I do love all three of those bands and have since I was 14. I'm excited to see their names pop up onto my screen as if they hadn't ceased to be relevant before the turn of the millennium. But I have to say, as the father of two teenagers, I find all this nursing of my sore, aging ego more than a little disturbing. When I'm spending all my time gazing at my own past, what am I missing about my kids' lives? Or my own life now?
Oh, you say, but I'm in touch! I know Lady Gaga, Pharrell Williams, Kanye West -- I know what my kids are listening to. No, you don't. That stuff is broadcast radio and it is the smallest tip of the iceberg. The rest is closed off to us.
Don't even bother to run your 15-year-old daughter's iPod or the music on her phone. The catalog of recent hits that make her shriek privately with joy is not there.
It's nowhere, in fact. There is no list in any one place that you can access. It's in her head and the heads of her friends and acquaintances on Facebook's (FB) - Get ReportWhatsApp, SnapChat, WeChat, KakaoTalk, Instagram. It's in the text messages that she routinely deletes because she knows that, being a responsible parent, you will run her phone.
Yeah, sure, everybody is listening to Happy by Pharrell Williams. You know it because he was on Oprah and Happy was in a movie your 9-year-old dragged you to see. There are one or two other names your kids are listening to right now that you might recognize: 50 Cent (no, he's not dead), Skrillex, Chris Brown.
But before you pat yourself on the back for recognizing those, how about Big K.R.I.T.? ScHoolboy Q? Jhene Aiko? Kid Cudi? YG? Know them? You could. They're huge and they turn up on the radio occasionally in one form or another. But they, too, are still the tip of the iceberg, just a bigger bit of the tip.
The XX. The Weeknd. Childish Gambino. Have you listened to them? No. Are these acts on the radio? No, no and no. Are they huge? Yes, they are huge.
You've heard of Tyler the Creator, I'm sure. Have you listened to him? Probably not. Your kids do. Will his music ever be used in an animated Disney feature? That would be hell no.
Satellite radio is no help. Like streaming playlists, satellite channels have become hyperspecialized, locked into all-too-familiar themes.
But, oh yes, you have a Spotify account . . .
You listened to Led Zeppelin recently. How about The Weeknd?
Um . . . no. Spotify and all the other services can't make that leap. They aren't about to give you something that you haven't already expressed interest in. If what you're looking for is something unrelated to your past preferences, you're out of luck.
Mind the Generation Gap
This ignorance isn't a totally horrible thing, nor is it entirely new. Our parents didn't want to know what we were listening to and condemned what they heard of it. Their parents before them -- same.
What is different is the technological cone of silence that now allows this generational separation to be even more complete, even more isolating than the Manhattan my father poured and the book he went off to another room to find every time I put Jesus Christ Superstar on the record player. At least he had an idea what I was listening to. In the time it took to walk away, he discovered what my music sounded like, and could then make the connection between things I was singing in a too-loud voice in the car and the new-vinyl collection that polluted his Edith Piaf and Barbra Streisand recordings.
That's over. Each generation now lives in a soundproof room consisting of these four walls:
Ear buds. No more bookshelf speakers for the shared stereo in the living room. The music goes directly into the ear from whatever device. Sure headphones have been around since the '70s, but only in the iPod era of the last 10 years have they become the dominant way to listen.
The device itself. Even for purchased files, the list is private. My father could see my records. The music my daughter has purchased is all on her iPod, removed from the view of the rest of the family.
Streaming. Purchases of music have given way to ad-based or subscription services that make any music "collection" ephemeral. At the same time, streaming pushes us into personal listening habits, precluding the opportunity for shared experiences we might have found and making new styles our kids might like seem more and more unfamiliar and exotic.
Social media. Twitter is the primary billboard for artists. A new song can spread in the time it takes to hit "retweet." But the network is pretty much exclusively friends and the younger you are, the more likely your friends are in the same age group as yourself.
Shut off Pandora for a minute (you know all the words anyway). Hear that? That is the silence of obsolete old age, my friend. Welcome to the nonlinear future of music, you hulking, vinyl-collecting, CD-hoarding, iTunes-purchasing dinosaur. You and all the music choices you take such pride in are in the process of being thrown overboard as the cutting bow of culture speeds on to the end of the decade.
You and I are history. And whatever the future sounds like, we won't know.
Unless . . . we do the unthinkable. You may be wondering how I came to know the artists I mentioned above, the ones not being played on the radio, not available on any list.
Simple. I asked my daughter.
P.S.: Anyone who got the "cone of silence" reference, thank you.
-- Written by Carlton Wilkinson in Asbury Park, N.J.