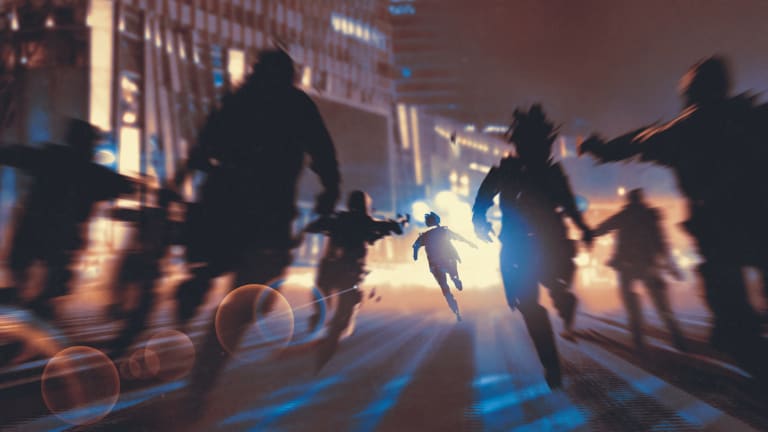 You Can't Price in Pure Mass Chaos: Market Recon
The president needs to convince the people that he can show an increased level of personal discipline.
"Panic causes tunnel vision. Calm acceptance of danger allows us to more easily assess the situation and see the options." -- Simon Sinek
Panic
Investors had started to mistrust the marketplace. Breaking news of the dreadful terror attack in Barcelona added to the already "risk off" sentiment, but that ball was already rolling when the street learned of this event. A president that had lost the faith of big business was bad enough, but how do you price in an administration that had lost the faith of big business, as well as rumors that it could lose its closest economic advisor? Someone trusted by all? How do you price in chaos?
Tennessee Republican Senator Bob Corker was clear. "The president has not yet been able to demonstrate the stability nor some of the competence that he needs to demonstrate in order to be successful." Corker went on: "He also has recently not demonstrated that he understands the character of this nation." Let's not forget that this is someone who has supported the president in the past. Bitter pill to swallow. The president has been criticized often. He seems to thrive on it at times. What was different this time was the abandonment of obvious allies, and day-long rumors regarding the director of the president's National Economic Council.
The New York Times ran a story on Wednesday stating that Gary D. Cohn was described by people close to him as "deeply upset" by how the president had publicly handled the events in Charlottesville, Virginia, over the weekend. Cohn is Jewish. He was offended. The story also mentioned the silence of the Secretary of the Treasury, Steven Mnuchin, who is also Jewish. Rumors were rampant on Wall Street that Cohn might resign in anger. The White House felt it important to state publicly that this was not the case.
Cohn and Mnuchin are considered highly competent by all. The loss by the administration of either one of these two gentlemen would be seen as catastrophic, and that is how financial markets reacted. This president's words on Tuesday were reckless. They were left open to misunderstanding, either intentionally, or accidentally. I am not publicly political. I think you all know this. One thing has become clear to me at this point: This president needs to address the nation in prime time. He needs to convince the people that he can show an increased level of personal discipline. He needs to convince people like Senator Bob Corker, Gary Cohn, and Steven Mnuchin, who obviously want to support him, that he can be the right person for the job.
Meat Grinder
The Dow Jones Industrial Average took a 274-point tumble on Thursday, the biggest drop seen for the blue chip index all summer, in fact the largest in three months. Any sign that Gary Cohn, who is under consideration for the seat of the Chair at the Federal Reserve is still committed to the success of this administration, would at least put some kind of bid under the spate of panic selling seen across risk assets on Thursday.
As it was, or may still be, 30 Dow stocks closed in the hole; 11 of 11 equity market sectors took a beat-down. Eight of those 11 suffered declines of 1.25% or more, while the S&P 500 broadly surrendered 1.54% itself.
The technical damage was significant across many segments of the market, as well. The S&P 500 closed below the lows of August and the highs of June. Without improved political stability, this would indicate a potential showdown somewhere between 2400 and 2410, as that battleground represents the lows of June as well as the highs of May.
The Russell 2000 (Small Caps) closed below its 200-day Simple Moving Average for the first time in a year. This line had acted as support as recently as last week. On top of that, the Dow Jones Transportation Average plunged 2.4% on the day; 2.4%, gang! This index now stands below its 200-day SMA as well. After this meltdown, which in all honesty could get much worse, without even being called a correction by definition, the S&P 500 stands up 8.5% year to date. It is those other two significant indices that are rattling around my brain though the dark of night. The Dow Transports are only up 1.2% on the year, while the Russell 2000 is virtually flat, just fractionally higher. This screams out for an end to the chaos in Washington. Is anyone listening?
The Dow Industrials, the top half of the S&P 500, and the tech sector are less vulnerable to the ways of Washington. They might be vulnerable to peripheral profit taking as that becomes necessary in a risk off environment, but the global fundamentals are indeed there for those groups. The transports are reliant on growth, and the small-caps are reliant almost purely on domestic fundamentals.
If the potential for growth ends up being pushed out due to the chaos, and if tax reform becomes a fantasy (it has), it will be nighty-night for these groups for now. You might have, in the mess that was yesterday, noticed that White House decided to end the planned council on rebuilding this nation's infrastructure. This council had not even been formed as of yet, but it was felt that staffing this group would have been difficult at this time. That is very negative for domestic-based firms.
What to Do About It
It's never easy to act rationally while those about you are losing their minds. Hopefully you have been taking off some names that have already been annoying you. I have been doing some of that this week, even on Thursday. Still holding out on a couple of names that I thought would benefit from the Trump agenda, I have whittled those positions down to tag ends in order to raise cash levels. Selling puts in names that you like at strike prices that you are comfortable with is a strategy that I use often in order to raise revenue. Unfortunately, as "earnings season" winds down, the low hanging fruit is gone, and finding premiums worth the risk becomes far more difficult.
It is OK to add to conviction longs in this environment. I would hold off, however, on doing anything that increases my cost basis in these names, which pretty much rules out most of the techs, and leaves you playing around in the energy and telecom spaces.
Times like these always leave folks wondering if they have a proper allocation toward precious metals in their portfolios, or if they have any allocation in that space at all. For those playing along here, we are approaching the giddy-up spot of $1305 for physical gold. Dependent upon dollar valuations, this is where I believe that if taken and held, we will see an acceleration to the upside for the yellow metal.
Here is investing legend Jim Rogers warning about the next financial crisis.
Macro
10:00 - U of M Consumer Sentiment (August-adv):Expecting 94.0, July 93.4. Though still running close enough to 20-year highs, the July survey represented the least overall confidence seen here since last October. It will be very interesting to see if the soft data, which has been excellent under the Trump administration, begins to erode, and to what degree with Washington in such a state of chaos.
10:15 - Fed Speaker.Dallas Fed Pres. Robert Kaplan speaks from Dallas this morning, after speaking from Lubbock just yesterday afternoon. Kaplan, who is a voting member of the FOMC this year, is clearly not on board with another interest rate hike unless there is some progress made toward the Fed's 2% inflation target. Today, Kaplan will answer questions for the audience.
13:00 - Baker Hughes Rig Count (Weekly):Last Week total 949-5, oil 768+3. WTI Crude found some support on Thursday afternoon despite having fallen in price all week. This happened concurrently with a U.S. dollar that strengthened as the afternoon wore on. That in itself is interesting. Crude needs to see a reduction in operational oil rigs this week in order to finish the week well.
Sarge's Trading Levels
These are my levels to watch today for where I think that the S&P 500, and the Russell 2000 might either pause or turn.
SPX: 2447, 2438, 2432, 2422, 2411, 2404
RUT: 1376, 1369, 1361, 1352, 1347, 1341
Today's Earnings Highlights (Consensus EPS Expectations)
Before the Open: (DE) - Get Deere & Company Report ($1.90), (EL) - Get Estee Lauder Companies Inc. Class A Report ($0.43), FL ($0.91)
Get Morning Recon delivered directly to your inbox each market day. Click here to sign up for e-mail delivery of Stephen "Sarge" Guilfoyle's Morning Recon, Jim Cramer's Daily Booyah! or other great free newsletters from TheStreet.
More of What's Trending on TheStreet:
At the time of publication, Stephen Guilfoyle had no positions in the stocks mentioned.