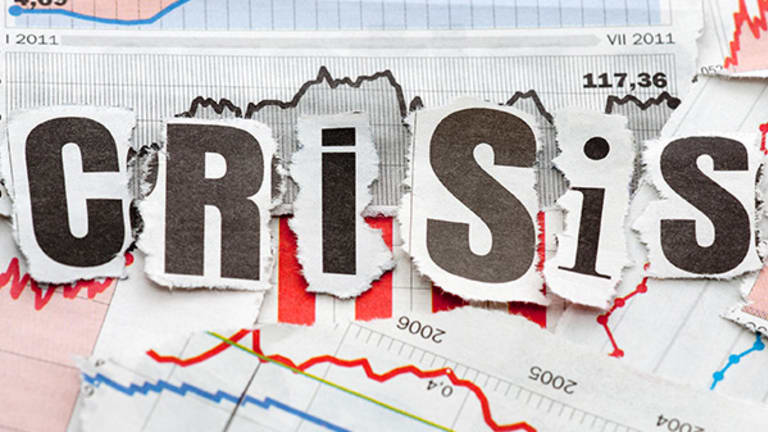 Publish date:
You Can Profit From Brazil's Worsening Crisis -- Here's How
As a collapsing economy and widening political scandal spark violence in the once-thriving country of Brazil, this is your opportunity to make money from the country's epic mismanagement.
As a collapsing economy and widening political scandal spark violence in the once-thriving country of Brazil, this is your opportunity to make money from the country's epic mismanagement.
"BRIC" nation Brazil is coming apart, brick by brick. The latest blow occurred on Monday, when the campaign to impeach embattled President Dilma Rousseff cleared a congressional panel, paving the way for a tense vote on her ouster in coming days in Brazil's Chamber of Deputies.
Brazil, Russia, India and China, a.k.a. the BRICs, are all contending with various economic challenges. Brazil is by far the worst of the lot, however, plagued by not only economic decline but also a political scandal that's tearing at the very fiber of its society and spawning violent protests. Brazil is now home to some of the most dangerous stocks on the market.
And yet, let's not forget the old Wall Street adage: The time to invest is when there's blood in the streets. In Brazil, that's literally and figuratively the case.
Brazil's gross domestic product plunged by 3.8% on a year-over-year basis last year, the biggest contraction in 25 years. Brazil is on course in 2016 for its worst recession in more than 100 years. Inflation has reached nearly 11%, with joblessness at 7.6% and rising.
The most severe economic downturn in Brazil since the 1930s has deprived Brazilian businesses of workers with disposable income or, worse, jobs. As the number of nonperforming loans rises, banks are cutting back on lending, feeding the downward spiral.
Anger on Monday flared in Brazil's Congress ahead of the investigating panel's 38-27 vote on whether to impeach Rousseff, with lawmakers shouting and physically threatening each other during the nationally televised proceedings. The panel, charged with examining the accusations of corruption against Rousseff, decided it was justified to recommend impeachment to the 513-member Chamber of Deputies, the lower house of the National Congress.
If Brazil's full lower house approves the impeachment measure, the matter would then move to the Senate, which would vote whether to suspend Rousseff. If that occurs, she would be replaced by her vice president Michel Temer and put on trial. Rousseff's alleged crimes involve manipulating the government's books to hide budget shortfalls during her 2014 re-election campaign.
In recent weeks, citizens have taken to the streets to wage bloody demonstrations against a government that they feel has betrayed its professed populism and aligned itself with oligarchs.
Last week Brazil's chief prosecutor dealt a new blow to President Dilma Rousseff and her predecessor Luiz Inacio Lula da Silva, asserting that his cabinet appointment was a thinly disguised attempt to disrupt investigations. Once seen as a working class savior beyond reproach, the leftist "Lula" now stands accused of kickbacks and bribery, a deep embarrassment for not just Lula but for the millions of Brazilians who once revered him.
It's getting downright ugly in Brazil, with worsening economic chaos into the foreseeable future, which renders Brazil-related equities among the most toxic you can find.
You can capitalize from the epic mismanagement of Brazil's hapless leaders by selling short the iShares MSCI Brazil Capped Index Fund (EWZ) - Get Report , an exchange-traded fund that's a proxy for the country's economy. With $2.93 billion in assets and a relatively low expense ratio of 0.62%, this ETF seeks to track the investment results of the MSCI Brazil 25/50 Index.
Holdings include struggling mega-caps such as energy producer Petroleo Brasileiro SA Petrobras, Ambev (food and beverages), Banco Bradesco and Cielo (payments processing). The iShares MSCI Brazil Capped Index Fund has declined 20% over the past year and 42.47% over the past two years. The S&P 500, meanwhile, has lost 2.0% over the past year and gained 11.5% over the past two years.
A more aggressive way to make money from Brazil's multiple crises is to buy the ProShares UltraShort MSCI Brazil Capped (BZQ) - Get Report ,  an inverse ETF that seeks daily investment results corresponding to two times the inverse of the daily performance of the MSCI Brazil 25/50 Index.
With assets of $39.8 million, the fund's expense ratio is a reasonable 0.95%. Mainly focused on large caps, this ETF is the easiest way to short the unfolding horror show in this once thriving nation.
As Brazil hurtles toward a nasty day of reckoning, the broader markets look shaky as well. Do we face a repeat of a 2008-type calamity? You need to prepare now, by weeding out the fundamentally flawed stocks that could ruin your portfolio. We've done the homework for you, by putting together a report on the world's most dangerous stocks. These equities are poised to collapse; don't get left holding the bag. To download your free copy, click here.
John Persinos is editorial manager and investment analyst at Investing Daily. At the time of publication, the author held no positions in the stocks mentioned.