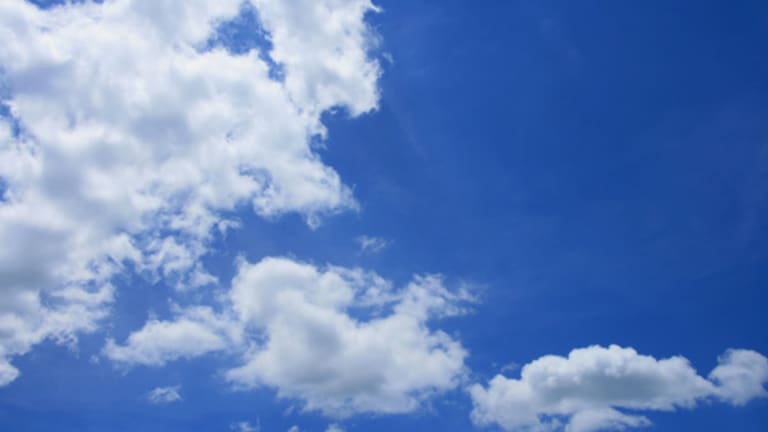 Publish date:
You Are Still Underestimating Cloud
The impact of cloud computing will be larger and longer lasting than investors now imagine.
The impact of cloud computing will be larger and longer lasting than investors now imagine.
NEW YORK (TheStreet) -- There are two primary drivers for our current economic recovery.
One is oil, specifically fracked oil and gas. I think we have overestimated its importance, because fracked wells don't last. Their costs and depletion rates are high. They're a bridge and not the highway.
Second is cloud, the computing revolution that began in the last decade. I think cloud is the highway, and here's why.
Back when I started as a tech reporter in the 1980s, one theory held that computers could do just one thing at a time and could run just one operating system. When the Web was first spun, sites could go down if there was a rush of traffic to them.
Cloud changes the paradigm. Distributed computing allows for infinite scale and parallel processing of jobs. Virtualization lets a computer run multiple operating systems, which allows for infinite scaling using the cheapest chips.
[Read: 10 Black Friday Shopping Apps for the Unprepared]
Google (GOOG) - Get Report and Amazon (AMZN) - Get Report, to their credit, have pushed this idea to its extreme. Google has used cloud technology to become the low-cost provider of everything a computer can do. Amazon has used it to make cloud computing a commodity anyone can buy and use.
Cloud is behind the social boom. Cloud is behind the mobile boom. Cloud elected Barack Obama, and then re-elected him. Cloud is behind the National Security Agency scandal. Cloud makes Healthcare.gov possible. Cloud is why Hewlett-Packard (HPQ) - Get Report fell from grace and why IBM (IBM) - Get Report and Microsoft (MSFT) - Get Report are following it.
Cloud has created a barbel in computing. The computing middle class, what used to be called enterprise or client-server computing, with PCs connected to servers, is being replaced by centralized, scaled systems on one side and by smartphones and tablets on the other.
[Read: Time to Think of Apple as a Global Luxury Brand]
Investors first thought that cloud would primarily benefit the tool makers, companies such as Rackspace (RAX) , RedHat (RHT) - Get Report, and VMware (VMW) - Get Report, whose software is used in clouds. But even RedHat CEO Jim Whitehurst sought to disabuse people of that notion, saying last year that standard screws and bolts may have made the industrial revolution possible, but that planes, trains and automobiles made the profits.
Most of the planes, trains and automobiles of cloud haven't been built yet, but already such companies as Facebook (FB) - Get Report, Twitter (TWTR) - Get Report and Salesforce.com (CRM) - Get Report are showing the wisdom in what Whitehurst said. They, and device companies such as Apple (AAPL) - Get Report, are reaping the biggest profits from the cloud era.
Cloud has transformed computing from something you use to something you do. Computing is now literally "in the air," through cellular links and WiFi. New clouds are scaling, and so all kinds of things can be monitored through them, from cars and jet engines to the sprinklers on your lawn and the keys in your pocket.
[Read: 'Must See' Chart: Worst Big Bank Stocks of 2013]
A decade ago, on my personal blog, I called this The World of Always-On, because these applications run constantly in the background, just like the autonomic nervous system keeps your heart pumping without your thinking about it. Today it's called the Internet of Things.
One reason I know we're in the early stages of cloud is because Oracle (ORCL) - Get Report has masterfully moved so many customers to what I call "faux cloud," systems that seem like cloud but are actually based on expensive, proprietary hardware and software.
It has done this through Software as a Service, or SaaS. SaaS, built in a scaled way, delivers some but not all the savings of cloud. It lets big companies close data centers, rather than building their own private clouds.
Companies such as Salesforce.com and NetSuite (N)  use this to tie customers to Oracle hardware and software while giving them the illusion that they've bought cloud. Does the distinction matter? Not to customers, but it's proof that there are more cloud savings to be had down the road.
[Read: Travelers Are Putting Personal Data at Risk]
Some of these savings are SaaS savings. When a system like Salesforce updates, all its customers get that update. Salesforce tools can be used to build new tools, speeding software development and application design.
Some of these savings are cloud savings. Oracle has agreed to let Microsoft's Azure cloud handle some workloads. Oracle is evolving its product line in a cloud-like direction to improve its price performance.
But for now, old-line vendors are being squeezed by the combination of cloud for new applications and SaaS for existing ones. The result is to make computing more productive and cost-effective, and to accelerate the pace of change.
That's the key point for investors. Cloud computing, with its infinite scale, centrally managed applications, and wireless broadband connections, is transforming the world around us. Computing is no longer a limiting factor in economic growth. Imagination is a limiting factor, and programming is a limiting factor, but computing no longer is.
[Read: Holiday Music Has a Cash Register Ring to It]
Solar power, smartphones and wireless connections are quickly bringing all these capabilities within reach of billions of people who were priced out of earlier computing revolutions. Cloud's centralized structures are tempting leaders toward a new level of surveillance, and control over citizens, in the name of safety, security and national interest.
Cloud has launched mankind into a new technological era, just as the Internet did in the 1990s, just as the PC did in the 1970s. All these eras build upon one another, and accelerate all kinds of change, both positive and negative, not just in business and media but in all areas of life.
Cloud is this era's bequest to my children, and to yours. They will define cloud, and the Internet, as we defined the TV revolution our fathers built. That change has just begun.  
At the time of publication, the author was long Apple, Google and IBM.
This article was written by an independent contributor, separate from TheStreet's regular news coverage.