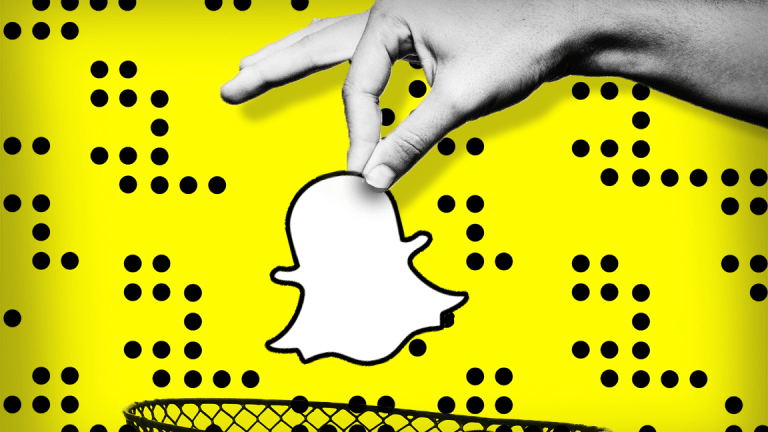 You're Dumb If You Invest in Snap's Stock Without Reading the Annual Report
In this day and age when a single tweet or a single Instagram story can move stocks, is Snap too risky to own?
Investors know the power a short seller or a market pundit can have over a stock price. But what about a reality TV star? Or a pop music queen?
In this age, it seems Hollywood may have more power than those in the C-suite when it comes to moving the price of stocks. The prime example: Snap Inc. (SNAP) - Get Snap, Inc. Class A Report .
Just a few weeks after Kylie Jenner sent Snap's stock reeling 8% with a single tweet, Rihanna offered another suckerpunch to shares by doing the same (see below). With Snap's stock pushed down 3.6% Thursday, Rihanna's post netted short sellers an impressive $55 million in paper profits.
Snap's shares are down more than 15% in the past month. But investors shouldn't be surprised that these offhand comments throttled Snap's stock. The company acknowledged that very risk in its annual 10-K report last month.
"If users, including influential users such as world leaders, government officials, celebrities, athletes, journalists, sports teams, media outlets and brands, do not continue to contribute engaging content to Snapchat, our user growth, retention and engagement may decline. That, in turn, may impair our ability to maintain good relationships with our advertisers or attract new advertisers, which may seriously harm our business."
Translation: Snap's business -- and by extension its stock -- could get put through the wringer if social media influencers turn their backs on its Snapchat application. If influencers part ways with the app and communicate that, it may send advertisers fleeing with their precious dollars.  
The issue here is that Snap has essentially no control over its reputation with celebrities based on the ubiquity of its Snapchat app. Unlike brands that can terminate a sponsorship with a star over a scandal or a difference of opinion, Snap can't control its reputation with the influential Hollywood elite. And it certainly can't control what they tweet or put on Instagram.
"I'd advise clients to be cautious when partnering with celebrities since a celebrity scandal could automatically spill over and tarnish their brand," said marketing and brand strategist Rachel Weingarten via email. "This is almost the blown up version of that where a brand gave most of its reputation management over to the celebrities who use it."
But there are upsides to Snap's celebrity risk even in the current landscape. The chief one being that influencers and celebs clearly are still using the Snapchat (Rihanna did see the post...) app. In a world where new social media apps are being created almost daily, that ongoing loyalty to Snapchat is a win when sitting down at the table with advertisers. 
"Snap's huge celebrity following should be thrilling to advertisers, not a deterrent," said Kristy Sammis, founder at influencer agency CLEVER. "If someone's going to produce wildly offensive content for social media, they should expect to be called out for it by all users, not just celebs."
Even still, if you invest in Snap's stock without reading its annual report, you could be one of the dumbest on Wall Street.
Keep an eye out for the Dumbest Thing on Wall Street every weekend. Catch up here: