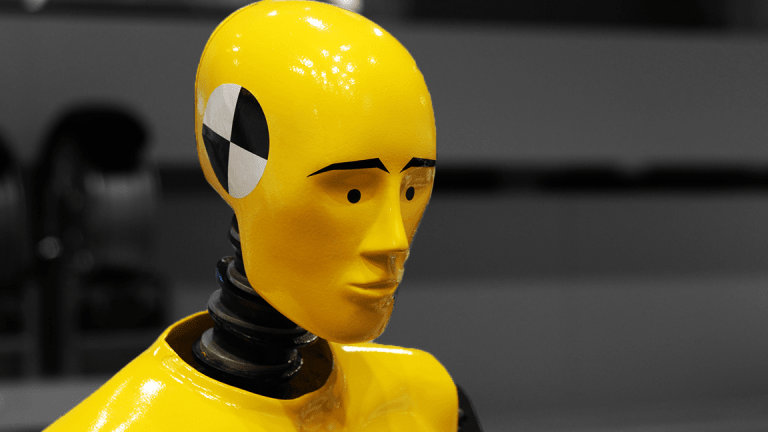 You Are Badly Missing the Point on Tesla
Tesla's stock is in a bear market. So what? Amazon is now worth more than Alphabet. So what about that too? Facebook's day of reckoning looms large.
Beware of the snow.
Tesla in a Bear Market Is a Nice Headline, but Remember Why
OMG TESLA'S STOCK IS IN A BEAR MARKET AND IT'S OUT OF CONTROL - THIS IS A PIVOTAL MOMENT FOR THE ELECTRIC CAR MAKER OMG. To anyone who has used this headline in the past 24 hours - please, please, please relax. Everything is going to be OK in the world. Facebook's (FB) - Get Meta Platforms Inc. Class A Report  Mark Zuckerberg will get his. Daniel Bryan will have a great comeback in the WWE (WWE) - Get World Wrestling Entertainment, Inc. Class A Report ring. And if you are in the Northeast, you will survive the five inches (or lots more)of snow on the car that's coming Wednesday. In case you didn't see the breaking news, Tesla's (TSLA) - Get Tesla Inc Report stock has fallen 10% from its highs, putting it narrowly in a bear market weeks before it will release its first-quarter report. Concerns are mounting that Tesla will be unable to meet its Model 3 delivery goals, even though I have to admit seeing the Tesla Semi being showed off to upcoming customers at Pepsi (PEP) - Get PepsiCo, Inc. Report on Tuesday was dope. At this juncture, it's important for investors to understand why Tesla's stock is not only in a bear market but why it could be easily plunge at least another 25%. The company is nearing a major cash crunch that in no way is priced into the stock. If you are long Tesla, you should respect this looming cash crunch, dump the stock and scoop up some Twitter (TWTR) - Get Twitter, Inc. Report after it's 10% dive on the Facebook news Tuesday. Goldman sees a long-term debt explosion at Tesla looking out to 2020 as the company burns through significant amounts of cash flow. Weak cash generation trends will come, at least according to Goldman, as Tesla doesn't sniff a profit until 2020 and boosts capex to support the Model 3, Tesla Semi, the Roadster and whatever else CEO Elon Musk has in mind. Respect the scary Tesla headlines, but don't forget to do your due diligence as to avoid greater pain. 
Also in the Who Cares Department 
Action Alerts Plus holding Amazon (AMZN) - Get Amazon.com, Inc. Report will enter Wednesday's trading session worth more ($768 billion market cap) than Action Alerts Plus holding Alphabet (GOOGL) - Get Alphabet Inc. Class A Report ($762.5 billion). Again, who cares as this headline also fails to capture the why behind the move. It's not that Alphabet is any less innovative compared to last week or has terrible leadership like Facebook. Alphabet is one of the most innovative companies around and it continues to grow, grow, grow (though it does need to get its costs in line). Further, it has a monopoly in search; it's true. What it all means is that Amazon is capitalizing right now on some incredibly dynamic things happening in retail and on the web. The death of Toys "R' U" means billions of dollars in toys sales for Amazon. Macy's (M) - Get Macy's Inc Report vanishing from communities means more sales for Amazon. Amazon going to war with Netflix (NFLX) - Get Netflix, Inc. Report on the content front means possibly surprising upside to Wall Street's sales estimates the next two years. More people buying Amazon's Alexa means instantly capturing them in the world of Amazon. Amazon's profit-seeking efforts are seemingly accruing by the millisecond. As we said on Jolt last week, Amazon is headed to a $1 trillion dollar valuation ... it's just that it is now more likely to get there before Alphabet. 
Receive the free Jolt newsletter here.
Around the Horn
(1) Facebook's shares at last check were diving nearly 3% on Wednesday. The stock is unlikely to stabilize until leaks of what Mark Zuckerberg says at a town hall with employees on Friday (there will be leaks). Investors are waiting to hear Zuckerberg's attack plan, plain and simple. They will then decide if a company that is more than $50 billion cheaper (vs. last week) is worth a gamble into the inevitable hearings with lawmakers. (2) Nordstrom (JWN) - Get Nordstrom, Inc. Report has ended talks with the founding family, reported TheStreet's Cathaleen Chen. Why can't this company just be sold? Simple: It's truly no different than other department stores, except that it has a higher opinion of itself. My bud, retail expert and former Yahoo Finance host Jeff Macke put it best to me on Twitter this morning: "The family will buy Nordstrom for $35/share in 2020. Soon Nordstrom will announce EPS guidance is suspended in order to invest in Omnichannel formats. Wall Street will frown. Nordstrom can feast on Macy's market share and be perfectly solvent while shares tank. In three years, offer less for a better co. Genius." Nordstrom shares are trading at about $49. 
Tweet of the Morning
Facebook's stock worthy of a 50% plunge? That's what we outlined on Jolt Tuesday. The below fan of the show didn't agree.
Subscribe to our Youtube Channel for extended interviews, Cramer Replays, feature content, and more!