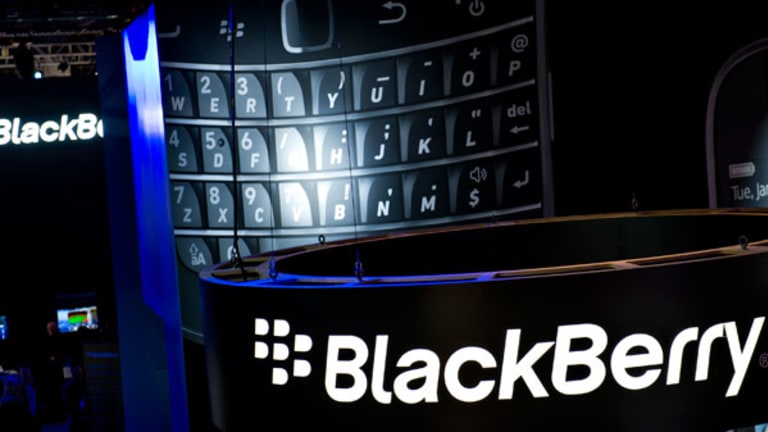 Yet Another BlackBerry Head Fake
Will anything come out of the latest BlackBerry rumors?
NEW YORK (TheStreet) -- Shares of beleaguered tech giant BlackBerry (BBRY) closed up more than 10% on Monday after the company's board of directors made another announcement.
Those were pretty vague terms, filled with tons on "company speak," which in my opinion, means very little in terms of execution. However, what caught the Street's attention was that the board said it will also consider a possible joint venture or even selling the company outright. I don't believe investors care very much about BlackBerry's stubbornness to "accelerate BB10 deployments." It's clear that consumers are no longer interested in the devices. Selling the company, on the other hand, is certain to make headlines.
It's also been reported that the board has consulted
JPMorgan Chase
(JPM) - Get Report
as its financial adviser during its "exploration process." Essentially, after rumors swirled Friday that the company had expressed an interest to
go private
and shield itself from scrutiny, today's news, if true, is yet another example of how dysfunctional this company has become.
Read: BlackBerry LBO: Add Private Equity to the Corporate Lifecycle
I'm not going to bore you by rehashing BlackBerry's
fall from grace
.
It's a foregone conclusion
that the company has lost the
mobile device battle
to
Apple
(AAPL) - Get Report
and
Google
(GOOG) - Get Report
. While I'm willing to applaud the company for an obvious change of tone, including the fact that management is no longer insisting that it "knows best," I wouldn't get carried away here with the stock. Ideas about "exploring strategic alternatives" sound good but we've heard them before.
It's been over a year since BlackBerry management used these terms. In May 2012, the company said it was looking into "strategic business model alternatives." At the time, the stock had traded at around $11 per share. Two months later shares would reach bottomed at $6.56. Interestingly, in last year's announcement, the company said it had hired JPMorgan Chase along with
RBC Capital
to assist the company in its search for a partner to license its software. There were no takers.
Although
Microsoft
(MSFT) - Get Report
has always been an "obligatory" mention of possible suitors, the company never showed any interest. Both
Facebook
(FB) - Get Report
and
Sony
(SNE) - Get Report
were rumored to have shown some interest. But the trail went cold. This time, who will step up and make a bid? If I were to place a bet, it would be on
Lenovo
(LNVGY)
and possibly
Huawei
. Both have (in the past) expressed interest in not only BlackBerry,
but also
Nokia
(NOK) - Get Report
.
The other issue that needs to be worked out, however, is how much is BlackBerry worth? Even with the stock's recent rise on these new rumors, it's inconceivable that anyone in their right mind would be willing to offer more than $14 per share for this company. I will agree that BlackBerry's books look good. And the fact that the company has no debt is also attractive. But with eroding market share and poor cash flow, it's tough to get excited, even with the company $3 billion cash.
Read: This is How the Self-Employed Can Protect Themselves
Plus, let's not forget that anyone that buys this company must face the daunting task of going against both Apple and Google. I don't imagine that this is a reality that will appeal to potential suitors. I have absolutely no idea what's going to happen here. But given that management has used similar phrases to describe an "epiphany" it has had, I wouldn't be surprised if nothing ever come out of this. Accordingly, I would be cautious buying up these shares as they have all the makings of another head fake.
At the time of publication, the author was long AAPL
.
Follow @saintssense
This article was written by an independent contributor, separate from TheStreet's regular news coverage.
Richard Saintvilus is a co-founder of
where he serves as CEO and editor-in-chief. After 20 years in the IT industry, including 5 years as a high school computer teacher, Saintvilus decided his second act would be as a stock analyst - bringing logic from an investor's point of view. His goal is to remove the complicated aspect of investing and present it to readers in a way that makes sense.
His background in engineering has provided him with strong analytical skills. That, along with 15 years of trading and investing, has given him the tools needed to assess equities and appraise value. Richard is a Warren Buffett disciple who bases investment decisions on the quality of a company's management, growth aspects, return on equity, and price-to-earnings ratio.
His work has been featured on CNBC, Yahoo! Finance, MSN Money, Forbes, Motley Fool and numerous other outlets.
Follow @saintssense