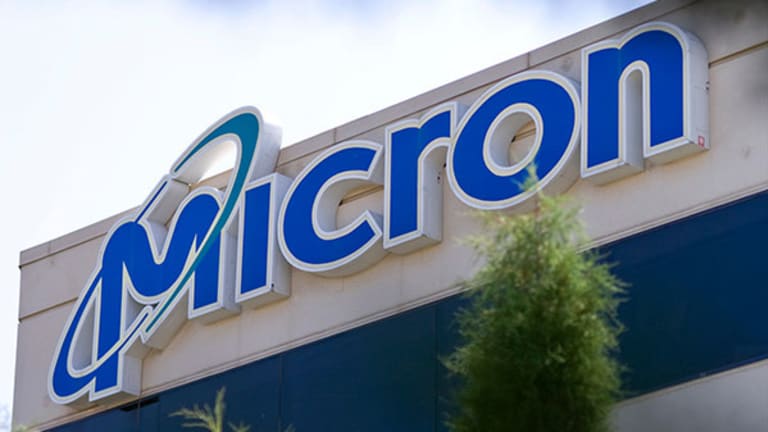 Yes, There Are Reasons to Buy Micron
Focus on Micron's growth potential for next year since little is expected for 2016.
Do you like to take risks? Do you like to take a long view of stocks? If so, there's a good case for buying shares of beaten-down memory chip makerMicron Technology (MU) - Get Micron Technology Inc. Report , which reports fiscal second-quarter earnings Wednesday.
No one expects this stock to do anything this year. Next year is another story, and that's where you should focus.
For the quarter that ended in February, Micron is expected to lose 8 cents per share, reversing a year-ago profit of 81 cents, while revenue of $3.05 billion would translating to year-over-year decline of 26.8%. For the full year, ending August, earnings are projected to decline 86% year over year to 37 cents per share, while revenue of $13.08 billion would mark a year-over-year decline of 19% thanks to the decline in personal computer sales, among other reasons.
Obviously, the memory market is not where investors would want to be at the moment because of the existing supply glut. Despite the current lack of demand for memory chips, competitors including Samsung (SSNLF) and Korean-based SK Hynix are relentlessly pushing more production of mobile DRAM (dynamic random access memory) -- the type of chip found in devices like smartphones and MP3 players.
This has hurt Micron and the entire memory and data storage industry. But this is already priced into MU shares, which, at $10.50, are down 26% year to date and 62% over the past 12 months.
How much worse can things get? From a risk versus reward perspective, the stock has more upside potential than downside risk. It has a consensus buy rating and its average analyst 12-month price target of $16.75 implies some 60% gains in the next 12 to 18 months.
At its current price, the stock only need to move $2 higher to deliver almost 20% premium. To the extent the company can realize modest improvement in average selling prices, this makes Micron's stock, which trades at just seven times fiscal 2017 estimates of $1.39 per share, one of the best bargains heading into 2017. Its growth potential for next year is where your focus should be.
This article is commentary by an independent contributor. At the time of publication, the author held no positions in the stocks mentioned.