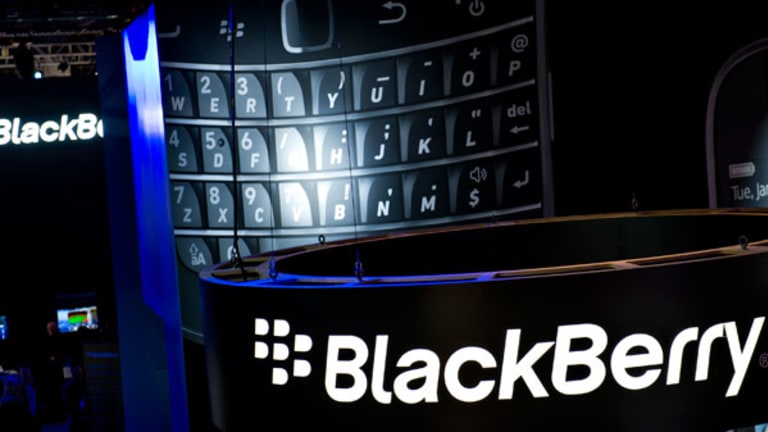 Publish date:
Yes, BlackBerry Is a Buy
BlackBerry resembles a headless monster more than a leading tech company. But the drop in share price has created a reasonable risk versus reward.
BlackBerry resembles a headless monster more than a leading tech company. But the drop in share price has created a reasonable risk versus reward.
NEW YORK (TheStreet) -- I'm not about to debate if Apple (AAPL) - Get ReportGoogle (GOOG) - Get ReportMicrosoft (MSFT) - Get Report and Nokia (NOK) - Get Report have left BlackBerry in full-blown panic mode. TheStreet'sRichard Saintvilius and I have repeatedly warned investors for more than a year of the peril. BlackBerry resembles a headless monster more than a leading tech company.
I asked my 11-year-old the other day to describe the chart pattern, and he replied, "Oh, we don't want to buy that one."
TheStreet's Bret Kenwell, who has also nailed BlackBerry's downward move, recently asked the question many investors are also asking, Is BlackBerry a Buy Yet? Kenwell says no. However, for me it's deja vu all over again (hat tip to Yogi Berra). Allow me to explain why.
Picture, if you will, what happens to an overloaded canoe or rowboat when all the occupants decide at once they need to move to either the left or right side as far as they can. The end result is they all become wet. The same can be said about stocks, and if you've watched the market for even a few years you know what I mean.
BlackBerry investors are scrambling to move as fast as they can to one side of the boat, and they're wet from losses. You can't blame most for throwing in the towel. Collectively, Apple, Google, Microsoft, Nokia and others have understandably instilled so much fear that it actually appears logical to rush to the other side of the boat.
In my last J.C. Penney (JCP) - Get Report piece, Time to Profit From J.C. Penney, I shifted from an unmistakably bearish view to a bullish outlook. Same with Alpha Natural Resources (ANR) Walter Energy (WLT) Cliffs Natural Resources (CLF) - Get Report and others in Investors Signal Now's the Time to Buy Coal. When the facts change, so must your opinion to avoid membership within the investing mob moving continuously from side to side in the boat.

One fact changing for shareholders is risk of ownership declines and the potential reward increases as the price falls, all else being equal. The company and the market agreed with Let the Bidding Begin for BlackBerry.
Fairfax Financial wasn't interested in actually buying the company and only wanted to generate interest and urgency from potential suitors. The board ousted Thorsten Heins as CEO because he really should have finalized the sale before BB10, not wait until after. Now it's up to you to decide if I'm right that BlackBerry is worth over $8 or not.
With shares near $6, the difference doesn't represent much on a per dollar share basis, but as a percentage, a 25% or more appreciation is significant. Make no mistake, BlackBerry the company (verses the stock) has declined in value over the six months, but I believe the shares have fallen proportionally more, creating a reasonable risk vs. reward. For this reason, I've recently started buying shares in my own account for the first time.
As I type in my Las Vegas hotel room (I'm attending the SMX Social Media Marketing Conference to gain an insider's perspective), I can't help but be reminded that an axiom applicable to Vegas equally applies to Wall Street:  "No, things don't have to get better, and yes, it can get worse."
In other words, BlackBerry is far from a sure thing, and I don't predict the future, only the odds. As always, perform your own due diligence and never leave yourself without a life jacket.
At the time of publication, the author was long J.C. Penney and BlackBerry.
This article is commentary by an independent contributor, separate from TheStreet's regular news coverage.