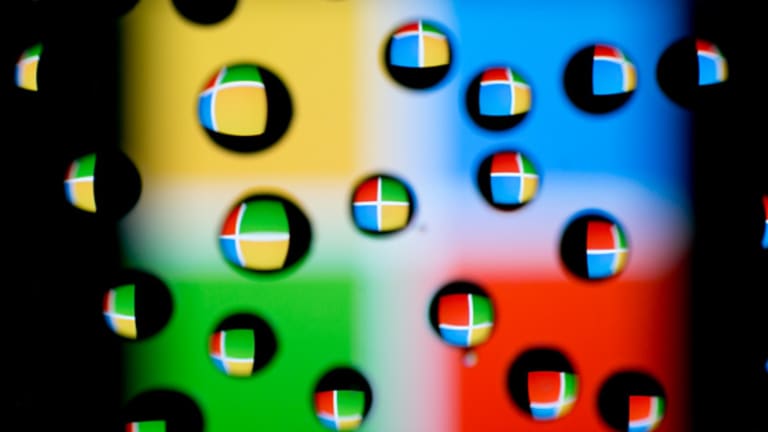 Yes, Apple Can Kill Microsoft Office
Just like BlackBerry and Internet Explorer, there's no reason why Apple (or Google) can't put the hurt on Office.
Just like BlackBerry and Internet Explorer, there's no reason why Apple (or Google) can't put the hurt on Office.
NEW YORK (TheStreet) -- Shortly after I published Office Will Determine Whether Microsoft Can Beat Apple Monday on TheStreet, the comments and emails rolled in.
People think I'm nuts. That I'm "drinking the
Apple
(AAPL) - Get Report
Kool-Aid."
While slight differences exist between each feeble
Microsoft
(MSFT) - Get Report
defense, they all go something like this, courtesy of an emailer named Clyde:
Are you really suggesting that large corporations will ditch Office? The license fees of a software system is a fraction of the cost of re-training workers. And, what about the networking capabilities of Office, and compatibility with existing applications that integrate with Office?
And, it takes massive investment to unseat a de-facto standard in the software industry.
Clyde rants about how Apple's "profit margins are about to get crushed." He then asks me to "review some history," noting that "the PC came along" and put "mini-computer vendors" out of business.
Closing with, "Android will crush the iPhone margins," Clyde advises "sell your Apple stock now."
BlackBerry and Internet Explorer
Through most of 2011 and even 2012, I dealt with
Research in Motion
(RIMM)
bulls.
They came armed with so many reasons why Apple could not take meaningful enterprise business away from RIM. Everything from how IT departments view security to "BlackBerries have keyboards" to "bring-your-own-device is a passing fad."
These bulls would say things like, "I know a thing or two about this; I worked as a head of IT for 15 years." They branded the idle thought that BlackBerry would no longer be the choice of business professionals absurd and asinine.
As this non-debate played itself out, I listened to every earnings conference call from Apple and RIM. Investors can pick up plenty not only from what management says, but how they say it.
On every single Apple call, CFO Peter Oppenheimer listed the share of the Fortune 500 or Global 100 (or whatever list) that demos or deploys iPhone and iPad. He still does. His quarterly rundown was nothing if it wasn't ultra-confident and precise.
Meantime, former RIM co-CEO Jim Balsillie would say things like this nugget from the company's
:
I've got many corporate clients that have approached us about each wanting tens of thousands, several tens of thousands of PlayBooks. And that is what they're looking at, that is what they're assessing, and they're looking at tablets, and they like the PlayBook architecture.
Such imprecision.
Tens of thousands
.
Several tens of thousands
. And a wildly general statement that these "corporate clients ... like the Playbook architecture."
Fifteen-year veterans in IT are pretty good with math, eh? Maybe one can provide a total of Playbook-related inventory writedowns from RIM over the last 12-18 months.
Consider Internet Explorer.
I tend not to cite
as a "source," but the user-staffed site does a pretty good job breaking down the various numbers that attempt to quantify the browser wars.
No matter who takes the measurement or what percentages they come up with, one thing is certain: Internet Explorer continues to shed market share to competitors such as
Google
(GOOG) - Get Report
Chrome and Apple's Safari.
Despite protests from IT and software nerds, there's no reason why the same exact thing can't happen vis-a-vis Office.
I'm not privy to Apple's plans, but this much is obvious: The company continues to take more and more of what fuels it in house. From Maps to silicon chips and, maybe soon,
, Apple wants to control every step of the process as much as it possibly can, just as it does with its ecosystem, marketing and the supply chain.
The only real advantage Microsoft and the whole Windows platform has in this new market that blends business and pleasure is the comfort of the status quo and Office.
Apple broke the BlackBerry habit.
Up next, Office.
But it's entrenched!
. Yes, just like Internet Explorer was and still sort of is.
If you're not at least taste-testing the Apple Kool-Aid, you probably need to start studying history. It's littered with once-living, now-deceased unfortunate assumptions about the why and how of tech.
iWork in every cubicle across America sounds kind of silly today. I give you that. But it's no more silly than predicting the demise of the CrackBerry obsession and the steady crumble of IE's foothold.
At the time of publication, the author held no positions in any of the stocks mentioned in this article
.
Rocco Pendola is
TheStreet's
Director of Social Media. Pendola's daily contributions to
TheStreet
frequently appear on
CNBC
and at various top online properties, such as
Forbes
.