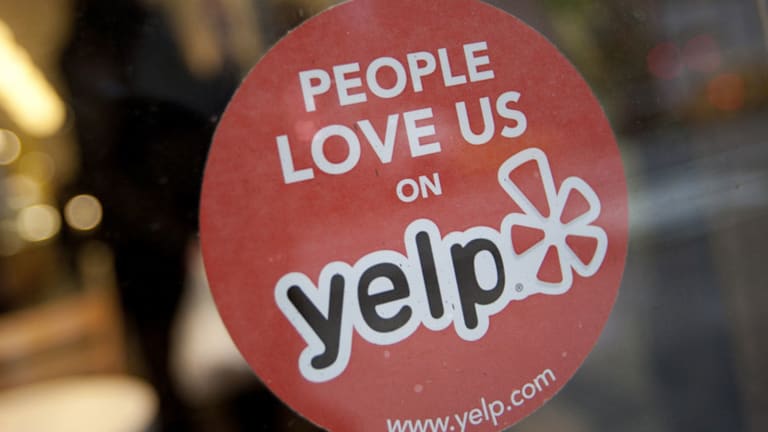 Yelp Takes Off 'For Sale' Sign and Investors Don't Like It
Something has changed in the business. Management and the board must know that.
NEW YORK (TheStreet) -- Last Thursday, before the holiday weekend, came surprising news that Yelp (YELP) - Get Yelp Inc Report was no longer for sale. The stock immediately dropped 10% into the $30s.
The last time it had been in the $30s was right before the Yelp board leaked to the Wall Street Journal that it was going to explore a sale. When that happened, the stock rocketed back to $50 a share.
What is going on here?
It never made sense to me the company, after missing three quarters in a row, taking the stock from a 52-week high of nearly $90 a share to a 52-week low of $36.10, said it was going to sell itself right at the low.
Why not do that at the high? Obviously because something has changed in the business. Management and the board must know that.
We got a bit of a clue at Apple's (AAPL) - Get Apple Inc. ReportWWDC conference last month when Apple previewed some of its future mapping business. Apple said it was going to (or already was) sending vans around taking pictures of shop fronts of small businesses in cities. They will be replacing Yelp for this capability in the future.
Of course, Google (GOOGL) - Get Alphabet Inc. Class A Report has already been trying to re-create Yelp ever since the two had a falling out over being bought a few years ago. Facebook (FB) - Get Meta Platforms Inc. Class A Report has also been moving ahead with reviews.
And while all this is going on, adverticing technology has crimped some of Yelp's margins, leading to the sales disappointments of the past few quarters.
Now, CEO Jeremy Stoppelman is apparently the one who said he would rather take the "For Sale" sign down on the company rather than accept what he feels is an inferior offer.
So where does Yelp go from here? There's going to continue to be more competition and the continued march of ad tech. Obviously Yelp officials think the company can continue to innovate ahead of its rivals.
However, the stock, currently around $38 and down over 30% for the year to date, is still valued at $3 billion, even back at these levels.
The board has not handled this process well. To me it looks like this company was caught flat-footed by the sudden shift in the market with the quarterly misses. If Yelp's board had been willing to be bought and knew which way the market was turning, the board would have sold at $90 a share. It didn't and now it appears the board can't sell.
An offer here at a third of where Yelp was trading a year ago might sting the ego. However, it could be higher than what they'll get if they keep on with a "go it alone" approach for another year.