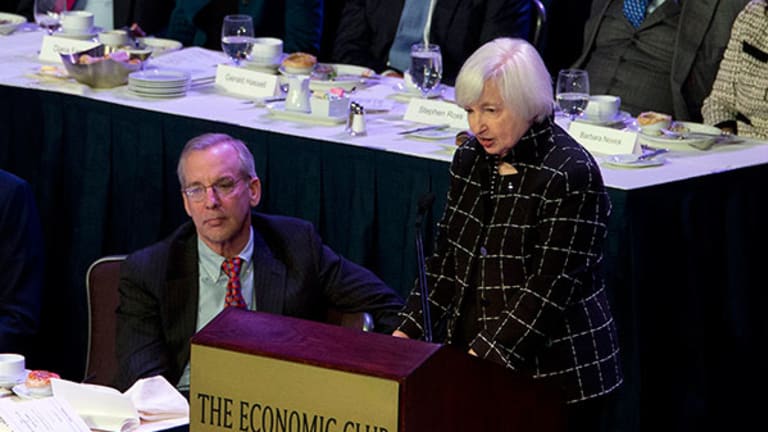 Yellen's Comments Moved Markets -- But Are Fed Forecasts Accurate?
Preston McSwain had the chance to have lunch with Fed Chair Janet Yellen. Are Federal Reserve forecasts, no matter how well studied, thoughtful and judicious, consistently accurate?
When I said that I was going to a private lunch where Federal Reserve Chair Janet Yellen would be speaking, a client recently asked me, "Your lunch with Yellen sounds interesting, but do you really think that her forecasts are going to be very accurate and worthwhile?"
Based solely on studies about the accuracy of recent Fed forecasts, his question was fair.
Accurate or not, we have a cognitive bias to trust the predictions of individuals with impressive credentials and brands. It's called the "Halo Effect" and is well documented by studies showing we tend to place a premium on the thoughts of people who are attractive in terms of looks, education and background.
The Yellen lunch was held at the Economic Club of New York (ECNY) this week. The board of the club and invited investment and economic luminaries sit at three rows of head tables that are elevated in tiers around and behind the speaker. It looks similar to the way the United States Speaker of the House and President of the Senate sit elevated behind the President during the State of the Union.
Call it a "halo" of luminaries.
Investment and economic stars like Martin Feldstein, Abby Joseph Cohen, Alan Blinder, Paul Volker and Steven Schwarzman are often on the dais, which reinforces a sense of gravitas and collected wisdom that makes everyone in the room lean in even more to hear the proclamation from the haloed orator at the podium.
And no one could command a brighter halo in the ECNY setting than Yellen. I could write about Yellen's comments (they were considered encouraging to investors and the market rallied -- read more about them here), but listening to her and seeing her elevated on that dais, surrounded by economic celebrities, I kept thinking back to my client's question.
Are the Fed's, no matter how well studied, thoughtful and judicious, consistently accurate?
To help illustrate the answer to this question, take a look at the chart below. It is from a Wall Street Journal analysis of over 700 Fed policymaker predictions made between 2009 and 2012. As you might expect, 1.00 is perfect, so it acts as somewhat of a percentage accuracy score.
These data suggest that Yellen is indeed impressive relative to her peers, but the last I checked, an accuracy rating of 0.52 out of 1.00 isn't something you can count on. Before you think that I am being too hard on the Fed or Yellen, keep in mind that the Fed's own research admits that its forecasting leaves much to be desired.
Below is a chart and passages from a report published in early 2015 by the Federal Reserve Bank of San Francisco (FRBSF) based on a study of the Federal Reserve Open Market Committee's Summary of Economic Projections (SEP): 
"Over the past seven years, many growth forecasts, including the SEP's..., have been too optimistic. In particular, the SEP forecast (1) did not anticipate the Great Recession that started in December 2007, (2) underestimated the severity of the downturn once it began, and (3) consistently over-predicted the speed of the recovery that started in June 2009.
"Figure 1 shows that the SEP growth forecast for 2008 never turned negative. At the time, the mainstream view was that the U.S. economy would avoid a recession despite the ongoing housing market turmoil. The actual growth rate for 2008 turned out to be -2.8% (the largest annual decline since 1946). The SEP growth forecast for 2009 did not turn negative until January 2009..., after the Lehman Brothers bankruptcy in September 2008."
For those you wish to read the full report, it can be found here.
So, was my client correct to question the value of my lunch with Yellen and remind me about the dangers of becoming anchored on the latest forecasts of haloed professionals?
Yes.
Was the lunch with Yellen still valuable?
Absolutely.
First of all, it's important to remember, that even if they're not necessarily accurate predictions, Yellen's comments move markets. Her dovish stance this week was credited in helping a mini rally in U.S. equities. 
But, also, time spent with fellow investment professionals, listening to and discussing ideas from those who move markets, is undoubtedly worthwhile. Top investment and economic prognosticators may often be wrong (for more on this click here), but understanding various points of view and debating how the market might react to the latest thoughts of a Federal Reserve Chair is valuable.
It is important, however, to remember that the Halo Effect might cause you to forget that complex economic theories are theories and that estimates are estimates. 
As Yellen herself said at the lunch this week, even Federal Reserve "projections are based on estimates" (yes, estimates on estimates) and that the "assessments have a considerable amount of uncertainty."
This article is commentary by Preston McSwain as an independent contributor and does not reflect the views of Fiduciary Wealth Partners.