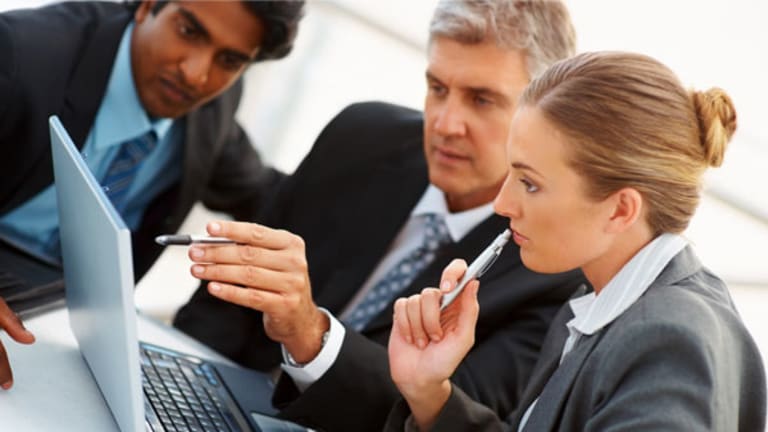 Yahoo!'s Playbook: Fall to Pieces
Post-Carol Bartz, exiting Asia and eloping with AOL seem to be among the top options for Yahoo!. In the video, Jim Cramer discusses the revolving CEO door.
NEW YORK (
) -- For
Yahoo!
(YHOO)
, following the ouster of CEO Carol Bartz, it's looking more like Plan B -- as in breakup.
With the lack of a clear successor and the limited prospects of a winning growth strategy from the newly-formed Yahoo! leadership council, a Yahoo! turnaround scenario may not be in the works.
Enter the other options.
To investors, Yahoo! is a
dysfunctional collection of businesses
that could have more value if they're decoupled from the original, stumbling Internet portal operation.
"There is likely something more strategic and structural involved, and that would have a more positive effect on Yahoo! shares," JPMorgan analyst Doug Anmuth wrote in a note Wednesday.
One scenario would involve Yahoo!'s sale of its 43% stake in
Alibaba
, one of China's biggest online businesses. A sale of Yahoo! Japan would also fit the strategy. And ultimately, the core U.S. Yahoo! business could then be
AOL
(AOL)
.
The presumed unwinding of the businesses would probably involve a group or groups of private equity investors that could take over Yahoo.com and either manage it as a standalone business or broker a deal with some other player like AOL, say analysts.
"For private equity investors to get to the core Yahoo! Business -- the part that can generate solid free cash flow and potentially be levered up -- they would likely need to find a strategic party for the Asian assets," Anmuth wrote.
Yahoo! didn't reach these dire conditions without a fight.
In 2008, investor
pushed for Yahoo! to break up or get bought by
Microsoft
(MSFT) - Get Microsoft Corporation Report
. Co-founder Jerry Yang famously fought a $31-a-share takeover offer from Microsoft and instead, hired Bartz to put together a search outsourcing deal with Microsoft.
All the distraction over the company's control, however, certainly didn't help Yahoo! maneuver into hot new markets like mobile Internet and social media.
Yahoo!'s Plan A might be to make up for lost time and gain some footing in social or mobile, but the Street sees a quicker payoff in Plan B.
At midday Wednesday, Yahoo shares were up 4.8% to $13.53.
--Written by Scott Moritz in New York.To contact this writer, click here: Scott Moritz, or email: scott.moritz@thestreet.com.Follow Scott on Twitter at MoritzDispatch