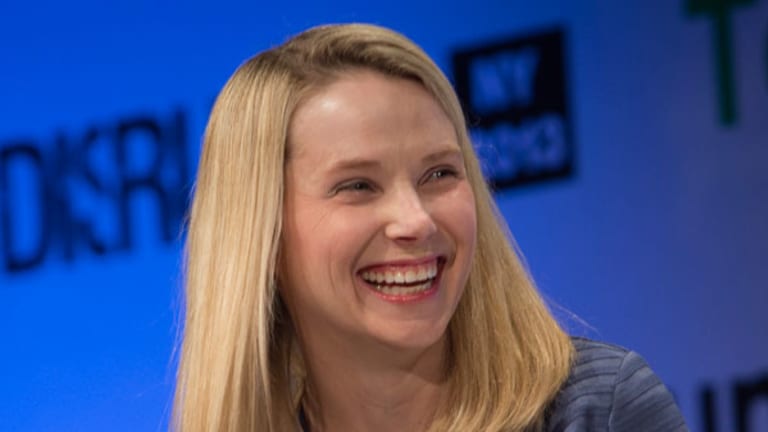 Yahoo!'s Marissa Mayer Is a Better CEO With Activists Involved
The evidence is indisputable: Mayer and her management team do a much better job when activist investors speak up.
NEW YORK (TheStreet) -- If you watched the earnings call for Yahoo! (YHOO)   Tuesday night and compared it to the prior one in July, you notice a huge difference.
CEO Marissa Mayer and CFO Ken Goldman had an energy and a focus Tuesday night that they previously hadn't displayed during their entire tenures in the last two-and-a-half years.
The prior earnings calls were almost like they were sleepwalking, compared to the details they provided on the latest call.
Past calls never lasted longer than an hour. On Tuesday night, it went almost 20 minutes over an hour. We heard from analysts who had never made it in the queue before.
Yahoo! had never broken out details about its mobile revenue or revenue, users and profitability of Tumblr. Tuesday night, it did.
It's obvious that the difference is that Mayer -- since July -- has been under fire from shareholders. A few weeks ago, this criticism coalesced into a letter from Starboard Value LP. On Tuesday night, Mayer had the chance to defend her record, and she did that as well as she could.
One journalist said that Mayer sent a message to her critics to "Back Off" and "I Got This." The narrative that the media seems to be following is that either Starboard or Mayer must be winning or losing at all times. Prior to last night, they portrayed Mayer as losing. Now, they're saying she's winning.
Here's who's winning from the criticism: Yahoo! shareholders. Mayer is one. Starboard is one. I'm one. We're all winning because Yahoo!'s stock is up almost 7% Wednesday.
Here's the good news from last night for shareholders:
1% revenue growth is better than sharp declines.
Mayer seems to be signalling that she'll continue to cut costs.
Yahoo! is finally disclosing mobile revenue and MAUs so that at least it can be accountable over time.
The company seems to have gotten religion about the importance of saving taxes on the remaining Asian stakes.
Did Mayer silence her critics?  Absolutely not.
Why is the narrative always presented that it's either PC-based display ads or native mobile ads? Yahoo! portrays it like it has had no choice but to lie down and watch PC display ads tank for three years straight. That's absurd. You can walk and chew gum at the same time. It has done nothing to keep that business with De Castro and then general indifference.  Good management teams milk cash cow declining businesses. It doesn't let them go to zero while eating popcorn.
Tumblr cost $1.1 billion. It had no revenue in 2013 and is on track to generate $100 million in 2014.  But is that new money to Yahoo! or is that money advertisers had already ear-marked for spend at Yahoo! in some fashion and then got shunted over to Tumblr to make it look good.  I suspect it's the latter.  If so, Tumblr is still a big waste of $1.1 billion.  When is Tumblr going to pay for itself? No clue.
In Friday's leak to the Wall Street Journal, Yahoo! signalled that it was unable to discuss how it will dispose of its final Alibaba (BABA) - Get Alibaba Group Holding Ltd. Sponsored ADR Report stake because of worries about violating confidentiality agreements with Alibaba. This explanation made no sense. Why would Alibaba care if Yahoo! tells its shareholders how much taxes Yahoo! will pay in the future? When asked about it last night, Goldman basically suggested this wasn't the real reason and that it's more like Yahoo! doesn't have an answer yet, but pledged to communicate one by January. Yahoo! has had two-and-a-half years to figure this out.  On every earnings call, executives talk about the team of experts they have working on this. And now they need another three months?
Mayer admitted Yahoo! has spent $300 million on acqui-hires since she was hired.  What has the company gotten from that in terms of profits or increased revenue?
If they can't point to meaningful revenue or profits from any of their acquisitions, why should shareholders believe in the ones they're about to make?
Yahoo! has tried to make the case that it is still a search company and not a distributor of a search company (Bing). That's just not true.  Yahoo! wouldn't disclose how many people it has working on search. The company suggested it's going to break the search deal with Microsoft (MSFT) - Get Microsoft Corporation (MSFT) Report in 2015. Yahoo! should outline how it's going to start making money and build search from scratch before it does this. This sounds like a sink hole.
Yahoo! boasted about how it has spent $7 billion in buybacks since July 2012 when Mayer started. The company said its average cost was close to $27 a share. That suggests it spent a majority of that $7 billion when the stock was in the $30s, not in the teens. It tried to portray like it always knew how much its stock price was going to rise back in 2012. If that were true, it would have been buying its stock back hand over fist. Instead, it dramatically overpaid for its stock.
When you're the CEO, you can rewrite history to suit the narrative you want to present.  That's fine.  That's Mayer's right.
However, you cannot argue that Mayer is a much better CEO when activist investors are involved than when they're not. And that's not just true for her but everyone.  It's human nature to work harder when someone is looking over your shoulder than when you're given what will become a $500 million compensation package and carte blanche to do whatever you want.
Someone on TV today said Mayer had been smart in getting Dan Loeb off the board in 2013. On the contrary. She should have kept him on the board. No one would be criticizing her over the past year.
Mayer should get rid of all the cozy directors on her hand-picked board such as ex-Walmart (WMT) - Get Walmart Inc. Report CEO Lee Scott, who brought her on to his board, and fill it with people like me, Starboard's Jeff Smith and other critics who are willing to tell her the truth at board meetings.
All shareholders -- including Mayer -- would be much happier and the stock would be much higher.
At the time of publication, the author was long Yahoo!.
This article is commentary by an independent contributor, separate from TheStreet's regular news coverage.