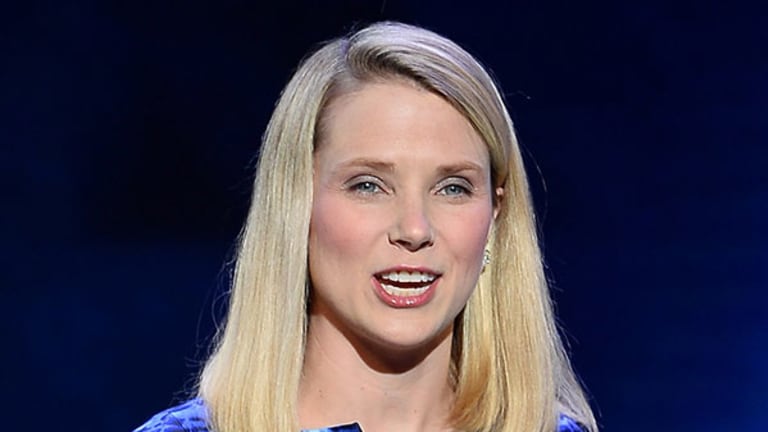 Yahoo!'s Alleged Tumblr Walk Back Is Worrisome for Investors
Not even six months after she said Tumblr's revenues would hit $100 million this year, Marissa Mayer appears to be walking that estimate back. That's worrying for multiple reasons.
NEW YORK (TheStreet) -- When a CEO says something in public and doesn't follow through on it, it's disturbing -- and that's exactly what may be happening at Yahoo! (YHOO) .
Two days ago, Amir Efrati of The Information discussed some big reorganization plans CEO Marissa Mayer has for the company. According to Efrati, Tumblr could be brought more fully into the Yahoo! structure, with its staff reporting to Yahoo! managers, a change from its current position as a standalone division. Afrati also said that it was unlikely that Tumblr would do $100 million in revenue.
It's that last point which is most disturbing to me as a Yahoo! investor. It was not even six months ago that Yahoo! made the proclamation that Tumblr would hit this target. Now they're walking it back?
First, let's discuss why Yahoo! announced in October that they'd see Tumblr do $100 million in sales this year. It was in response to Starboard Value sending them an open letter criticizing management. The letter from the activist investing firm was a shot across the bow to Yahoo!'s management and the board.
Yahoo!'s first earnings call after that letter was the longest since Mayer became CEO two years earlier. She went to great lengths to demonstrate that she was a competent CEO and that Yahoo! was a much better company than when she'd come on board.
Tumblr cost Yahoo! shareholders $1.1 billion back in 2013. Naturally, some (including me) were grumbling, and asking what shareholders really had to show for that purchase price. Mayer wanted to impress the skeptics, and she threw out the nice round number that Tumblr would do $100 million in revenue in 2015.
At the time, I wrote about how it would be easy to hit that number if management really wanted to. They could simply tell advertisers who had already committed to spending money at Yahoo! in 2015 to move some of the advertising dollars that might have gone to Front Page or Finance over to Tumblr. Yahoo! itself wouldn't earn any more money, but management could proclaim to the world that Tumblr was pulling its weight.
This news from Efrati informs us that Yahoo! management isn't even competent enough to trick us with that kind of game.
Did Mayer know in October that there was no chance Tumblr would do $100 million in revenue in 2015? If she did, then she lied to investors. If she didn't know there was no chance, and that she would be walking back those numbers five months later, she's incompetent as a manager, and her predictions seem to have no basis in reality.
Has the advertising market in which Twitter (TWTR) - Get Twitter, Inc. Report and Facebook (FB) - Get Facebook, Inc. Class A Report operate materially deteriorated in the last six months, in a way which might have negatively impacted Yahoo! and Tumblr? It doesn't seem to have, based on Twitter's and Facebook's numbers.
So if it's not a market problem, then it would appear this is either a Tumblr problem (e.g., advertisers are uncomfortable spending money there) or that Yahoo! management just makes stuff up and throws it out there, only to discard it five months later.
Either way you cut it, this reflects badly on Mayer.
I was surprised recently that Starboard didn't choose to nominate several directors to be elected to Yahoo's board. Maybe they didn't think there was enough shareholder support to get their slate elected. Or maybe they knew the Mayer's projections for Yahoo!'s business would fall flat over the next couple of quarters and embarrass her.
We will get a clue in a couple of weeks when Yahoo! reports its first-quarter numbers to the market.
This article is commentary by an independent contributor. At the time of publication, the author was long on YHOO.