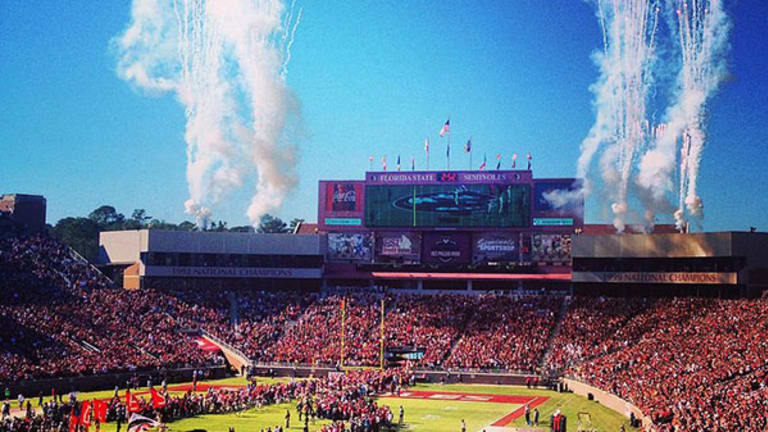 Yahoo! NFL Game Won't Make Money, but That's Not the Point
Yahoo!'s new deal to broadcast an NFL game this October might be the start of a bigger relationship with the NFL. That's good for Yahoo! and its shareholders.
NEW YORK (TheStreet) -- This morning, Yahoo! (YHOO) announced that it had won the rights to broadcast an NFL game in October between the Buffalo Bills and the Jacksonville Jaguars, taking place in London.
The news gave a shot in the arm to Yahoo!'s stock, which jumped about 1%. So they paid $20 million for a game that increased value in the stock by $270 million. Not bad.
The deal looks like it will be good for the NFL.
From their perspective, they're getting $20 million from Yahoo! for a not-so-great game in London (market rates), but they can experiment with seeing how the game does across the world on a bunch of mobile devices.
According to a Peter King SI column this morning, the NFL is happy the two teams playing are not so good because it will be a baseline measure of how popular the league -- not the individual teams -- is around the world. How many watch it on mobile devices? Where? What cities? What kinds of people? Yahoo! will have much finer-grained info about viewers than TV. This is all valuable info for the NFL.
Will it be a big money-maker for Yahoo!? Unlikely.
According to one industry insider I spoke to this morning, Yahoo! will have to pay CBS $1 million to $2 million to produce the game with their talent (no, you won't see Katie Couric calling the game with David Pogue and Joe Zee on the sidelines).
How many viewers might they get around the world for the game and what kind of ad revenue? Hard to predict, but this industry insider pegged it at 500,000 viewers and ad revenue of about $3 million to $5 million.
If those figures are correct, Yahoo! will take a bath on the event of $13 million (or more, because $20 million was the lowest possible price they could have paid).
Then Yahoo! will do all the analysis of who watched the game and share that with the NFL.
Yahoo! referred to the deal in its press release as "historic." Usually that's code for "we're going to lose money here." I'm sure it believes the loss is worth it. The company can point to the increase in the stock price Wednesday. And there's some validity in that.
It might also point to this deal as helpful to Yahoo! in the way that Yahoo! spending $1 million on the Met Gala was useful in putting the brand in front of a bunch of famous rich celebrities who attended. This deal, some might say, gets all sports leagues to think about Yahoo! and sports TV rights in a new way.
Or maybe Yahoo!'s play here is to team up with the NFL for Yahoo!'s recently announced plans to get into the Daily Fantasy Sports, or DFS, space in time for this Fall's season. Maybe Yahoo! told the NFL, "look guys, we'll take the hit on this but we want to work with you on DFS." If so, the deal is genius.
It will be interesting to see if we end up looking back on this deal as impacting other sports leagues and their adoption of "over the top".
This article is commentary by an independent contributor. At the time of publication, the author was long Yahoo!.