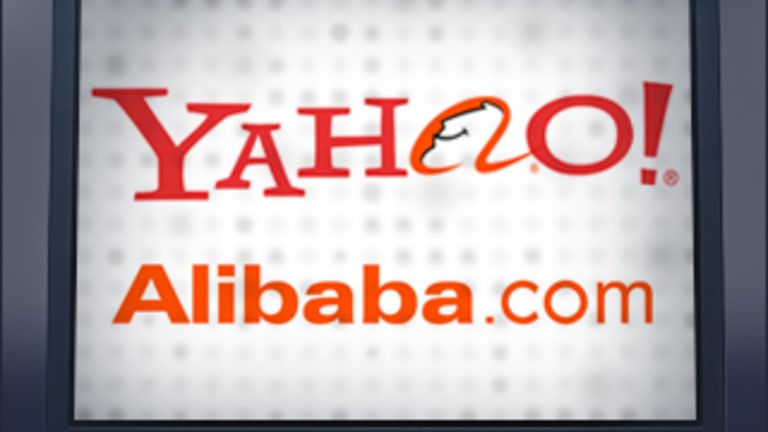 Publish date:
Yahoo! Is Not the Way to Go on Alibaba
Here are some indirect ways for investors to benefit from the Alibaba IPO.
Here are some indirect ways for investors to benefit from the Alibaba IPO.
NEW YORK (TheStreet) -- With Alibaba's initial public offering on the way, many investors think buying shares of Yahoo! (YHOO) is a way to benefit.
Although I like Yahoo! as a longer-term technology turnaround, it only owns about 24% of Alibaba shares.  I have other concerns about Yahoo! as well.
The IPO of the Chinese e-commerce giant is expected to lift the value of that company to as high as $200 billion. If that's the case, Yahoo!'s stake would equal a payday valued at close to $48 billion. That's more than the current market cap of Yahoo!, which is about $36.45 billion.
In the past 12 months, YHOO shares have jumped 75% from the 52-week low to the recent high and was a compelling investment theme when the shares were trading at less than $23. They closed Tuesday at $36, down 11% for the year to date.
The following one-year chart is a good look back to how well the company has done under the leadership of CEO Marissa Mayer.
YHOO data by YCharts
With the rising quarterly revenue per share growth and the year-over-year quarterly earnings per share in the last reported quarter up 28%, according to Yahoo! Finance, no one can say that Yahoo!'s stock performance is all due to its Alibaba stake.
But this analyst feels that stake is baked into the Yahoo! cake.

So does Stephanie Link, Research Director at TheStreet. In an interview March 17 on CNBC she said she wouldn't chase Yahoo! at these prices. On the day of the interview shares of YHOO closed at $39.11.
Since then Yahoo! stock has gone as low as $35.86 on Tuesday, a healthy 8.31% correction. Yahoo! will be selling a good chunk of its Alibaba shares and reducing its holdings to around 15% of the company. There's been no guidance from Yahoo! as to how it will use the proceeds from the partial sale of Alibaba stock.
Like a number of analysts, my sense is Yahoo! will take the money from the IPO and use it for strategic acquisitions and possibly a stock buyback to help support its shares. There's also a chance of a special dividend or an announcement when the company reports earnings the week of April 14 of a long-overdue quarterly dividend program.
The last time Yahoo! sold off a portion of its Alibaba stake it used the proceeds for a share buyback, bought Tumblr and held on to part of the cash. Keep in mind that, according to the company, more than half of Yahoo!'s net income comes from Alibaba and its stake in Yahoo! Japan. Shareholders need to know how Yahoo! will make up for that reduction in net income when it divests itself of another 9% of Alibaba during the IPO.
It's my opinion the best way to play the Alibaba "card" is with a well-known Japanese company that owns nearly 70% of Sprint (S) - Get Report . I'm referring to SoftBank (SFTBY) which owns and controls 37% of Alibaba. SoftBank's Chairman Jack Ma and other company founders own an additional 10%.
SoftBank makes its profits through four divisions: Mobile Communications, Broadband Infrastructure, Fixed-line Telecommunications, and Internet Culture. It's in the Internet Culture segment that it operates the Yahoo! Japan portal, which includes Yahoo! Auction and Yahoo! News. It also engages in the sale of Internet advertising, operates e-commerce sites such as Yafuoku! and Yahoo! Shopping and provides membership services to its customers.
So when you buy shares of SoftBank you own a large piece of Sprint, and significant chunks of Alibaba and Yahoo!. You also own SoftBank's robust mobile communications business where it sells mobile phone handsets, such as Apple (AAPL) - Get Report iPhones, iPads, and SoftBank smartphones.
If you want some Alibaba action, by all means see if you can get some IPO shares, which I think will be as rare as hen's teeth. If you can't, consider shares of SoftBank. If Alibaba's IPO is as "hot" as I anticipate, you're likely to experience some positive benefits.
At the time of publication the author had positions in YHOO and AAPL.
Follow @m8a2r1
This article represents the opinion of a contributor and not necessarily that of TheStreet or its editorial staff.
Marc Courtenay is the founder and owner of Advanced Investor Technologies, LLC, as well as the publisher and editor of www.ChecktheMarkets.com.