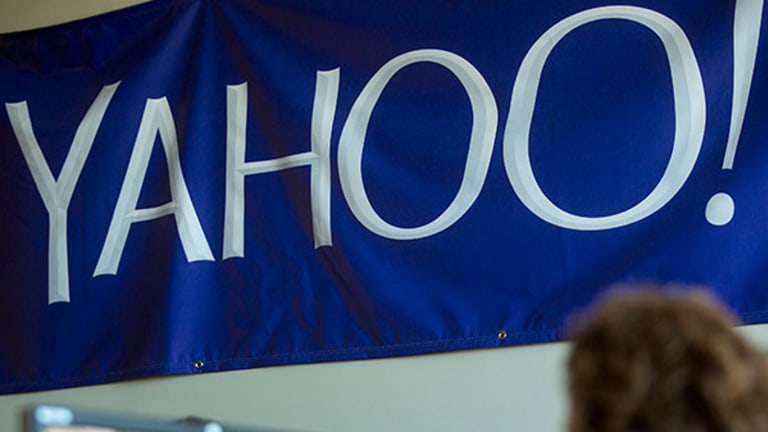 Publish date:
Yahoo! for Sale as Bold Moves Haven't Panned Out
Yahoo!'s rocky history and failure to capitalize on its purchase of Tumblr leaves the company up for sale this week.
Yahoo!'s rocky history and failure to capitalize on its purchase of Tumblr leaves the company up for sale this week.
Yahoo! (YHOO) hopes to stop lagging behind rivals and increase its advertising revenue one way or the other, but that is easier said than done.
The Internet company has made some bold moves in the past in an attempt to reinvigorate itself, yet those plans haven't come to fruition as it fails to see the sort of sustained, long-term advertising gains for which it had hoped. Now, the company is looking for a buyer.
YHOO data by YCharts
The biggest splash that Yahoo! has made was its $1 billion purchase of the blogging platform Tumblr in 2013. The service remains popular with younger people, making it all the more valuable to Yahoo!, which is old in terms of Internet years.
Chief Executive Melissa Mayer vowed not to "screw it up" with Tumblr, but now neither investors nor users are too pleased.
Native Advertising Snafu
Yahoo! recently pivoted toward more native advertisements -- ads that resemble editorial content -- in an effort to raise ad revenue. This annoyed Tumblr users, because the site blocks users' own native ads that recommend products.
This is one of those damned if you, damned if you don't scenarios. Yahoo! would look foolish if it let user-generated native ads run rampant, but by cracking down it looks like a bunch of greedy bad guys.
Plans to monetize Tumblr have fallen well below expectations. The company took a $230 million write down this month on the $1.1 billion purchase due to weak revenue. Part of the reason for the disappointing revenue is failed management, according to Business Insider.
The company reportedly integrated its Tumblr sales staff with Yahoo!'s overall sales organization. The differences between the two were too vast, and now Yahoo! is rolling back the decision.
The Sale
Yahoo! said this month that it will cut 15% of its workforce, or about 1,600 jobs, in an effort to keep down costs and help find a buyer to take over the Internet company. The layoffs affected a number of digital magazines, the photo sharing service Flickr and a handful of now-discontinued services.
A slimmed-down Yahoo! that focuses more on its core business of advertising is likely to be more attractive to buyers.
Yahoo!, with a $30 billion market capitalization, reportedly begins approaching potential bidders this week. Interested companies include AT&T, Comcast, Verizon and several buyout firms, according to Bloomberg. The first bids likely wouldn't come in for a month.
In the meantime, native advertising does appear to be working for Yahoo! It has led to year-to-year increases each quarter, and in the fourth quarter, native ads, combined with video and mobile, had a standout performance.
Alibaba Stake

Although advertising is the bread and butter of Yahoo!'s business model, one of its most valuable assets is its 15% ownership of Chinese e-commerce site Alibaba. Alibaba is largely unknown in the United States, but it is enormously popular in China.
Yahoo!'s stake alone is worth $30 billion. The problem is that Yahoo! has been unable to divest itself of this lucrative asset.
Last year, the Internal Revenue Service turned down Yahoo!'s planned tax-free spin-off.
In December, the board decided to spin off Yahoo!'s core business and keep the Alibaba asset in the old company. The plan to sell Yahoo!, however, changes everything, and it remains to be seen what will happen to Yahoo!'s crown jewel.
Perhaps Alibaba will wish to purchase the stake back.
It appears that Yahoo! might get
by a number of buyers. Although the company has disappointed investors for a while, the company might be more valuable as several different companies rather than the one it is now.
This article is commentary by an independent contributor. At the time of publication, the author held no positions in the stocks mentioned.