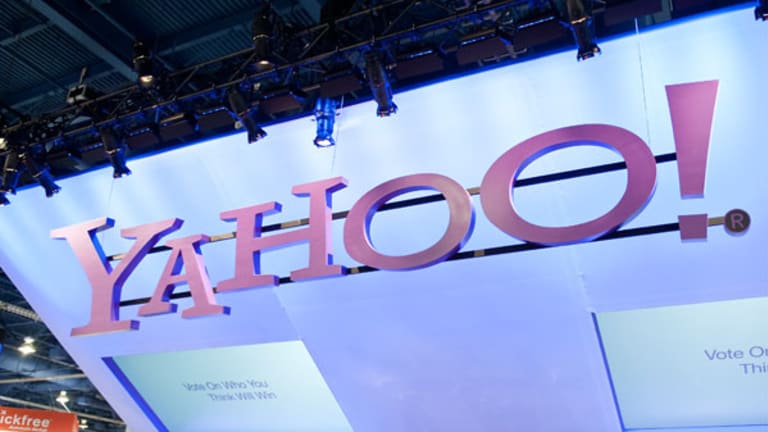 NEW YORK (TheStreet) -- Yahoo! (YHOO) came out with its earnings last night.
At first, the stock sold off 5%. Investors liked that Yahoo! met EPS estimates (shattered them actually), but not that it was light on revenue and guidance for next quarter (although Yahoo! kept its full-year Ebitda guidance intact).
However, in part thanks to a Justin Post upgrade this morning on the hope for an
Alibaba
IPO, the stock made back all those losses and was even up a bit -- even though the rest of the market was in the tank.
The stock bounceback reminded me of how
Amazon.com
(AMZN) - Get Amazon.com, Inc. Report
seems to perform every quarter. It "misses" earnings and the stock sells off at first in the after-hours, before roaring back to the green the following day.
Are Amazon investors a cult? Sure. I clearly don't understand the forward price-to-earnings ratio of 75x. To me, that behavior is a cult, although I have no problem with Amazon as a company.
Perhaps we're seeing Yahoo! become a little more Amazon-like in this way. Is that because of its core business or Marissa Mayer's leadership? No way. I think it's because of the remaining 24% stake in Alibaba Group.
Most of the press, sell-side analysts, and non-Yahoo! investors who complain about Yahoo! treat it like it only consists of the core business just like
AOL
(AOL)
only consists of its core business.
>>Also see: Marissa Mayer's Star Is Dimming >>
I would say most people who are investors in Yahoo! look at the investments in Alibaba and
Yahoo! Japan
first and foremost. I think Alibaba IPOs in the second half of this year for over $80 billion. The stake in Yahoo! Japan is worth $10 billion now (pre-tax), double what it was back in December.
That means, on an after-tax basis, you're getting the Alibaba and Yahoo! Japan investments, plus Yahoo!'s cash (over $5 billion) for $25 billion out of the total market cap of $26.5 billion. That means at current prices, YHOO's core is only being valued at $1.5 billion.
I don't care how bad display ads were in the quarter. That's too cheap!
If Amazon gets the magic dust sprinkled on it for being an ecommerce juggernaut, why shouldn't Alibaba? After all, Alibaba is going to pass Amazon in size next year, according to many analysts. Alibaba's net income next year will be bigger than Amazon's Ebitda this year.
As we get closer to an Alibaba IPO date, expect some of that IPO mojo to power its way into Yahoo!'s shares.
In terms of the quarter results, I wish the display ads had been better. They were down 11% vs. a year ago. Search revenue were up a lot, as I expected. Mayer knows how to wring more money out of that business. Search is actually now a bigger business for Yahoo! compared to display. That's the first time in a long time it's been the case.
Everyone, of course, wants the company to get the revenue up. Mayer knows that. And she will get them there. But this is going to take some time.
There's no one else who could have come in and turned things around in nine months. There are some Marissa Mayer haters who want to say "the honeymoon is going to be over because she hasn't delivered enough yet." But that's just silly. Yahoo! is a totally different company now from a year ago. Yahoo!s are proud to work there. That wasn't the case last year.
In terms of
, Mayer explicitly talked about it last night.
She said: "People don't realize that we are the only company with long-term partnerships with
Apple
(AAPL) - Get Apple Inc. (AAPL) Report
,
Google
(GOOG) - Get Alphabet Inc. Class C Report
,
Microsoft
(MSFT) - Get Microsoft Corporation (MSFT) Report
and
Facebook
(FB) - Get Facebook, Inc. Class A Report
."
I think people don't realize the power of that positioning and the fact Yahoo! can further leverage this neutrality going forward. We saw what happened last week at just the suggestion that Yahoo! might further partner with Apple. Imagine how that helps the stock if it gets formalized. It might partner with Google in mobile search, keep the Bing alliance for Web search and do something more substantial with FB -- all at the same time. This could be extremely powerful.
The
Summly
summary of her earnings comments last night at the end was a stroke of PR brilliance. There was a lot of criticism of the Summly deal as a PR stunt. It seems clear that Yahoo! got some valuable IP from SRI International as part of the deal. If Yahoo! wants to cozy up to Apple (and why wouldn't they?), it'll need to help with Siri and Summly will help.
I think Web Services is already a key battleground area going forward and Yahoo! can play a role here -- especially if it helps out Apple, who definitely needs help. There is a Chinese mobile phone company called
Xiaomi
that sells its phones at cost (or even a small loss). The company freely admits that and says it wants to make money on the services.
But this isn't just something affecting the low-end phone makers.
Samsung
needs to differentiate from Android, Apple and now Facebook Home. What's going to be different about these phones? The services.
>>Also see: Apple Shares Tank on Cirrus Logic Results >>
In my view, this is a big blind spot for Apple. It has the cash to buy both
Twitter
and Yahoo! and that would totally change the landscape for mobile phone competition. If I was Tim Cook, I'd put Marissa Mayer in charge to run it and try and ensure that the cultures of Twitter and Yahoo! was left alone from the rest of Apple. They are very different cultures.
Yahoo!'s stock getting the Amazon treatment? Who would have expected that six months ago?
At the time of publication the author was long YHOO.
This article was written by an independent contributor, separate from TheStreet's regular news coverage.
Eric Jackson is founder and Managing Member of Ironfire Capital and the general partner and investment manager of Ironfire Capital US Fund LP and Ironfire Capital International Fund, Ltd. In January 2007, Jackson started the world's first Internet-based campaign to increase shareholder value at Yahoo!, leading to a change in CEOs in 2007. He also spoke out in favor of Yahoo!'s accepting Microsoft's buyout offer in 2008. Global Proxy Watch named Jackson as one of its 10 "Stars" who positively influenced international corporate governance and shareowner value in 2007.
Prior to founding Ironfire Capital, Jackson was President and CEO of Jackson Leadership Systems, Inc., a leadership, strategy, and governance consulting firm. He completed his Ph.D. in the Management Department at the Columbia University Graduate School of Business in New York, with a specialization in Strategic Management and Corporate Governance, and holds a B.A. from McGill University.
He was previously Vice President of Strategy and Business Development at VoiceGenie Technologies, a software firm now owned by Alcatel-Lucent. In 2004, Jackson founded the Young Patrons' Circle at the Royal Ontario Museum in Toronto, which is now the second-largest social and philanthropic group of its kind in North America, raising $500,000 annually for the museum. You can follow Jackson on Twitter at www.twitter.com/ericjackson or @ericjackson.
You can contact Eric by emailing him at eric.jackson@thestreet.com.