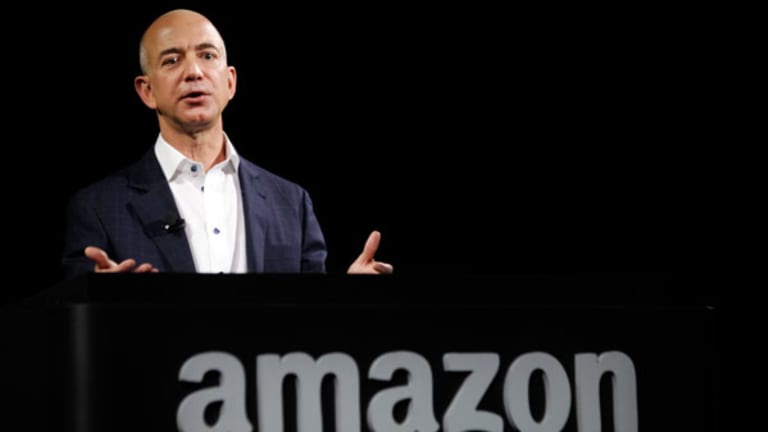 Yahoo!, Amazon Soar, Netflix Crashes in 2014
Study deep inside a company's business, not its valuation metrics.
Study deep inside a company's business, not its valuation metrics.
NEW YORK (TheStreet) -- As much as I might disagree with tortured Amazon.com (AMZN) - Get Report bears, I do believe they help create an interesting and worthy debate.
To get up to speed, see my second-to-last AMZN article, as well as retorts from highly capable TheStreet contributors Jonathan Heller and Robert Weinstein.
While giving Amazon, the company, its due, Heller makes a reasonable value-oriented argument against AMZN the stock:
But what is in question is the value of the company. Is it worth 143 times next year's earnings, and 71 times 2015 estimates? What is the future for this company in terms of the bottom line? To increase sales rapidly is wonderful, but that ultimately needs to translate into meaningful earnings.
Well, that's if you believe as I do, that earnings matter. Do earnings matter, Rocco? Ultimately, shareholders will care. They may not right now; they are riding the gravy train of momentum. Do you really think that will last forever?
Yes. Possibly. It could. Because, as I will explain, value investors often have difficulty knowing when to separate company from stock and when not to.
Weinstein spews something similar to Heller:
Over time, on average, the basics work effectively to help shape a winning portfolio. I've heard and read many reasons why traditional valuation metrics no longer apply for certain high flyers over the years, but as a student of the markets for over 20 years, I've yet to find one that holds water.
And an emailer put it all together when he came at me with this:
You have written so many good articles about NFLX, but you think there is not a good well-though out bear case on a company that is almost valued more than 8 times the market cap of NFLX , and a company that has no earnings? Really? When is AMZN going to have $6B-$9B of earnings a year to justify the current price? Please let me know.
Bringing Yahoo! (YHOO) and Netflix (NFLX) - Get Report into the discussion helps flesh things out.
I have been bullish NFLX stock since summer 2012. Here's proof. How can I be bullish the stock, calling moves through $100, $200 and $300, while riffing so critical of the company?

Sing it sister: Valuation doesn't matter.
Making a case on valuation alone simply does not hold.
You can't say "company is good, but stock is overvalued" so it will crash any more than you can say "company is bad, but stock is undervalued" so it will go up. Technically, you can say these things, but you would be something north of wrong. Let's call it intellectually misguided.
When a stock crashes to a more traditionally reasonable valuation, value investors claim the market and their trusted quantitative metrics righted the world. That's a slippery slope. Inevitably, something happened to the business that trigged a decrease in investor confidence and the subsequent sell-off. That's why you have to look, on a case-by-case basis, at the business that underlies seemingly lofty stock prices.
P/E ratio and other valuation metrics have become little more than gauges of investor confidence.
The market has confidence in Jeff Bezos at Amazon, therefore AMZN stock rides high. The market has confidence in Marissa Mayer at Yahoo!. As such, YHOO stock rides high and will likely ride higher. Same goes for Reed Hastings and Netflix/NFLX.
On the flip side, investors are more skeptical of/less confident in Tim Cook at Apple (AAPL) - Get Report so we have, by traditional textbook teachings, an (as-of-late) chronically undervalued equity.
If valuation was going to bring NFLX or AMZN down (or YHOO, once it goes higher), it would have happened by now. Inversely, same goes for AAPL.
NFLX, AMZN and YHOO will come down when enough of the crowd looses confidence in Hastings, Bezos or Mayer. Some material change or harbinger of pending doom -- a flavor of misstep either in action or anticipated -- will, almost always, accompany this loss of confidence.
If, on Tim Cook's watch, Apple produces something that replicates the success of iPod, iPhone or iPad, watch AAPL rise to the ranks of the allegedly overvalued.
Value investors need to understand that paradigms and contexts change with time. Just because we became accustomed to doing something one way doesn't mean that method will hold for eternity.
Simply put, they need to stop putting so much stock in their craft. They can credit these old school mores when a stock rises or falls, but they're simply not the direct reason why a stock rises or falls. P/E ratios operate independent of individual names, as objective measures. But the playing field we run in, particularly in tech, isn't suited for such a mathematically logical game.
Stock pickers who do well don't just merely ride waves of momentum, they understand if the underlying business can withstand the sometimes double-edged sword of investor faith.
If the business is real, nothing else matters.
When the business hiccups or, worse yet, implodes, investors who bought the top will get hurt not merely because they bought the top in a high-multiple name, but because they didn't anticipate changing company-specific business conditions.
I think AMZN tops $400, YHOO tops $50 and NFLX crashes in 2014, not on the basis of valuation. I believe these things because of the level of confidence I have in what their respective CEOs are doing. As long as the long-term strategy and narrative remains satisfactorily articulated and comfortably intact, there's no cap on where the stock price can go. In NFLX's case, there's no floor, if I am correct and the business is as shaky as I think it is.
--Written by Rocco Pendola in Santa Monica, Calif.
Rocco Pendola is a columnist for
TheStreet
. Pendola makes frequent appearances on national television networks such as
CNN
and
CNBC
as well as
TheStreet TV
. Whenever possible, Pendola uses hockey, Springsteen or Southern California references in his work. He lives in Santa Monica.