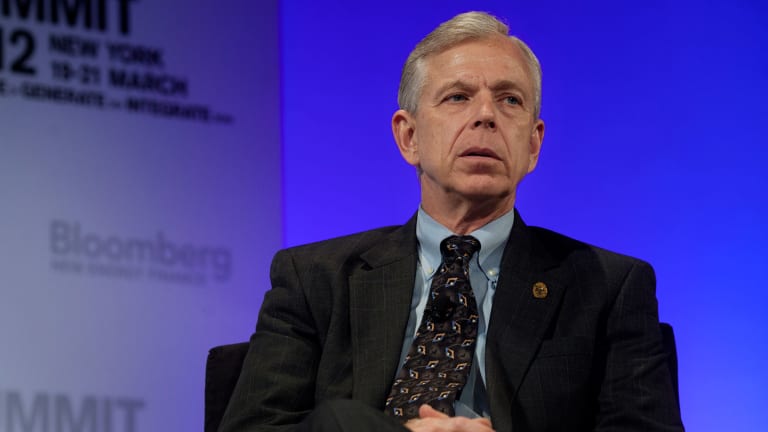 Yahoo! Acquisition Should Make Verizon a Programmatic Ad Powerhouse
By combining Yahoo! with AOL, Verizon has the makings of a programmatic advertising platform capable of cutting into a business dominated by Google and Facebook.
Verizon (VZ) - Get Report CEO Lowell McAdam may finally have all the pieces he needs to compete with Alphabet (GOOGL) - Get Report and Facebook (FB) - Get Report .
By combining Yahoo! with AOL, Verizon has the makings of a programmatic advertising platform capable of selling mobile ads in real time, a business that has the potential at least of taking a big cut of a pie dominated by Silicon Valley's biggest stars.  
If the pieces can fit, the Yahoo! acquisition offers Verizon both ends of the media equation needed to operate a lively programmatic platform: Yahoo!'s users and media proprieties and AOLs advertising platform.
"Yahoo! is one of the leaders in digital video, ranked third in the U.S. in terms of unique visitors, but has struggled to convert this to strength in mobile," UBS media analyst John Hodulik said in a July 25 investor note. "Verizon is acquiring Yahoo! (like AOL before it) to build a mobile video business monetized primarily through advertising."
For all its dysfunction, Yahoo! has a staggering one billion monthly active users, including 600 million monthly active mobile users. Prior to being acquired by Verizon last year, AOL had about 700 million monthly users. AOL's strength is its programmatic advertising platform, which stands to benefit from all the user information it will get from both Yahoo!!'s platform as well as Verizon's wireless customers.
"It has a whole lot of ad impressions it needs to sell," said Michael Green, vice president of business development at AudienceScience, a New York-based advertising firm serving brands and marketers.
Advertisements sold programmatically allow marketers to auction their ads electronically with certain specifications in order to sell to the highest bidder, i.e. a website publisher. An efficient programmatic  platform should reduce costs by eliminating the need for advertising salespeople while reducing the time needed to make a transaction, usually mere seconds.
It also allow publishers to advertise information specific to their users' interests. Advertisements purchased in real-time auctions now comprise more than two-thirds of all digital advertisements.
AOL has done considerably well in the programmatic advertising sphere after entering the business in 2010. While three years ago, programmatic sales comprised just 2%, or around $44 million, of its total digital ad revenue, today, accounts for more than 50%, or $1.3 billion. Within the industry, though, it still trails Google, Facebook and privately-held AppNexus.
"Yahoo! has global reach, scaled content channels, 1st party user data, engineering talent and ad sales support," Scott Ferber, CEO of Videology, a television programmatic advertising company, said via email. "Verizon and AOL stand to benefit from any combination of these assets."
Gaining access to Yahoo!! content on sites like Finance, Sports and News offers Verizon and AOL a large set of new inventory, he added.
Alphabet and Facebook are holdings in Jim Cramer's Action Alerts PLUS Charitable Trust Portfolio. Want to be alerted before Cramer buys or sells GOOGL or FB? Learn more now.
AOL's entrance into programmatic advertising took place over a handful of years and a series of acquisitions.
In 2013 AOL completed its purchase of Adap.tv, a service that partners online video advertiser buyers with sellers. Individual data, such as users' age and salary, offer marketers greater insight into their audience. In May, Aol consolidated its various parts into a platform it calls ONE AOL, allowing marketers to sell advertising, most often video ads, on a variety of screens and formats. 
In the end, Verizon's greatest limitation to tapping into programmatic's full potential might be a fear of violating too much of consumer privacy, according to Greene.
"Whats going on there in terms of Verizon monetizing the data through advertising is in a large part overstated today," he said.
While there is conjecture about how Verizon integrates its vast trove of consumer data from devices on its mobile network and data it has from those who have signed contracts, Greene found that there are still significant obstacles to overcome.
"I think everybody sees the connections ad potential," he said. "But there are still some pretty strong consumer privacy and tech barriers to turning that idea of activating data through digital advertising into a reality."