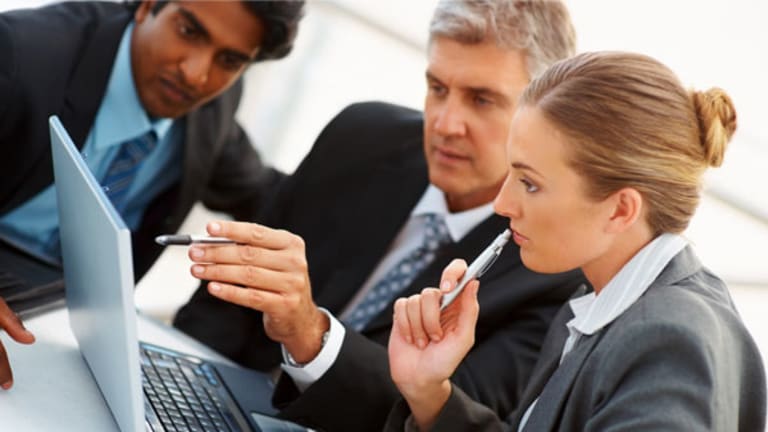 'Y' I'm 'Fairly' Sure 'Many' Fed Printing Presses Are Warming Up
The latest release of the Federal Reserve FOMC minutes suggest that many Fed printing presses will be warming up fairly soon.
NEW YORK (
) -- Don't take it from Bill Gross, Pimco bond guru, who tweeted after the release of the latest
Federal Reserve's Federal Open Market Committee meeting notes
that a third-round of quantitative easing (QE3) now has an 80% chance of occurring.
Take it from me. I've uncovered the secret to parsing Fed speak.
Fed speak is the art among the financial press and in the market of parsing each and every word in each Federal Reserve Open Market Committee release looking for the one word that gives it all away -- signaling QE3 is coming or isn't likely -- and all usually in the insertion or deletion of one adverb by Ben Bernanke.
One word with a "y" at the end of it can allow the gold bulls to add to the bunker. One word from the FOMC minutes and the equity market pundits can call for the S&P to 2,000 as free money continues to inflate the global-central-banking asset value bubble.
It can go something like this: A change in Fed speak from a description of an U.S. economy that is expanding "moderately" to one growing more "slowly." For those of you not aware of how important that change in adverb is, that could mean QE3 was more likely. Big Ben Bernanke is really a grade school grammar marm on these FOMC release days.
I must say, I feel for the Fed: Not only must the Fed acknowledge incremental changes in the economy from FOMC release to release -- for example, when oil prices are rising and pinching consumers or when the labor market is slowing -- to prove it does not have its head in the sand, but it must do so without signaling one way or the other about definitive accomodative monetary action. It also has to meet a dual mandate that includes the goal of fostering maximum employment, which these days, is about as thankless a task as running Research in Motion or Yahoo!.
Which brings us to the latest Federal Reserve FOMC release and why I am fairly certain that many Fed printing press are likely getting ready to roll out the free money of QE3. The latest Federal Reserve FOMC release doubled down and then tripled the "Y" word pleasure for Fed Speak sleuths:
"Many members judged that additional monetary accommodation would likely be warranted fairly soon unless incoming information pointed to a substantial and sustainable strengthening in the pace of the economic recovery," the minutes read.
"Many members" and "likely" and "fairly soon", one right after the other, a notable Fed speak grammatical triumvirate if there ever were one.
That sentence is this month's edition of the Fed Speak "Y" word game, and it
by more than $15 in late trading on Wednesday to a four month high (notably, it was four months ago
that the parsing of the FOMC minutes
turned what had been a moderately bullish gold trade to a moderately dead one as QE3 was then judged a longshot, or at least to be long delayed if still coming).
If you ask me, 80% chance of QE3 -- if the economy doesn't show more sustained growth -- as the Fed spoke in the latest FOMC notes -- is a timid bet by bond guru Gross. One "Y" word can be a fairly strong indication from the Fed, at least, as far as the market and the press are concerned. Put two "Y" words in the one sentence and you've got the QE3 version of compound interest. Use three "Y" words and the Fed must think "Y" words grow on trees like free money.
Which is "Y" I'm "fairly" sure "many" Fed printing presses are warming up right now and will "likely" print some more money. If not, the latest Fed speak could turn out to be fairly disappointing to many.
-- Written by Eric Rosenbaum from New York.
>To follow the writer on Twitter, go to
.
Follow
TheStreet
on
and become a fan on