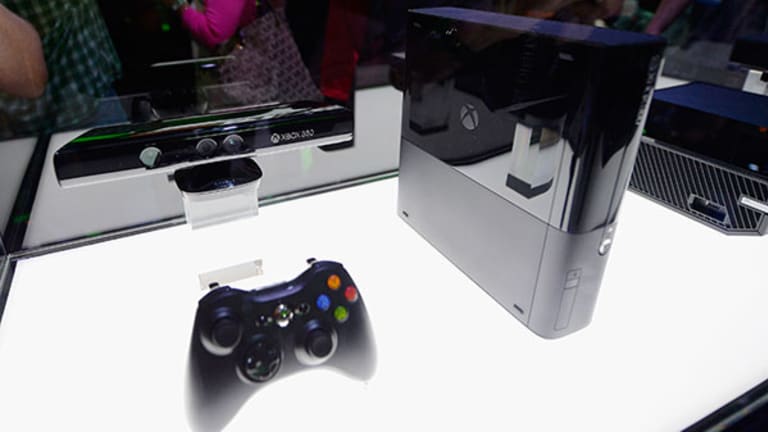 [video] Xbox One Could Break Microsoft in Two
The Xbox One is the first test of Steve Ballmer's "One Microsoft Strategy." If it fails that test, splitting up Microsoft could result.
NEW YORK (TheStreet) -- If the new Xbox One from Microsoft (MSFT) - Get Microsoft Corporation Report, the flagship of its "One Microsoft Strategy," does not sell well, the first order of business for the new chief executive officer could be to oversee the split up of the company.
High tech behemoths like Apple (AAPL) - Get Apple Inc. Report and Sony (SNE) - Get Sony Corp. Report, which produces the main competitor to the Xbox with the Playstation, have been under pressure from activist investors. Carl Icahn staked out a position in Apple to force the company into a $150 billion share buyback program. Sony is under pressure from Daniel Loeb of Third Point to impose "...a more disciplined management approach..." Microsoft has already made a significant concession to ValueAct Capital Management, a hedge fund that bought less than 1% of the shares earlier in the year, by allowing its president, G. Mason Morfit to join its board in early 2014.
Based on the performance of the stock, there was certainly no reason for Steve Ballmer to go; the share price for Microsoft is up more than 40% in 2013. But according to a recent article in The Wall Street Journal, the board of directors pushed Ballmer out due to his inability or unwillingness to make changes. What does the board want from the next chief executive officer?
In the words of Preston Gralla in Computer World, "The board and investors clearly want someone interested in breaking with Microsoft's past and is capable of doing it quickly."
"Breaking with Microsoft's past" could mean splitting up the company if the sales of the Xbox One disappoint. The Xbox One is a significant test of what Ballmer's "One Microsoft Strategy." That was the effort of Ballmer to break through the divisions of Microsoft and have all work together on products. From that, more customers will result for more Microsoft products and services. As Julie Larson-Green, the Executive Vice President of Microsoft for Hardware, stated in Bloomberg Businessweek, "It's more than a gaming platform. We're thinking more about our devices as a stage for all of Microsoft."
As for how it acts on that stage, Microsoft was described by Stanford University's Vivek Wadhwa as akin to "the former Soviet Union." Hardly an outside observer casting stones from an ivory tower, Wadwa wrote in the Washington Post that, "My former students and friends who work at Microsoft tell me that they love the company,but are stifledby its bureaucracy, turf wars and central planning."
Ballmer's One Microsoft Strategy was obviously formulated to blunt the myriad calls for the breaking up of the high tech giant. But not even being a friend Bill Gates could keep Ballmer from being shown the exit by a board of directors disenchanted with the rate of change under his stewardship. If all does not go well with the Xbox One, the present corporate structure could be the next to go, whether from action by the Microsoft board or from outside investors.
High tech firms with high profit margins, high levels of cash, and high layers of bureaucracy such as Microsoft and Apple are ideal targets for activist funds. (Apple is not considered to be as bureaucratic as Microsoft.) There are certainly no concerns about taking massive losses like hedge fund manager Bill Ackman recently did with JC Penney (JCP) - Get J. C. Penney Company, Inc. Report. It is pretty much all upside for the outside investor taking a position to bring about change in a situation like that of Apple or Microsoft.
In addition, spinning off separate units would allow for more efficient operations: Nomura analyst Rick Sherlund stated in a recent note that the "Xbox platform plus Windows phone and Skype lose about $2.5 billion per year, and we estimate that the Xbox platform may account for roughly $2 billion of this."
If what Sherlund writes is true, then a product division spin off would make the most sense.
The separate Xbox unit would resemble Nintendo in that it would be a gaming play. Nintendo has a trailing price-to-earnings ratio of 4.74 and a profit margin of just under 5.50%. By contrast, the trailing price-to-earnings ratio for Microsoft is 14.07, with a profit margin of 28.17%.
The Xbox One represents an attempt by Microsoft to expand its presence in the living room of its owners through Netflix (NFLX) - Get Netflix, Inc. Report and Hulu capabilities. At the last shareholders meeting, Ballmer declared about the Xbox One: "It is a reflection of what's possible when the company, our company, is unified under a common vision."
If that "common vision" ends up like the Xbox 360, draining Microsoft of billions, then breaking up along product lines would ensure that there would longer be a subsidization of unprofitable goods and services at the company under the new chief executive officer. That would do much to enhance shareholder value. It would certainly bring about the changes that the board of directors removed Ballmer for not making.
At the time of publication the author had no position in any of the stocks mentioned.
This article was written by an independent contributor, separate from TheStreet's regular news coverage.
Jonathan Yates is a financial writer who has had thousands of articles appear in periodicals and Web sites such as TheStreet, Newsweek, The Washington Post and many others. He has degrees from Harvard University, Georgetown University Law Center and The Johns Hopkins University.