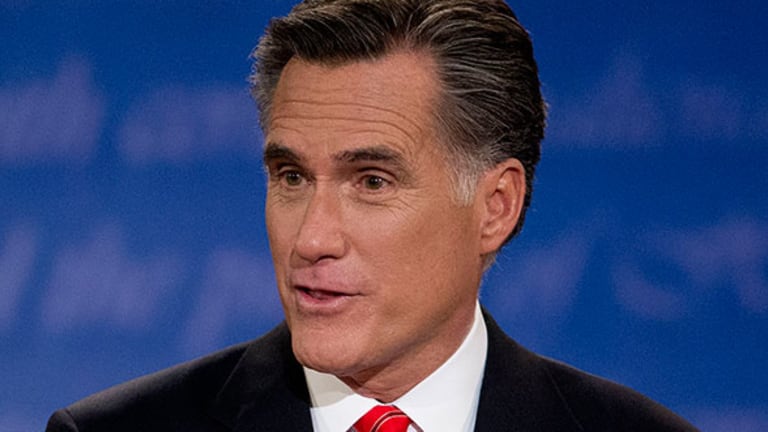 Would a Mitt Romney Presidency Be Good for the FinTech Industry?
Could Mitt Romney be the Republican nominee for president? Possibly. If he is, and if he wins, it could be good for the financial technology world.
Mitt Romney (yes, this Mitt Romney) could be the 45th president of the United States. With a crowded Republican field and no clear frontrunner, he could sweep in and take the election by storm (there are rumors) via a brokered convention. (He's actually leading in New Hampshire, despite not running.) And, if he does waltz in to take the nomination at the last minute and can manage to do in 2016 what he failed to do in 2012, it would be great for the financial technology industry. Allow me to explain.
First, how it could happen. Right now none of the current GOP candidates are likely to take the nomination. According to a Republican party rule, 40(b), "Each candidate for nomination for President of the United States shall demonstrate the support of a majority of the delegates from each of eight (8) or more states." In the case that a candidate is unable to achieve such support, a brokered convention may occur where the delegates collectively decide the candidate, and in this instance if Romney were to jump into the race, he could be the candidate that seems the most electable among this year's unlikely field of Republican contenders. 
You can like Romney or hate him, but the bottom line is that he understands business and has demonstrated a propensity for problem-solving at the highest level. While leading Bain Capital from 1990 to 2000, the firm's average annual return on investments was 113%.
FinTech is the nexus of the single largest transformation of finance since the post-market crash era of the early 1930s, when the Securities Act of 1933 and Securities Exchange Act of 1934 created the modern financial industry.
Capital formation, asset management, banking, and every other aspect of the financial system are expensive, inefficient, and outdated. The industry is ripe for disruption. Strong government leadership would push finance into the 21st century. The days of huge fees, lack of transparency, and inefficient processes are numbered -- and a President Romney would see that and push the development of FinTech forward.
Global banking and the underlying plumbing that connects the world is being reinvented by blockchain technologies (Coinbase, BitPesa); capital formation is being modernized via online equity funding platforms (FlashFunders, AngelList); and secondary private market exchanges are bringing liquidity to the private markets (Nasdaq Private Market).
Romney understands what it takes to build a business and that will be a huge factor when it comes down to working with FinTech entrepreneurs. He understands the inner workings of venture capital, which is on the verge of becoming even more important thanks to Title III of the JOBS Act, which allows crowdfunded private investments.
When Romney started his career, he plunged into unfamiliar companies and learned everything about them. His intelligence, analytical skill, and experience in the financial industry would help the government become more friendly and progressive for businesses that are modernizing capital formation and marketing private equity. 
During his previous candidacy, Romney vowed to whittle the obese bureaucracy in the same way he turned around countless failing companies. And while he's pro-business, he's not interested in using the government to prop up failures. He has said that failure is "the way America works." He was reticent about passing new legislation after JPMorgan Chase reported a $2 billion trading loss, for instance.
"If a large bank gets in difficulty ... there's no reason why the shareholders or bondholders of a bank can't lose their funds if a bank were to get in trouble," he said. A bank or start-up might not want to hear that, but it's the right principle. The government shouldn't insure a bank's risky investments. Well-managed companies should be rewarded, and badly-managed ones should fail.
 Romney's 2012 economic platform called for inter-bank transparency, enhanced requirements for capital, and new ways to approach complex financial transactions. He understands that there's a new frontier of digital finance.
In No Apology, his memoir, Romney wrote, "Governments [need] to stand aside and allow the creative destruction inherent in a free economy." Entrepreneurs and investors know that the best returns come from riskier ventures, but risk always comes with the possibility of failure. The American financial sector is booming, and no Republican candidate in the field right now knows that better than Romney does.
This article is commentary by an independent contributor. At the time of publication, the author held no positions in the stocks mentioned.