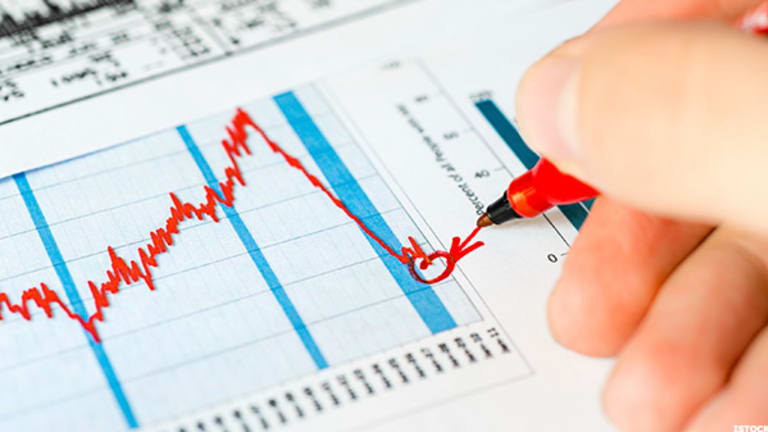 Worst of the Worst: Stay Away From This Awful Energy Royalty Trust
The entire energy sector has struggled, but some investments are worse than others. If you own this energy dog, dump it now.
If there ever were a "Razzie Award" for worst stock market performance, the energy sector would win it hands down this year.
And if you had to choose an investment in this sector that looks hopeless, you wouldn't have to look too far: BP Prudhoe Bay Royalty Trust (BPT) - Get BP Prudhoe Bay Royalty Trust Report  is staring into an abyss of bad numbers and zero possibilities.
Down by 80% over the past year, its appalling performance, coupled with the lack of any chance of recovery, makes it toxic.
BP Prudhoe Bay Royalty Trust
There's no doubt about it, oil royalty trusts have been pummeled in the past 12 months by the decline in oil prices. In the past year, Sandridge Mississippian Trust (SDT) - Get Sandridge Mississippian Trust I Report , Marine Petroleum U (MARPS) - Get Marine Petroleum Trust Report , Mv Oil Trust (MVO) - Get MV Oil Trust Report , Pacific Coast Oil Trust (ROYT) - Get Pacific Coast Oil Trust Report , Mesa Royalty Trust (MTR) - Get Mesa Royalty Trust Report , Hugoton Royalty Trust (HGT) and Chesapeake Granite Wash Trust (CHKR) - Get Chesapeake Granite Wash Trust Report have dropped between 47% and 73%.
BP Prudhoe Bay Royalty Trust's one-year losses are particularly bad, and indicate the loss of hope investors have about it.
First, it's important to understand what royalty trusts are. They're not stocks. They're investment trusts that buy the rights to royalties from a company and then distribute the royalty flows to investors. When oil prices are high and a trust is linked to a productive oil asset, a trust can be a great investment, because it receives royalties from an agreed-upon collection of energy assets and doesn't have the overhead or risks associated with a company. When oil prices are weak, it's a different matter.
BP Prudhoe Bay Royalty Trust's value is entirely based on the volume and price of oil produced in the future by BP's (BP) - Get BP Plc Report  Prudhoe Bay oil field located on Alaska's North Slope. 
Here's the problem. In the past, the trust had estimated that would receive income until 2029. That forecast was based, however, on much higher oil prices. 
Bleak news emerged at the end of February, when the BP Prudhoe Bay Royalty Trust filed its 10-K with the Securities and Exchange Commission. The trust said that based on the average price of West Texas Intermediate crude oil in 2015 of $50.28 a barrel, royalty payments to the trust would continue through 2020 but be "zero" the next year.
That's right: The lifespan of the royalty payments just got shortened by eight years. Keep in mind, too, that current WTI crude oil prices are around $48.61, below that 2015 average.
After investors caught wind of the 10-K filing, the trust's value fell 23% in a single session. It has continued to lose value since then and is currently trading at about $13.74. You can expect shares to head even lower in coming months. Only one analyst covers the trust these days, but that analyst has a 12-month price target on it of $6, which is more than 50% less than current levels. 
Part of the reason for the trust's changed forecast appears to be a decision by BP. The oil company plans to reduce its active rigs in Prudhoe Bay to two from five, Alaska News Dispatchreported on March 7. 
This illustrates a risk of investing in a royalty trust. When oil prices fall, the company whose royalties the trust depends on can make production decisions that reduce the volume of oil that the trust will receive revenue on.
Terrible prospects in the energy patch have prompted bearish investors to seek new moneymaking opportunities. For the time being, it's best to stay away from oil royalty trusts such as BP Prudhoe Bay Royalty Trust.
---
As we've just explained, BP Prudhoe Bay Royalty Trust and Alon USA Energy are dangerous stocks you should shun. But if you're looking for a steady stream of extra income starting right now, regardless of market conditions, I know a trader who is guaranteeing his readers at least $67,548 per year by following his easy step-by-step process. Click here now for all the "Free Money" details. You'll want to sell every stock you own after seeing this report!
This article is commentary by an independent contributor. At the time of publication, the author held no positions in the stocks mentioned.