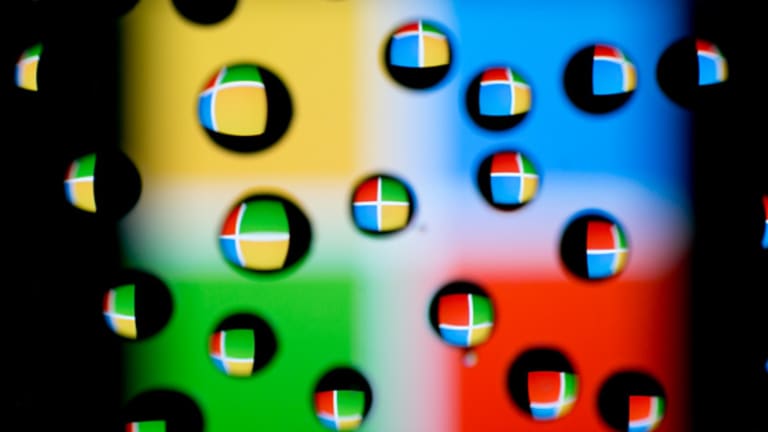 Worry Less About Google, More About Microsoft
Google's strengths are just being realized, while Microsoft's weaknesses are being exposed.
NEW YORK (TheStreet) -- Sometimes a news story says more than it means to.
Last week's
Google
(GOOG) - Get Alphabet Inc. Report
#Fail was preceded by
Steven Levy's "Triumph of the Nerd" piece for
Wired
, filled with inspiring pictures of Google data centers.
There was a message in the story smart money managers could have won some puts on. For the first time, Google was showing its secret sauce, the source of its power today and tomorrow.
Its cloud. That was bad in the near term -- showing the crown jewels is often a distraction from today's problems -- but important for the long term as a demonstration of underlying strength.
Cloud technology remains misunderstood, sometimes deliberately. It's not just a data center. It's not just client server. It's both 10 times cheaper than anything that came before, and more flexible. It can adjust to demand so a job takes just a piece of one machine or many machines, on-the-fly. It makes maximum use of every machine. It can be as resilient as the Internet itself.
Google developed the technology to serve its own needs, and has pushed cost savings at every turn. It was the first to use commodity PCs instead of big servers, the first to put its service into a box for delivery to phone switches and customer premises, the first to push energy efficiency and solar power.
Because Google is the cloud cost leader it can give the results away. Its aim is to accustom everyone to getting their work done through a cloud, and benefit in time from having the lowest cost cloud.
The only cloud vendor to have followed this path is
Amazon.Com
(AMZN) - Get Amazon.com Inc. Report
, but their EC2 scales according to customer demand, not anticipated needs. Amazon is better at drawing dollars from its cloud than Google, which only launched its Google Compute Engine this year, but it's hard to see it winning on costs.
As
Information Week
reports, people who make their living testing such things, like those at Zencoder, are starting to see the Google cloud as a better value than EC2.
By contrast,
Microsoft's
(MSFT) - Get Microsoft Corporation Report
problems, reflected in
Ars Technica's
story on its latest earnings, are more profound. Our Anton Wahlman demonstrates this well by comparing a sample Windows 8 machine
with a newly-announced Google Chromebook.
Microsoft's main rival is not Amazon, but
Apple
(CLNE) - Get Clean Energy Fuels Corp. Report
, and there it's being beaten badly,
as
Wired
explains. The historical roles have fully reversed, with Microsoft offering the niche product in the Surface tablet, while Apple controls the mass market through the iPad. This is even reflected in the PC niche, where sales are not just declining but where the iMac is gaining share steadily.
So, sure, both companies had a disappointing quarter. Google's results are still too tied to advertising. Google had to absorb both the cost of acquiring Motorola and of downsizing it.
But Google will survive. Its cloud leadership is not threatened. Its problems lie entirely in how it can monetize its advantages.
By contrast Microsoft has lost its advantages. It's Azure cloud is more costly than the clouds of Google and Amazon. Its "moat" -- the PC and enterprise server software that keeps competitors at bay -- is losing its edge in the face of competition from
IBM
(IBM) - Get International Business Machines Corporation Report
,
Oracle
(CLNE) - Get Clean Energy Fuels Corp. Report
and other cloud-based technologies.
Even if Windows 8 turns out to be much better than expected, it's unlikely to gain a double-digit share of either the phone or tablet market.
This time next year, Microsoft will be increasingly threatened by the cloud, its Windows 8 will have peaked, while Google will be fully engaged in monetization. I have shares in both Microsoft and Google, but I'm likely as not to take my lumps on Mister Softee and put that money back into Google, maybe soon.
Time may have passed Microsoft by, but the age of Google is just beginning.
At the time of publication, the author was long MSFT, AAPL, and GOOG
This article is commentary by an independent contributor, separate from TheStreet's regular news coverage.