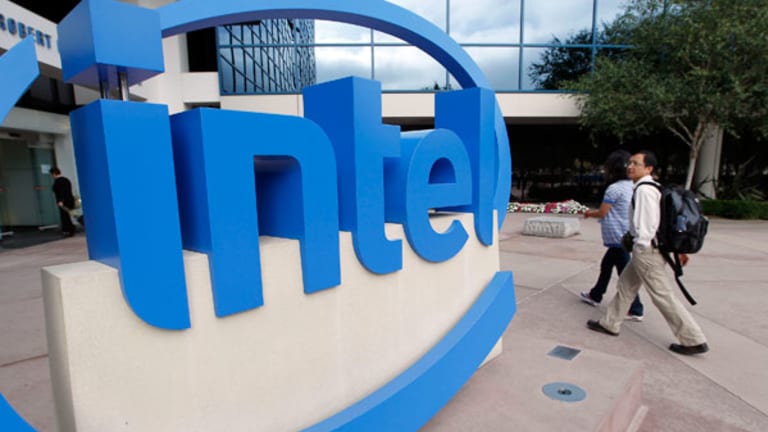 Worries Over Intel Are Overblown
Given the dire state of the PC industry, it's foolish to expect an immediate turnaround from Intel.
NEW YORK (TheStreet) -- Although I no longer own the stock, I've found myself coming to Intel's (INTC) - Get Intel Corporation Report defense on a pretty regular basis.
There seems to be a concerted effort by the bears to discredit the company's recovery attempts. While I don't disagree that it has a strong reliance on the PC industry, I also can't ignore how much this fact has become overstated.
There's no denying that Intel has blown some opportunities in the mobile evolution.
I will also grant that the company has been slow to respond to the advancements made by rivals like
Qualcomm
(QCOM) - Get Qualcomm Inc Report
and
ARM Holdings
(ARMH)
. While Intel does rely on the PC market for a significant portion of its revenue, the company's mobile advancements, albeit modest, is a step in the right direction.
And it's narrow-minded to believe that the company's attempts to grow mobile market share are futile solely based on recently quarterly performances.
But don't mistake my support for misguided optimism. I'm not holding my breath expecting Intel to regain its dominance level of the 90's. But solely from an investment perspective, the stock looks cheap.
As any smart investor should, I've begun to adjust my expectations, given that the company has begun to think differently.
Read: Will Automatic Bill Pay Ruin Your Finances?
In that regard, it didn't matter as much to me that the company posted a 5% revenue decline in the recent quarter. Bears, on the other hand, have taken a different perspective -- using the revenue decline as fodder for their arguments. But given the dire state of the PC industry, it's foolish to continue to expect an immediate turnaround from this company.
Plus, given the progress that the company continues to make on the operating side of its business, it is clear that Intel still possess some distinct advantages.
Amid a highly competitive environment where others like
NVIDIA
(NVDA) - Get NVIDIA Corporation Report
and
Advanced Micro Devices
(AMD) - Get Advanced Micro Devices, Inc. Report
are also working to recover, the fact that Intel is still meeting expectations on margins, which grew sequentially, is impressive. And management expects more margin expansion in the next quarter.
What this tells me means is that, while revenue might remain unimpressive amid the company's mobile transition, that gross margin arrived better than expected demonstrates that management has figured out ways to bring operational efficiency to the business. In other words, Intel may be down, but the company is in solid hands.
What's more, investors should be encouraged that management has laid the foundation for the company's long-term success, which includes reinvesting cash flow back into research and development.
Here again, I'm not saying that the Street should expect an imminent revival in Intel to the extent that the company, which, along with
Microsoft
(MSFT) - Get Microsoft Corporation Report
once ruled the tech world. In fact, I'm saying quite the opposite.
I believe that with Intel's world-class technological and manufacturing capabilities, it's a mistake for investors to assume that management won't make the necessary adjustments to grow market share in mobile.
Read: Reed: DOJ Is Wrong on American-US Airways Merger
To that end, there have been recent developments to suggest that mobile device manufacturers have begun to take notice of Intel's progress. That
Samsung
recently announced that it had chosen Intel's Clover Trail+ mobile chip processor to power its Galaxy Tab 3 is a perfect example. This proves that contrary to popular opinion, Intel can, in fact, optimize
Google's
(GOOG) - Get Alphabet Inc. Class C Report
Android platform.
I don't believe that Qualcomm, which is the leader in the mobile chips market, is terrified of Intel's small steps, but it doesn't mean that the company is incapable of making giant leap. That leap may arrive when Intel finally enters
Apple's
(AAPL) - Get Apple Inc. Report
iPhones and iPads.
It's just a matter of time. This is what the Street is waiting for to finally believe in the company's mobile prospects. But by then it will be too late.
Betting on Intel here is about betting on the future. This company is too valuable to be judged solely on a quarter- to-quarter basis.
And let's not forget that management is positioning Intel to capitalize on emerging markets where the company expects to grow better volumes in its chips business. I believe this is a good move, which should help offset near-term headwinds caused by the declining PC market.
In the meantime, I will maintain that Intel has all of the makings of a successful turnaround story -- one that is still growing margins while its core business recovers. I like the progress that the company is making.
For value investors with patience and a high frustration threshold, this is still a good stock to own. And on the basis of improved margin and cash flow, I still project Intel to have a long-term fair market value of $32 a share.
At the time of publication, the author was long AAPL
.
Follow @saintssense
This article was written by an independent contributor, separate from TheStreet's regular news coverage.
Richard Saintvilus is a co-founder of
where he serves as CEO and editor-in-chief. After 20 years in the IT industry, including 5 years as a high school computer teacher, Saintvilus decided his second act would be as a stock analyst - bringing logic from an investor's point of view. His goal is to remove the complicated aspect of investing and present it to readers in a way that makes sense.
His background in engineering has provided him with strong analytical skills. That, along with 15 years of trading and investing, has given him the tools needed to assess equities and appraise value. Richard is a Warren Buffett disciple who bases investment decisions on the quality of a company's management, growth aspects, return on equity, and price-to-earnings ratio.
His work has been featured on CNBC, Yahoo! Finance, MSN Money, Forbes, Motley Fool and numerous other outlets.
Follow @saintssense