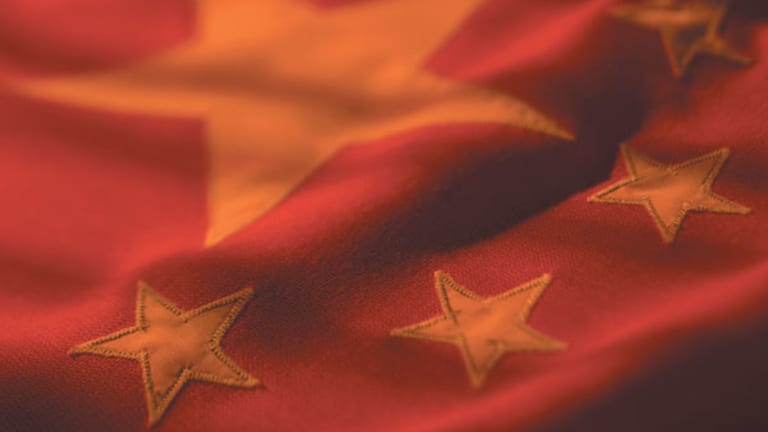 Worries About Chinese Banks Are Overwrought
Chinese authorities likely engineered the country's recent 'crisis' to rein in off-balance-sheet bank lending.
NEW YORK (
) -- Apparently, Chinese authorities are investigating what's behind late-June interbank funding rate spikes and equity volatility.
Our advice: Look in the mirror.
Here's why. As banks hoarded cash in June for quarter-end reserve requirements, the Shanghai Interbank Offered Rate (SHIBOR) rose. When the central bank didn't inject liquidity, rates skyrocketed, fueling rumors of a credit crunch and bank insolvency. The longer the People's Bank of China stayed silent, the more investors fretted a bursting credit bubble and global contagion.
In our view, worries were and remain overwrought. Chinese authorities likely engineered this "crisis" to rein in off-balance-sheet bank lending. Moreover, with $3.4 trillion in foreign currency reserves and a closed, state-run financial system, China has ample bank-bailout firepower -- and every incentive to intervene, given that financial stability equals social stability. This wasn't a financial crisis -- it was political.
Chinese officials weren't pleased when aggregate financing rose 52% year over year from January through May -- a bigger-than-desired money supply increase. Historically, China has controlled money supply and growth through strict loan quotas, but those levers lost efficacy after China partially deregulated financing last year, targeting increased funding for small and mid-sized businesses.
Those efforts haven't yet borne fruit, as SMEs are still wary of securing private loans (the line between legitimate financing and "illegal fundraising" -- punishable by death -- isn't clear), but banks used the more flexible rules to issue more trust and asset-backed loans, packaging and selling them to investors as wealth management products. WMPs, which yield substantially more than traditional deposits, are important sources of investment income for Chinese citizens and key profit sources for banks.
However, most WMP lending seemingly funded unapproved (and likely unprofitable) infrastructure and real estate projects controlled by China's local and regional governments. In March, regulators tried to clamp down through stricter WMP regulations, including capping illiquid investments to 35% of each WMP or 4% of total bank assets. Banks had until year-end to comply but were slow to adapt. Total financing rose another trillion yuan ($163 billion) in June's first 10 days. So officials got tougher, seemingly letting SHIBOR rise to add market pressure to force banks to clean up balance sheets.
After making their point, the PBOC extended liquidity to the better-behaving banks and confirmed it would continue supporting institutions lending judiciously to the real economy. Immediate pressures waned, with overnight SHIBOR retreating to one-month lows Tuesday. But concerns remain as banks still have trillions of yuan in WMPs, which mature quarterly -- many fear banks will use new liquidity to roll these products over, not lend to businesses, and growth will thus slow. And it might slow some -- but that's not necessarily why. As part of their engineered shift from infrastructure and export-led growth, officials confirmed banks will get plenty of money to lend to "strategic emerging industries," such as high-tech manufacturing and services. So credit should remain available, but the ROI likely won't match infrastructure gains.
But slower growth isn't bad -- it's part of the plan, which limits surprise power (and long-term market-moving potential). More importantly, China's new model requires a freer financial system, which necessitates economic reform -- something markets like, though it likely won't come without some growing pains.
This article was written by an independent contributor, separate from TheStreet's regular news coverage.
This commentary comes from an independent investor or market observer as part of TheStreet guest contributor program. The views expressed are those of the author and do not necessarily represent the views of TheStreet or its management.