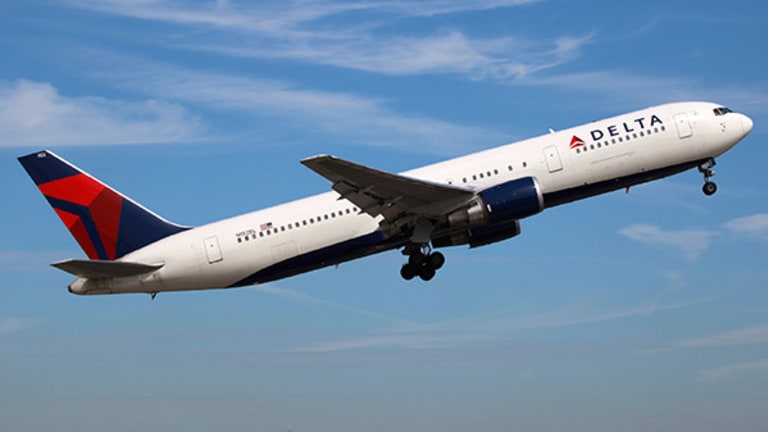 Worried About Volatility? This 'Boring' Stock Stands to Gain 57%
Airlines are enjoying a renaissance as robust global demand and cheap fuel boost the industry's profits. Here is the best airline stock to buy now.
Many investors shun airline stocks as too stodgy. These equities certainly lack the glamour of Alphabet or Apple. But investors who ignore the airline sector are leaving money on the table, especially as the persistently low price of jet fuel boosts the airline industry's operating margins.
With global demand for passenger tickets continuing to grow, the best-managed airlines are poised to be among the growth stock winners of 2016.
Our favorite carrier is Delta Air Lines (DAL) , which is scheduled to report first-quarter 2016 operating results on April 13. With an efficient cost structure and an aggressively expanding presence in overseas markets, the company has been on an earnings winning streak that shows no signs of abating.
The analyst consensus calls for first-quarter earnings of $1.29 a share, up from 90 cents a share a year earlier.
In a turbulent year in which the broader markets are expected to post mediocre returns at best, the company should be one of the most profitable opportunities.
For full-year 2015, Delta returned $2.6 billion to shareholders in the form of $360 million in dividends and $2.2 billion in share buybacks. Management expects to save $3 billion in fuel costs this year through lower energy prices, more efficient aircraft and the company's use of its own refinery.
Delta reported adjusted fourth-quarter earnings of $1.18 a share, up more than 50% from a year earlier. Adjusted pre-tax income came in at $1.45 billion, a year-over-year jump of 42% and a record for the airline.
For full-year 2015, adjusted pre-tax income reached $5.9 billion, up 29% from a year earlier.
During the fourth quarter, Delta generated $1.4 billion of adjusted operating cash flow and $300 million of free cash flow. The company used this robust cash generation to reinvest $1.1 billion into the business, including $900 million for the acquisition of new, fuel-efficient aircraft.
As part of its expansion into overseas markets, Delta also bought six slot pairs at London's Heathrow airport.
Delta's audacious purchase in 2012 of a 49% stake in U.K. airline Virgin Atlantic for $360 million was seen as risky at the time, but it has since paid off. Virgin reported that its full-year adjusted pre-tax profit jumped more than 80% in 2015, hitting £22.5 million.
The world's second-largest airline, Atlanta-based Delta commands a far-flung domestic and international presence that was considerably enhanced by its alliance with Virgin.
Delta's fleet of more than 800 aircraft fly a route network-centered around the hubs of Amsterdam, Atlanta, Boston, Detroit, London-Heathrow, Los Angeles, Minneapolis-St. Paul, New York-LaGuardia, New York-JFK, Paris-Charles de Gaulle, Salt Lake City, Seattle and Tokyo-Narita. The airline flies to 318 destinations across all six inhabited continents.
To cost effectively propel its expansion, Delta launched an ingenious remedy to reduce fuel costs that stunned both the oil and airline industries: In 2012, the company paid $150 million for a refinery on the outskirts of Philadelphia from ConocoPhillips. The airline plowed another $100 million into the facility to boost its production of jet fuel.
Fuel represents about a third of an airline's operating costs. The fuel cost savings from the refinery have been enhanced by the precipitous drop in energy prices since mid-summer 2014.
With a trailing 12-month price-to-earnings ratio of 8.50, Delta's valuation is in line with its industry's trailing P/E of 8.41. Delta also trades at a bargain compared with direct peer Southwest Airlines, at 13.49.
Delta's stock trades at about $47.84. The one-year analyst price projection on the high end is $75, which would represent a gain of 56.7%.
The time to buy this high-flyer is now, ahead of its next earnings report.
Don't buy Apple; buy this technology stock instead.There is a battle raging in the fast-moving world of Silicon Valley. Just as VHS tapes snuffed out Betamax and CDs killed cassettes, the winner of a new "gold standard" for data is about to be crowned. I have discovered a tiny company that figured out a way to corner this new $10 billion market, no matter who comes out the winner. Click here to learn more.
John Persinos is editorial manager and investment analyst at Investing Daily. At the time of publication, the author held no positions in the stocks mentioned.