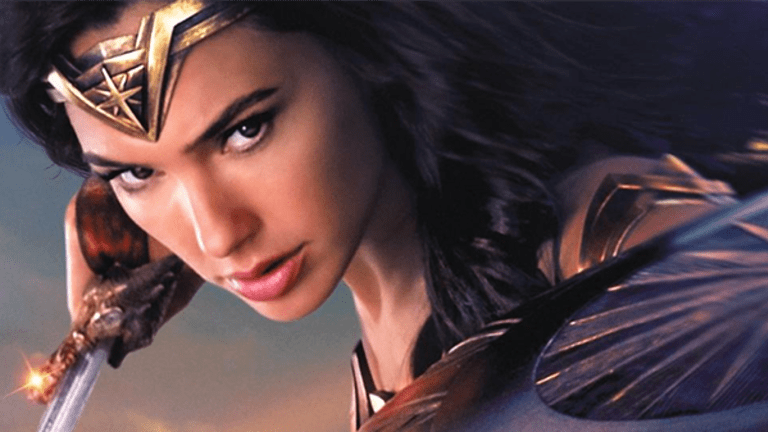 'Wonder Woman' Called Upon to Save the Day at Warner Bros.
The first female superhero tentpole will save damsel-in-distress Warner Bros. from its own mess and may give the industry a shot in the arm.
In August 2016, things looked grim for Warner Bros.' all-important DC franchise.
Yes, Suicide Squad had just opened to a beefy $134 million, the largest August debut of all time. The movie, however, relied largely on a gonzo marketing campaign and weak competition to achieve that record, and the people who went out to the theater largely felt duped. Complaints that the movie was bloated and incoherent sounded from disappointed audiences, and the theaters emptied out after the film's opening.
Indeed, the only blockbuster last year to suffer a worse weekend-to-weekend drop following its debut was Warner Bros.' other DC film, Batman v Superman: Dawn of Justice. The two films dropped 67% and 69%, respectively, whereas most blockbusters drop 50% to 55% in their second frame.
The DC movies were on the verge of notoriety, and Time Warner's (TWX) Warner Bros., which could not be reached for immediate comment on this story, knew that it could only hide subpar content behind the strength of the DC brand for so long.
Enter Wonder Woman, starring Gal Gadot as the eponymous character and directed by Patty Jenkins. Like any good superhero, the film looks to swoop in and save the day in a time of peril. Wonder Woman, though, is not much like any other superhero movie out there, as Y chromosomes are noticeably absent from the picture.
Indeed, the fact that the latest DC installment both focuses on and is directed by a woman makes it a rarity in Hollywood and a unicorn in the superhero genre. Of the 40 DC and Marvel movies that have been released in the past 10 years, not one has focused on a female superhero. This statistic is more than loosely connected to the fact that all of those 40 films have been helmed by men.
Even though Wonder Woman is based off of a 75-year-old property, the movie arrives in theaters feeling like a breath of fresh air.
"This is the first female-led superhero tentpole, so it's a bit of a paradigm shift for the genre," said Shawn Robbins, senior analyst for Boxoffice.com. "But with the on-point marketing and the positive reviews, this looks like the reversal of fortune that Warner Bros. has been waiting for."
Indeed, audience anticipation appears to be through the roof for the latest DC film. In a survey administered by Fandango, Wonder Woman was chosen as the most-anticipated film of the summer, ahead of expected blockbusters such as Spider-Man: Homecoming and Warner Bros. stablemate Dunkirk from Christopher Nolan, director of The Dark Knight Trilogy.
The enthusiastic reception from critics -- 93% fresh from Rotten Tomatoes -- has encouraged moviegoers who have been disappointed by previous DC outings. Box office expectations for the film's opening have ballooned from $65 million when Wonder Woman first appeared on tracking metrics to double that number on the eve of the movie's release. Warner Bros. is staying conservative, predicting an opening in the $65 million to $70 million neighborhood, but at this point it would be shocking if the film didn't open above that.
"This movie is the shot in the arm that the industry needs right now," said ComScore (SCOR) - Get comScore, Inc. Report analyst Paul Dergarabedian. "So far, the summer movie season has been perceived as weak, but it only takes one Wonder Woman to get analysts singing a completely different tune."
The industry is still reeling from a Memorial Day weekend that yielded the lowest domestic grosses since 1999. Although the underwhelming weekend had more to do with uninspiring new releases than anything else, movie theater stocks have nonetheless been down in recent days. A robust debut from Wonder Woman could be perceived as a much-needed course correction.
"I think all the studios are pulling for Wonder Woman," Dergarabedian noted. "A rising tide lifts all boats."
One studio that will be watching the box office returns for Wonder Woman closely is Disney (DIS) - Get Walt Disney Company Report , which owns the competing Marvel Cinematic Universe. (Certain Marvel movies still are distributed by other studios thanks to deals struck before Disney acquired Marvel in 2009.) Although superhero movies remain as popular as ever, there is always the fear that the market will reach a point of oversaturation.
Indeed, a record six superhero movies are on the calendar for 2017: the already released Logan and Guardians of the Galaxy Vol. 2, plus Wonder Woman, Spider-Man: Homecoming, Thor: Ragnarok and Justice League. (Nine are set for 2018, if an animated Spider-Man entry is included.) The first two releases this year have met critical and financial success, and Wonder Woman seems sure to join their ranks. Though these movies have thus far been able to profitably co-exist, eventually diminishing returns will begin to take effect.
Such is already the case in the world's second-largest box office market, China. The last DC film to open there, Batman v Superman, could only muster $95.8 million -- nothing to scoff at, to be sure, but well behind Disney blockbusters such as Zootopia ($235.6 million) and The Jungle Book ($150.1 million) and even behind stateside flops like Now You See Me 2 ($97.1 million) and Warcraft ($213.5 million). Most tellingly, the film finished with about half the box office of the other major superhero team-up from 2016, Captain America: Civil War, which made $180.8 million in China. The lighter tone of the Marvel franchise is more in line with the type of movies that tend to do well in China, as the underwhelming grosses for Man of Steel ($63.4 million) and Batman v Superman make clear.
"Box office results have thus far proven moviegoers aren't too interested in the darker DC fare," said Jonathan Papish, industry analyst for China Film Insider. "With regard to Wonder Woman, the character isn't well known in China, and even though WB tried to introduce her in Batman v Superman, that film's abysmal word of mouth won't help Gal Gadot et al. this time around."
Although DC movies are a tough sell in one of the most important global markets, this is by no means an insurmountable obstacle. Just look at Pixar, which has never had a movie clear $40 million at the Chinese box office and yet can count virtually all of its films as global successes. With a $149 million production budget, Wonder Woman need only to make $400 million to $500 million worldwide to be considered a hit. Given that the last two DC movies were able to make that much money in international markets alone, Warner Bros. should feel confident in the profitability of its latest superhero film.
The only question is, Will the success of Wonder Woman portend super grosses for DC movies to come? With five more DC movies on the calendar through 2020, and several projects in the pipeline on top of that, Warner Bros. clearly has a lot invested in this cinematic universe.
The studio's only other franchise with comparable global appeal is Fantastic Beasts and Where to Find Them, which has a much more limited well of source material from which to draw. Though the mythology of Harry Potter is expansive, it is dwarfed by the hundreds of superheroes that exist in the DC canon. If Warner Bros. can elevate the DC franchise into a trustworthy brand, à la Pixar or Marvel, the profit potential could be staggering.
After the double whammy of Batman v Superman and Suicide Squad, trustworthiness seemed near-unattainable for Warner Bros. and DC. They are lucky that Wonder Woman looks game to rehabilitate the brand. If moviegoers receive the movie as warmly as critics -- and there is little reason to believe that they won't -- audience anticipation may well skyrocket for November's Justice League, which you can bet will lean heavily on Wonder Woman in its marketing. If Warner Bros. can follow up with quality content, the sky is the limit for its DC universe.