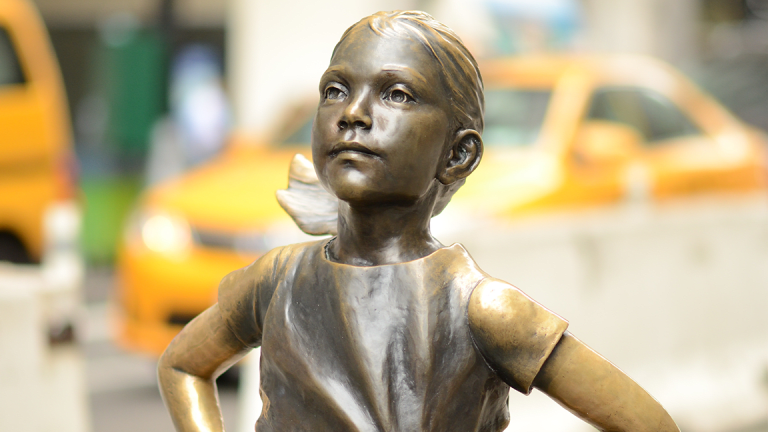 What's Really Happening in the Boardroom on Women's Equality Day
Sunday marks 'Women's Equality Day". TheStreet reflects on the day that is meant to celebrate women's progress on and off Wall Street.
Sunday marks 'Women's Equality Day". TheStreet reflects on the day that is meant to celebrate women's progress on and off Wall Street.
August 26 is "Women's Equality Day" -- and it should be used to reflect on how far we still have to go.
The date was selected to honor the passage of the 19th Amendment to the Constitution, which granted women the right to vote back in 1920.
It all started with a massive, peaceful civil rights movement that began in 1848 by activist women like Elizabeth Cady Stanton, Lucretia Mott, and Susan B. Anthony, who went on to lobby the government to grant women voting rights.
But it wasn't until 1971 that Rep. Bella Abzug (D-NY) insisted that we create a day to commemorate the massive effort. So in 1973, the U.S. Congress designated August 26 as Women's Equality Day.
But this day doesn't just celebrate the 19th Amendment, it has become a day to reflect on our continuing efforts toward full equality. And thanks to the #MeToo movement and the countless studies about the gender pay gap, we now are so keenly aware of what has to be done.
We know we need to stop sexual harassment. Period. End of story.
We know we need to close the gender pay gap. White women make 80 cents on the dollar compared to their white male counterparts, while Latina and African American women only make 54 to 63 cents on the dollar. That's according to American Association of University Women, an equality advocacy organization established back in 1881.
We Know a Lot - But Is Wall Street Doing a Lot?
We have seen some on Wall Street reacting. "Diversity and Inclusion" are now staple buzzwords that show up in almost every HR handbook. And many companies are being proactive.
Morgan Stanley (MS) - Get Reportlaunched a start-up accelerator for women and minorities. UBS  (UBS) - Get Report  created a partnership with Rent the Runway called Project Entrepreneur. It helps women get access to the tools, training and networks they need to build scalable, impactful companies. JPMorgan Chase  (JPM) - Get Report is one of the many firms that has created re-entry programs to help business women transition back into the workforce after taking time off.
Even Goldman Sachs (GS) - Get Report launched its 10,000 Women global initiative to provide women entrepreneurs around the world with a business and management education, mentoring and networking, and access to capital.
How well are these programs working? Well, they are still too new to tell.
But what's not new is the call to get more women on corporate boards. And the irony here is that a firm like Goldman Sachs still barely has any.
Though after getting a ton of heat -- including from TheStreet's in-depth reporting on Goldman's non-diversified board -- it recently added former Harvard University president Drew Faust, bringing its number of female board directors to three.
But it's not just about adding a woman because you got pushback from the media. That is certainly not what the women before us, like Stanton and Anthony, would have wanted.
Instead, they would have wanted a voice. They would want a vote that matters.
Women Need More Than a Seat
TheStreet's Anders Keitz has done a ton of detailed research on the lack of women on corporate boards. Sure, more women have board seats these days - but very few of them chair committees with power, according to Keitz.
"When it comes to having a leadership role performing the duties that make up much of a board's work, though, the evidence is less encouraging. Men outnumber women in leadership roles on all board committees by more than four to one, according to an analysis of data compiled by BoardEx, a relationship mapping service of TheStreet Inc."
That means very few women chair the audit committee or the executive compensation committee - the ones that really matter.
And that is exactly why I wanted to do the below podcast with her. You need to hear her tell the gory details.
The Bottom Line, Unfiltered
Corporate America, if you are serious about having a diverse board, then grant women a voice to go along with the seat.
So in honor of the women that fought so long and hard for us back then - and the ones that continue to do so today - we at TheStreet want you to make your voice heard.
Get out and vote in the midterms.
Ask for the damn promotion already.
Cheer loudly for women everywhere who are doing amazing things.
Take a minute to make Stanton, Mott and Anthony proud today.